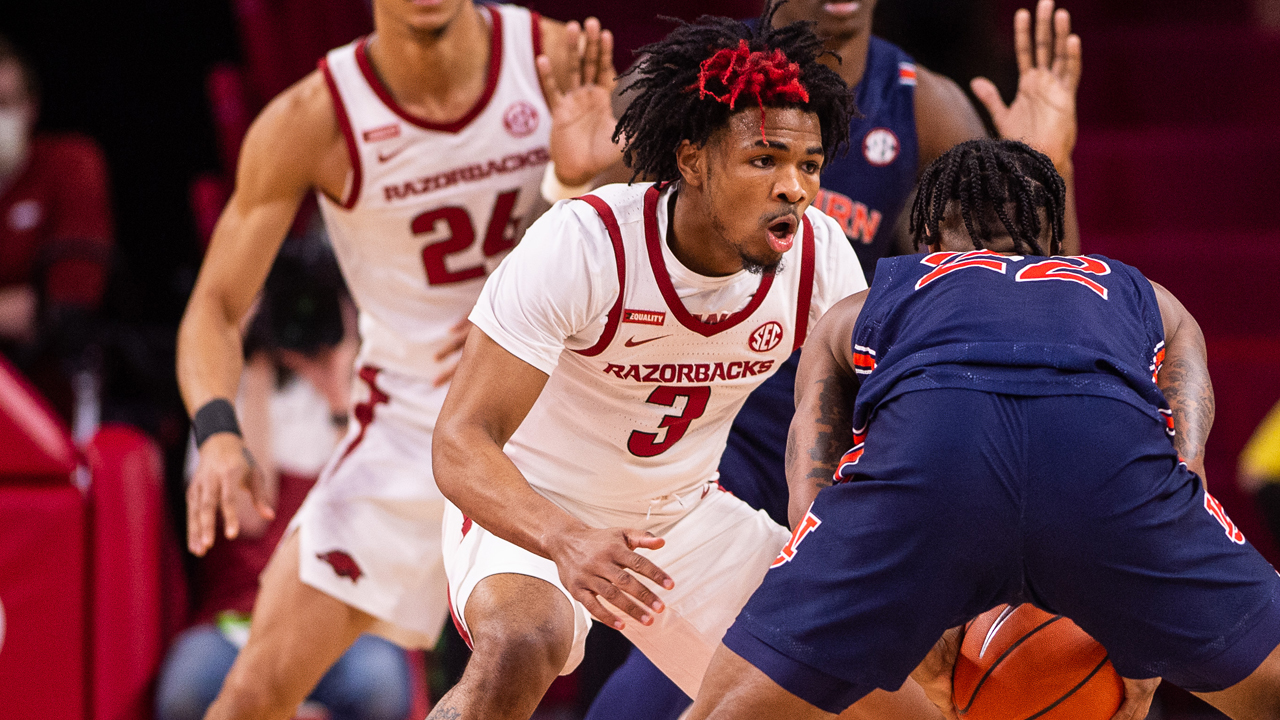 MBB Preview: Arkansas at Vanderbilt
Who: Arkansas Razorbacks (11-4, 3-4 SEC) vs Vanderbilt Commodores (4-6, 0-4 SEC)
What: The last time the teams met was the final game played by the SEC last season before the rest of spring 2020 was canceled due to COVID-19.
When: Saturday – Jan. 23 – Noon (CT)
Where: Nashville, Tenn. – Memorial Gymnasium
How (to follow):
– TV: SEC Network (Dave Neal and Jon Sunvold)
^ Watch SEC/ESPN Online: CLICK HERE
– Radio: Learfield IMG College Razorback Sports Network (Chuck Barrett and Matt Zimmerman)
^ Listen to Razorback Sports Network Online: CLICK HERE
– Sirius/XM: XM Channel 381 –Streaming Online on Channel 971
– Live Stats: www.Arkansas.StatBroadcast.com
– Arkansas Game Notes: CLICK HERE or HERE
– Vanderbilt Game Notes: CLICK HERE
– SEC Standings / Stats / Notes: CLICK HERE
FAYETTEVILLE – Arkansas will compile even more frequent flyer miles with a trip to Vanderbilt this weekend. The Razorbacks and Commodores will meet for the 51st time in the series on Saturday (Jan. 23) with tipoff set for Noon. The game will be televised on SEC Network.
Arkansas leads the all-time series, 38-12, including six straight wins and winning 10 of the last 11.
Vanderbilt leads 8-7 in games played in Memorial Gym.
With its game at Vanderbilt Saturday, Arkansas opens SEC play with five of its first eight on the road. Add a game at Oklahoma State (SEC/Big 12 Challenge) to close the month of January, the Hogs are in the midst of playing six of 10 games on the road.
Vanderbilt has a lot of discipline, ranking second in the SEC in fewest fouls and third in fewest turnovers. Vandy is also second in the league in free throw percentage and 3's made per game (9.5).
Scotty Pippen Jr., lead the Commodores (and ranks second in the SEC) in scoring (21.2 ppg) and assists (5.3 avg). He is also fourth in the SEC in free throws made and free throw percentage while ranking ninth in field goal percentage.
Arkansas ranks second in the SEC in both free throws made and attempts.
Desi Sills is coming off a 22-point game in the win over Auburn. It was the second-best scoring output of his career. His career best was a 23-point performance at Auburn earlier this year.
­
For more information on Arkansas Men's Basketball, follow @RazorbackMBB on Twitter.