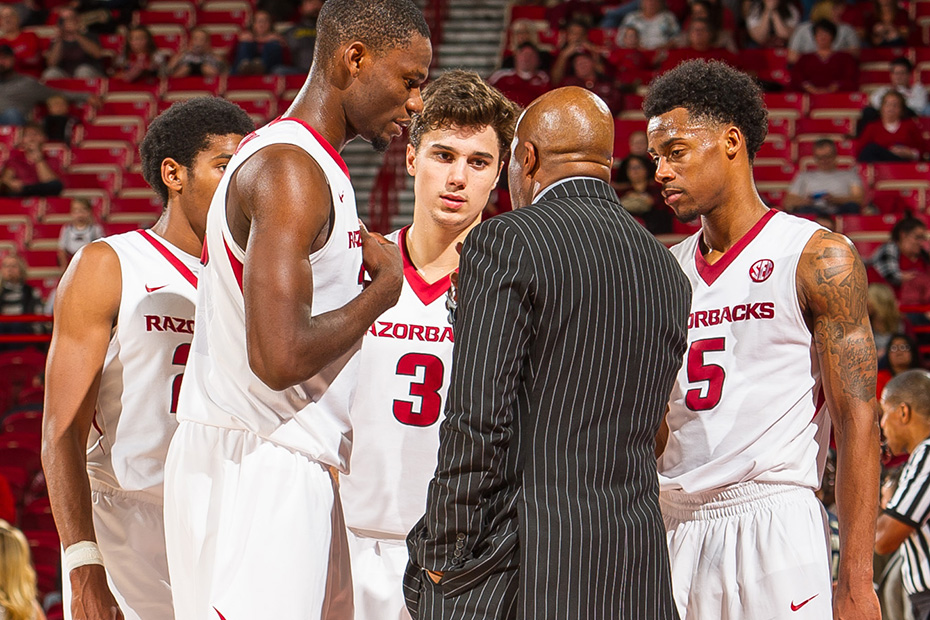 Men's Basketball Battles Demon Deacons Friday
FAYETTEVILLE, Ark. – The Arkansas men's basketball team (3-3) is set for its first true road game of the year Friday evening, traveling to Winston-Salem, N.C. for a date with the Wake Forest Demon Deacons (5-2).
Tip-off: Friday, 6 p.m. CT
Location: Winston-Salem, N.C.
TV: ESPN3
Radio: IMG Sports Network  |  XM: 81  |  Sirius: 81
The Opponent
• Wake Forest, from Winston-Salem, N.C., is 5-2 on the season. The Demon Deacons return home after four games away from LJVM Coliseum, including three in the Maui Jim Maui Invitational, where they went 2-1. In Hawaii, Wake defeated Indiana (82-78) and lost to Vanderbilt (86-64), before edging UCLA (80-77) in the consolation game. Most recently, the Demon Deacons were in Piscataway, N.J., where they defeated Rutgers (69-68) in a B1G/ACC Challenge matchup.
• Wake has five players averaging double figures, as well as one just missing the cut at 9.7 points per game. Senior forward Devin Thomas leads the way with 18.4 points and 11.3 rebounds per game, which ranks second in the ACC. Even though the Demon Deacons are 5-2, they are being outscored by 10 total points thus far. All five of their wins have been by eight or fewer points, while their two losses have been by nine and 22 points. On average, Wake outrebounds its opponents by 7.1, but they also commit 5.1 more turnovers per contest.
• Head coach Danny Manning is in his second season with Wake, with a record of 18-21 (.462) in one-plus seasons. Manning came to Winston-Salem from Tulsa, where he coached the Golden Hurricane for two years. During the 2013-14 season, Tulsa won the Conference USA Tournament and earned a bid in the NCAA Tournament as a No. 13 seed, where they lost to UCLA (76-59) in the first round. Manning is regarded as one of the best college basketball players of all time, earning the 1988 Naismith National Player of the Year award and leading Kansas to a 1988 National Championship. He holds the Jayhawk records for most points (2,951) and rebounds (1,187) and ranks 10th all-time in NCAA scoring.
#Fastest40 Facts
• The Razorbacks are 3-4 all-time against Wake Forest, but have won three of the last five meetings, including a 30-point victory last year in BWA. Arkansas won its only game in Winston-Salem, N.C., picking up a 75-59 victory on Dec. 23, 1998.
• Arkansas is 21-29 all-time against current teams in the ACC, posting a conference-high three wins against Louisville, North Carolina and Virginia.
• Jabril Durham is one of four players in the country with three double-digit assist games this season. He has three of the six double-digit assist performances in the SEC this year and ranks No. 4 in the nation with 8.0 assists per game.
• Dusty Hannahs leads the SEC in three-point field goal percentage (.515), free throw percentage (.958) and ranks fifth in scoring (18.0).
• Dusty Hannahs and Moses Kingsley are the No. 3 scoring duo in the SEC, combining to score 34.7 points per game.
• Moses Kingsley is one of two players in the SEC averaging a double-double, joining SEC Preseason Player of the Year Ben Simmons from LSU.
• Kingsley is one of 13 players in the country and one of six from a power five conference averaging at least 10 rebounds and 16 points per game.
• After one double-double in his first two years, Kingsley has four in six games this season.
The #SplashZone
• Anthlon Bell (19) and Dusty Hannahs (17) are the No. 1 three-point shooting tandem in the SEC, sinking 36 treys on the year.
• Arkansas has had a player make five-plus three-pointers in four of six games this season after doing so just twice all of last year.
• Arkansas has made at least six three-pointers in all six games this season.
• The Razorbacks have made at least four three-pointers in 49 of the last 54 games dating back to the 2013-14 season.
• Arkansas has made at least one three-pointer in 880 consecutive games dating back to a 0-for-2 performance against Texas on Jan. 7, 1989.
• Hannahs ranks No. 1 in the SEC with a .515 three-point field goal percentage, making 17 of 33 attempts from behind the arc.
• Hannahs is one of four players in school history to make five-plus three-pointers in a game without a miss when he went 5-for-5 against Charleston Southern.
• Bell went 5-for-5 from long range against Stanford in a span of six minutes and 34 seconds, taking Arkansas from a two-point deficit to a 19-point lead.
• After leading Arkansas in three-point shooting each of the last three years, Bell is attempting to join Pat Bradley (1995-99) as the only players in program history to lead Arkansas in three-pointers made for four consecutive seasons.
Up Next
Arkansas returns home to host Evansville on Tuesday, Dec. 8 in Bud Walton Arena. Tip-Off is scheduled for 8 p.m. CT on SEC Network.
For more information on Arkansas men's basketball, follow @RazorbackMBB on Twitter.