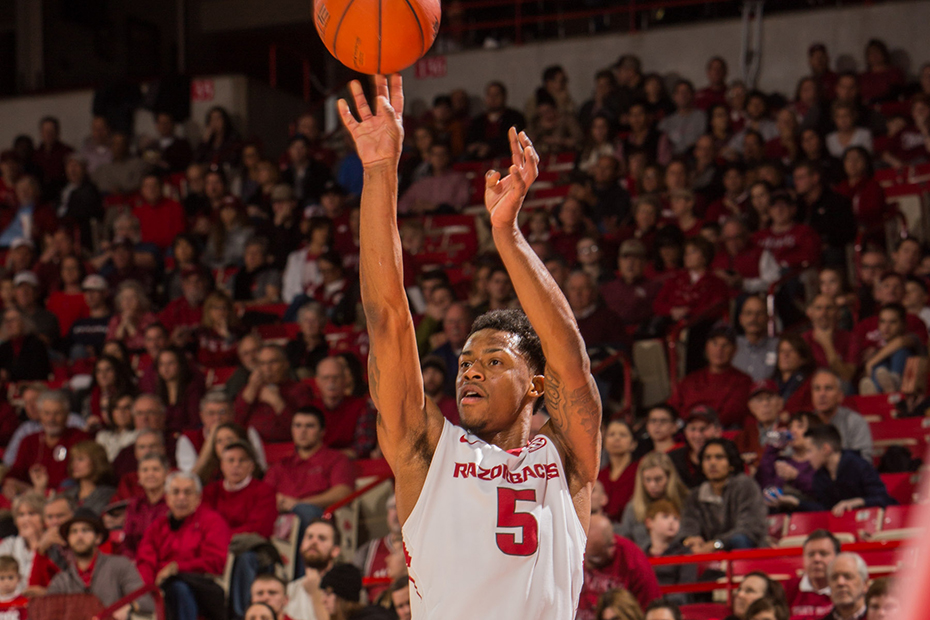 Men's Basketball Falls to LSU on Late Bucket
Box Score (PDF) | Purchase Kentucky Tickets
BATON ROUGE, La. — The Arkansas men's basketball team saw a game-winning three-pointer come up short Saturday evening, falling 76-74 at the Pete Maravich Assembly Center.
A close game from start to finish saw neither team lead by more than seven points the entire contest and it came down to the final possession for the Tigers. With the score tied 74-74, sophomore forward Craig Victor II put back an air-ball rebound with 4.2 seconds left. Anton Beard had a potential game-winning three-pointer at the buzzer come up short and LSU escaped with the two-point victory.
Anthlon Bell led the Razorbacks with 19 points, as the senior guard reached 200 career threes early in the first half, and finished 4-for-7 from beyond the arc. Moses Kingsley added 11 points and eight rebounds in a highly-anticipated matchup with LSU freshman forward Ben Simmons, which ultimately lived up to the billing.
Coming into the evening on a three-game win streak, it was a struggle early on for Arkansas to get going. The Tigers led 14-8 six minutes into the game, but that's when the Razorbacks responded with a 16-5 burst over the next six minutes to take a five-point advantage. The game opened up from there, as the two highest-scoring offenses in the SEC started to fill the basket.
Bell had 14 points in the first frame to lead all scorers, and a layup by Jabril Durham on the last possession of the half gave Arkansas a 40-36 lead going into the locker room. At that point, the Razorbacks' defense held Simmons to four points on 1-for-5 shooting and three turnovers.
The second half was a nail-biter, as no team led by more than five points. With a 65-64 lead at the five-minute mark and Simmons dribbling the ball up the court, Kingsley pick-pocketed his counterpart and threw down a thunderous breakaway dunk to put Arkansas up three points. But a quick 5-0 run by the LSU made sure that the home team would never trail again, as the Razorbacks fell to 9-8 on the season and 3-2 in SEC play.
QUOTABLES
"I loved the fight in our guys, this team grew a little more tonight. LSU hung in there, they had a chance to fold but they didn't. Victor made some plays for them, Simmons made some plays for them. We wanted to make sure Simmons worked for everything he got and I thought we did that." — Head coach Mike Anderson
"It hurts. You come in and try to get a good road win against a good quality team, but they did what they were supposed to do and protect the home court. We know the sun is going to rise. We have another game coming up and we just have to stay with it and get focused for the next one." — Senior guard Anthlon Bell
QUICK HITS
• With four three-pointers, Anthlon Bell surpassed 200 career three-pointers and has made 203 in a Razorback uniform.
• Bell is one of 10 players in the country with four-plus threes in nine or more games this season.
• With 11 points, Moses Kingsley has scored in double figures in all 17 games this season.
• Kingsley had four blocks for the third-consecutive game. He is one of 13 players in the country with four-plus blocks in six or more games this season.
• Kingsley led the team in rebounds, while Jabril Durham led the team in assists, each for the 16th time this season.
• Trey Thompson tied a career high with seven rebounds in only 19 minutes.
UP NEXT
Arkansas returns home Thursday, Jan. 21 to host No. 14 Kentucky. The WHITE OUT game tips off at 6 p.m. in Bud Walton Arena and will be televised on ESPN. Fewer than 1,000 tickets remain and they can be purchased by clicking here.