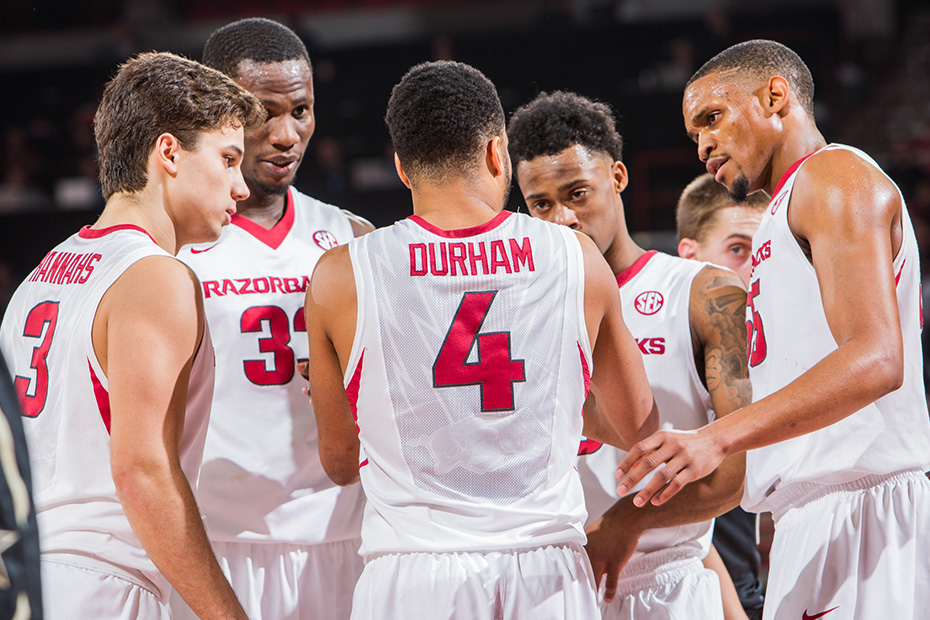 Men's Basketball Hosts Mississippi State Saturday
FAYETTEVILLE, Ark. – The Arkansas men's basketball team (7-7, 1-1) will look to make it back-to-back SEC home wins Saturday afternoon when it welcomes Mississippi State (7-6, 0-1) to town for a 2:30 p.m. tip-off inside Bud Walton Arena.
Tip-off: Saturday, Jan. 9 at 2:30 p.m. CT
Location: Bud Walton Arena (Fayetteville, Ark.)
TV: SEC Network | WatchESPN
Tickets: Click Here
Promotions: The first 5,000 fans receive a commemorative poster to recognize the 2014-15 NCAA Tournament team.
The Opponent
• Mississippi State opened its conference slate Wednesday against No. 21 Texas A&M, falling in a 61-60 heartbreaker to the Aggies. Before that, MSU was riding a three-game winning streak with victories over Tulane, Northern Colorado and UNC Central to round out its non-conference schedule. Overall, the Bulldogs are 0-4 against power five conference schools and 7-2 otherwise. In terms of common opponents, Arkansas and MSU have both lost to Texas A&M, but the Razorbacks defeated Southern University while the Bulldogs lost to the Jaguars in their second game of the season.
• Senior forward Gavin Ware leads the team in both scoring (17.5) and rebounding (8.2) through 13 games. He shoots an astounding 69.4 percent from the field, while the next-highest Bulldog is freshman guard Quandary Weatherspoon, with a 49.4 percent mark. Junior guard IJ Ready, a North Little Rock native, has two games of 10-plus assists and is the only SEC player other than Jabril Durham (4) to have multiple such games. MSU is tops in the SEC at 74.1 percent shooting from the foul line, which also puts them as 35th in the nation.
• Head coach Ben Howland is in his first season with the Bulldogs, and has a 408-212 (.658) career record in 19-plus seasons. He began his head-coaching career at Northern Arizona for five seasons, before moving on to Pitt, where he made back-to-back Sweet 16 appearances in 2001 and 2002. Howland then went to UCLA and accumulated 233 victories in 10 seasons in Los Angeles, including three-consecutive Final Fours from 2006-08.
#Fastest40 Facts
• Arkansas has the third-most home wins in the country during the Mike Anderson era, posting a record of 74-9 in Bud Walton Arena over the last four-plus seasons.
• Over the last 25 SEC regular season games dating back to 2013-14, Arkansas has a record of 18-7, the second-best mark in the SEC behind Kentucky (21-4). Mississippi State is 6-19 over the same stretch.
• Arkansas is 32-25 all-time against Mississippi State, including a 17-4 mark in BWA and 5-1 under Anderson.
• Mike Anderson has posted a record of 29-7 (.805) against SEC opponents in Bud Walton Arena.
• Anthlon Bell has hit a game-tying or lead-changing three-pointer in the final two seconds of regulation in two of the last three games.
• #NylonBell has made 11 of his last 20 three-point attempts, including 10-of-19 in SEC play.
• In SEC play, Bell and Auburn's Kareem Canty are tied atop the league with 10 three-pointers made, but Bell has the edge with a .526 three-point field goal percentage.
• Moses Kingsley is one of two players in the country with multiple games of 20 points, 10 rebounds and five blocks.
• Kingsley is the first Razorback in 30 years with eight double-doubles through the first 12 games.
• Jabril Durham is one of seven players in the country with four double-digit assist games this season. He has four of the 10 double-digit assist performances in the SEC this year and ranks No. 7 in the nation with 7.2 assists per game.
Up Next
Arkansas travels to Missouri on Tuesday, Jan. 12 for an 8 p.m. tip-off on SEC Network.
For more information on Arkansas men's basketball, follow @RazorbackMBB on Twitter.