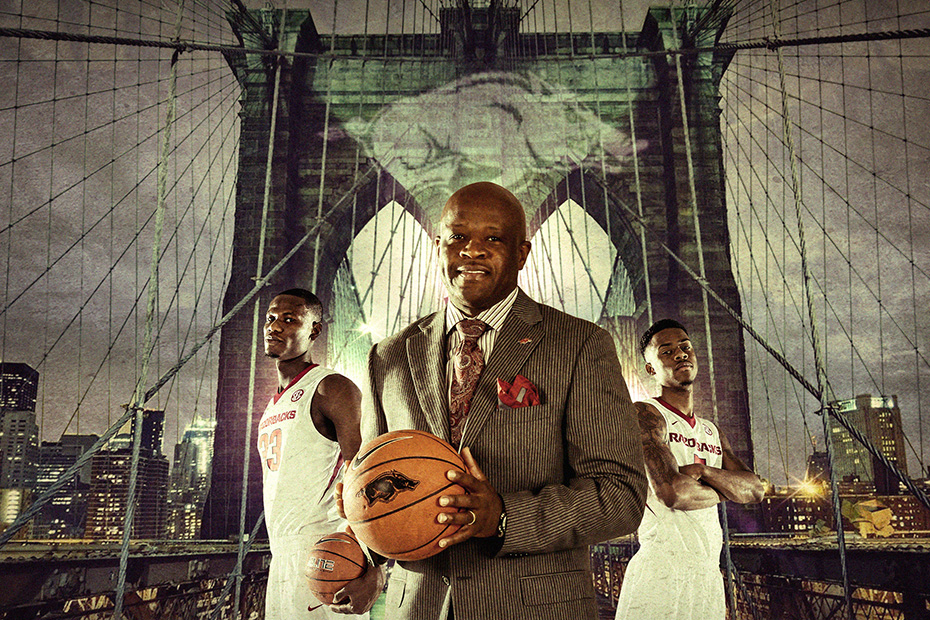 Men's Basketball Opens NIT Tip-Off with Georgia Tech
BROOKLYN, N.Y. – The Arkansas men's basketball team (2-1) opens play in the NIT Season Tip-Off on Thursday, facing Georgia Tech (3-1) at the Barclays Center on Thanksgiving day.
Tipoff: Thursday, 1 p.m. CT
Location: Barclays Center, Brooklyn, N.Y.
Tickets: Buy Here
TV: ESPNU
WatchESPN: Click Here

The Opponent
• Georgia Tech is 3-1 on the young season, with two blowout wins and two one-basket games they split. In the two big wins, GT defeated Cornell and Green Bay by 65 combined points with a scoring average of 111.5 per game. In a 69-67 win against SEC opponent Tennessee, the Yellow Jackets survived when the Vols missed a three-pointer as time expired. GT was not so lucky in a 69-68 loss to ETSU, as the Bucs hit a trey as time expired to stun the hosts at McCamish Pavilion.
• With their high-octane offense, the Yellow Jackets are scoring 90 points per game, with four seniors posting double-figure averages. Guard Marcus Georges-Hunt leads the way with 16.8 points per game, with a 50 percent mark from the field and is shooting a team-best 23-for-27 from the foul line through four games. Forward Nick Jacobs (15), forward Charles Mitchell (14.5) and guard Adam Smith (11.5) are the other top options for GT on the offensive end.
• On the defensive end, the Yellow Jackets are out-blocking their opponents 26-7 through four games, while holding them to 41.9 percent shooting from the field. GT is also controlling the glass, out-rebounding its opponents an average of 45.2-34, a plus-11.2 margin per contest.
• Head coach Brian Gregory is in his fifth year with the Yellow Jackets, with a record of 58-72 (.446) in four-plus seasons. Before coming to Atlanta, Gregory was the head coach at Dayton for eight seasons. He compiled a 172-94 (.647) record with the Flyers, which included two NCAA Tournament appearances and three NIT appearances, including an NIT championship in 2010.
#Fastest40 Facts
• The Razorbacks are making their second trip to New York for the NIT Season Tip-Off after appearing in the tournament in 1990. Arkansas opened with a 98-88 victory over Duke that year, before falling Arizona 89-77 in the championship.
• Arkansas is 3-10 in the state of New York, with two victories over City College of New York (1943, 1944) and one against Duke (1990).
• The Razorbacks are 1-3 against Georgia Tech, with the last meeting coming in Honolulu, Hawaii, in 1984. Arkansas also dropped contests in 1965 and 1966, but won the first meeting on Dec. 30, 1961 in the Poinsettia Classic in Greenville, S.C.
• Arkansas is 11-2 all-time on Nov. 26, including six straight wins dating back to 1999. Seven of those victories have come on a neutral floor.
• Dusty Hannahs ranks No. 1 in the country in three-point field goal percentage among players that have made 11-plus treys on the year.
• Dusty Hannahs (11) and Anthlon Bell (9) have combined to make more three-pointers than 118 Division I teams.
• Moses Kingsley's nine blocks is more than 114 Division I teams and his 3.0 blocks per game is tied for the SEC lead.
• Dusty Hannahs' 5-for-5 performance from behind the arc against Charleston Southern was the third of its kind in program history.
• Jabril Durham's SEC-leading 8.3 assists per game through the first three contests ranks No. 5 in the country and is on pace to set a school record. The program mark for assists per game in a season is 6.6 by Kareem Reid in 1995-96.
Up Next
Arkansas will play Stanford or No. 8/9 Villanova Friday on the final day of the NIT Season Tip-Off with the championship scheduled for 2 p.m. CT and the third place game at 11:30 a.m. CT.
For more information on Arkansas men's basketball, follow @RazorbackMBB on Twitter.