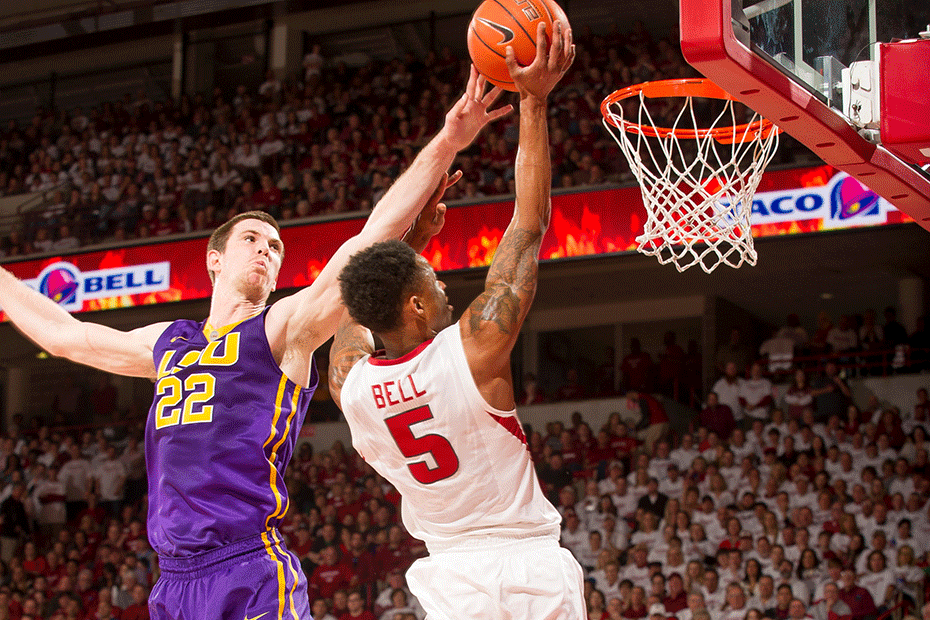 Razorbacks Renew Rivalry with LSU Saturday
Game Notes (PDF) | Mike Anderson Presser | Purchase Kentucky Tickets
FAYETTEVILLE, Ark. – The top two offenses in the SEC go head-to-head Saturday evening when Arkansas (9-7, 3-1) goes for its fourth consecutive win, traveling to LSU (10-6, 3-1) for a 7:30 p.m. tip-off at Pete Maravich Assembly Center on SEC Network.
Tip-off: Saturday, Jan. 16 at 7:30 p.m. CT
Location: Pete Maravich Assembly Center (Baton Rouge, La.)
TV: SEC Network | WatchESPN
The Opponent
• The Tigers are coming off a 90-81 victory over Ole Miss on Wednesday at the Maravich Center, where they are 9-1 this season. In their first SEC home game, LSU upset No. 9 Kentucky by a score of 85-67, handing the Wildcats their third loss of the year. The Tigers were preseason No. 21 in the county before an early three-game losing streak, but LSU has gone 6-2 in its past eight contests.
• Freshman phenom Ben Simmons is the key to LSU, averaging 20.3 points per game while leading the SEC with 12.6 rebounds per contest and 12 double-doubles. He also ranks fourth in the conference with 5.3 assists and third in the SEC with 1.9 steals per game. Simmons was named the SportingNews.com mid-season Freshman of the Year on Wednesday before the Tigers' contest against Ole Miss. Still, LSU has three other players (Keith Hornsby – 14.9, Craig Victor II – 13.3 and Tim Quarterman – 11.6) averaging in double figures for the No. 2 scoring offense in the SEC.
• Head coach Johnny Jones is in his fourth season with the Tigers, and has a 71-43 (.623) record in three-plus seasons in Baton Rouge. He went from 19-to-20-to-22 wins in his first three years at LSU. Jones came to LSU from North Texas, where he went 190-146 (.565) in 11 years in Denton. Jones played for the Tigers from 1980-85, starting 54 career games and appearing on the 1981 Final Four team.
#Fastest40 Facts
• The Razorbacks are off to a 3-1 start in SEC play for the first time in 18 years and the fifth time in program history. A win against LSU would be the third 4-1 start in school history, joining the 1991-92 and 1997-98 teams.
• Arkansas is one of four teams in the country and the only power five conference program with three players averaging 15-plus points per game.
• The Razorbacks are the only team in the SEC and one of two power five conference programs (Syracuse) to have two players make 40-plus three-pointers this season – Bell (51) and Hannahs (42).
• Arkansas leads the SEC in five statistical categories, including three-point field goal percentage, assist/turnover ratio, scoring offense, turnover margin and blocked shots per game.
• Arkansas is one of six power five conference teams in the country to make at least 16 three-pointers in a game this season, and the only one to do so on fewer than 25 attempts (16-of-24 vs Mississippi State).
• Tuesday's win at Missouri marked the best field goal percentage in school history for an SEC game (.627), while the 33-point victory is the largest margin of victory in SEC play in the Mike Anderson Era.
• The Razorbacks are No. 3 in the country in three-point field goal percentage at .450, sitting only behind the top two ranked teams in the country in top-ranked Kansas (.462) and No. 2 Oklahoma (.461).
• Jabril Durham is the only player in the country with multiple games of 10 points, 10 assists and five steals.
• Over the last three games, Anthlon Bell (13) and Dusty Hannahs (12) have combined to make 25 treys and shoot 58-percent from behind the arc.
• #NylonBell has made 17-of-31 (.548) three-pointers in league play and is the reigning SEC Player of the Week.
• Hannahs' eight three-pointers made against Mississippi State on Jan. 9 was the second-most in a game in Arkansas history in SEC play, only behind Lee Mayberry's nine threes against LSU in 1992.
Up Next
Arkansas returns home Thursday, Jan. 21 to host No. 14 Kentucky. The WHITE OUT game tips off at 6 p.m. in Bud Walton Arena and will be televised on ESPN. Less than 1,000 tickets remain and they can be purchased by clicking here.
For more information on Arkansas men's basketball, follow @RazorbackMBB on Twitter.