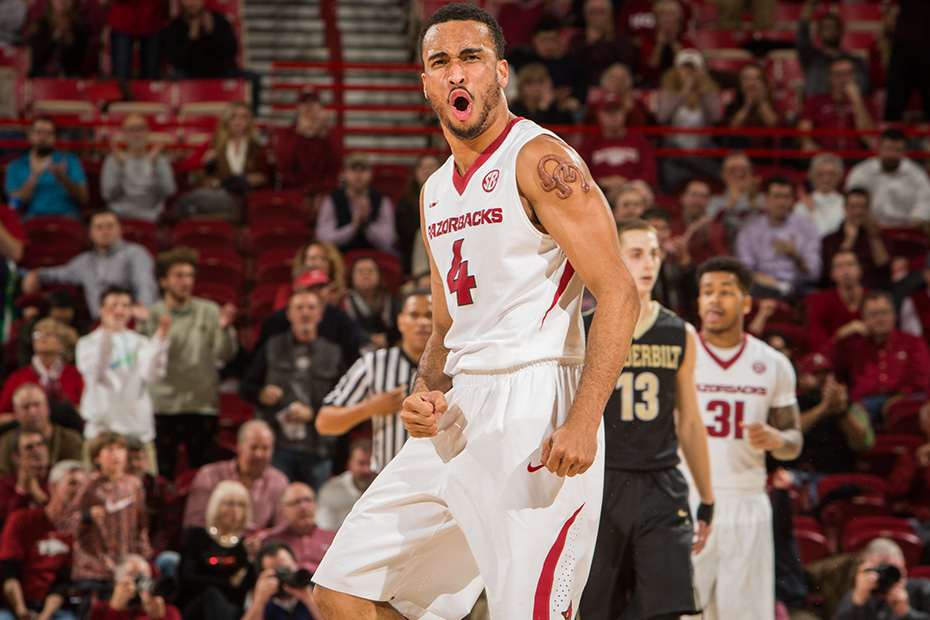 Men's Basketball Swipes OT Victory Over Vandy
Box Score (PDF)  |  Photo Gallery
FAYETTEVILLE, Ark. — A pestering Arkansas defense forced 26 Vanderbilt turnovers, including a slick pickpocket by Jabril Durham with five seconds left in overtime to clinch the game, as the Razorbacks defeated the Commodores 90-85 on Tuesday night in Bud Walton Arena.
The two-headed monster of Anthlon Bell and Moses Kingsley combined for 51 points – Bell with 26 and Kingsley with 25 – to lead Arkansas on the offensive end. But the aggression on the defensive end won the contest for the Razorbacks, with season highs of 26 forced turnovers and 15 steals, all while allowing only six offensive rebounds.
Down 7-1 three minutes into the game, Kingsley broke free for back-to-back dunks, including an alley-oop from Dusty Hannahs, to get Arkansas started on a 16-6 run. After Vandy claimed a 27-25 lead later in the first half, the Razorbacks finished the frame on a 15-5 spurt to lead 38-32 after 20 minutes.
An important sequence came at the end of the first half, when Anton Beard got a driving layup to fall with 29 seconds left. The Razorbacks pressured on defense, but the Commodores broke free and it seemed Nolan Cressler had a wide open dunk. But out of nowhere came Jimmy Whitt to reject Cressler as time expired to help Arkansas retain its eight-point lead going into the break.
For 12 minutes in the second half, Keaton Miles sat the bench and waited. When he subbed back in with 2:29 remaining and Arkansas down 72-70, he proceeded to hit the two biggest shots of his Razorback career to put the team ahead 74-72. But after Vandy responded with three straight points, it took more late-game heroics by Bell.
Two games after forcing overtime at Dayton with a buzzer-beating three-pointer, Bell took a feed from Durham on the right wing and drained a three-pointer with 2.2 seconds remaining to put Arkansas up 77-75. But just when the game seemed to be clinched, the Commodores' Damian Jones took a long in-bounds feed, strode towards the hoop and erupted for a game-tying dunk as time expired to extend the contest.
With 24 points and 15 rebounds, Jones fouled out in overtime and the Razorbacks took advantage, outscoring Vanderbilt 13-8 in the extra frame. Arkansas hit 7-of-8 foul shots in overtime to ice the game, including four consecutively by Durham in the final 20 seconds.
QUOTABLES
"I thought our guys got after it. We were comfortable in what we wanted to do and our confidence reflected that throughout the game. To me it seemed like our guys were out there playing for each other and that's what I'm used to seeing. I think our defense hit them with the element of surprise and forced them to turn the ball over many times." — Head coach Mike Anderson
"A game is never over with. We know that from early on in the season and past experiences, teams are never out of it. Good teams like Vanderbilt always have a little something left in them, and we credit them on making plays down the stretch." — Senior guard Anthlon Bell
"It's a big sigh of relief to come out with this win. We just came off of a bad loss and we all wanted to get that taste out of our mouths. As a group, our trials make us tighter and more of a family. It's a strong brotherhood and we were able to get the win like we wanted to." — Senior forward Keaton Miles
QUICK HITS
• The Razorbacks forced more than 25 turnovers for the second time this season (25 vs. Northwestern State).
• With 25 points, Moses Kingsley has scored in double figures in all 14 games this season.
• With a season-high six three-pointers, Anthlon Bell became the 17th player in the country to hit four-plus threes in seven or more games this season.
• Kingsley led the team in rebounds, while Jabril Durham led the team in assists, each for the 13th time this season.
• Bell and Kingsley each scored 20-plus points for the fifth time this season.
• Dusty Hannahs tied a career high with five rebounds in his third start of the season.
• Arkansas had two players with 20-plus points in a game for the sixth time this season.
• The Razorbacks have hit four-plus three-pointers in all 14 games this season.
• Arkansas won its first overtime game since Jan. 22, 2015 vs. Alabama.
UP NEXT
The Razorbacks welcome Mississippi State to town Saturday afternoon for a 2:30 p.m. tip-off on SEC Network. Arkansas has four straight wins over the Bulldogs.