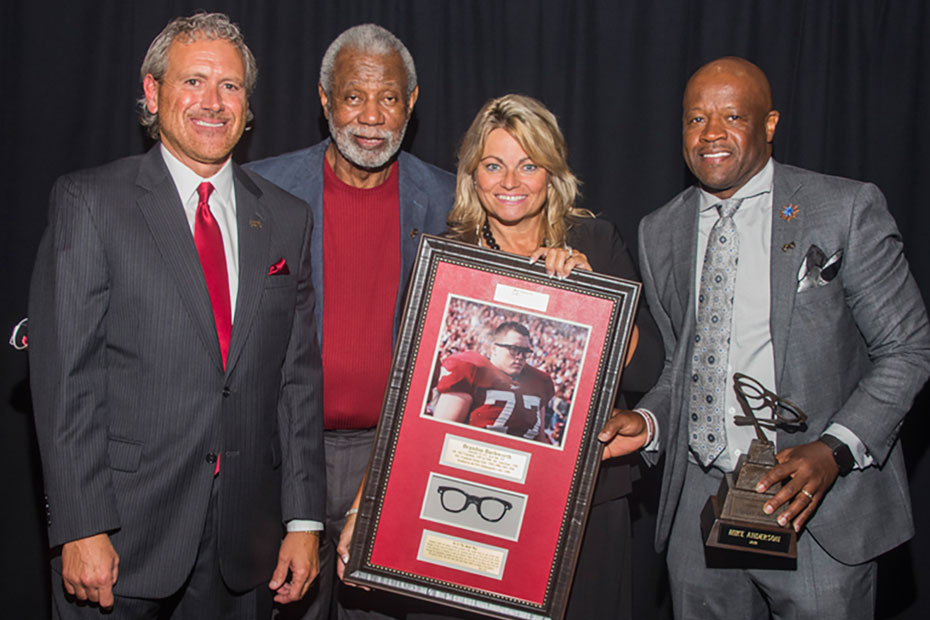 Mike Anderson Honored at Burlsworth Foundation Legends Dinner
FAYETTEVILLE – University of Arkansas head basketball coach Mike Anderson was honored Friday at the annual Brandon Burlsworth Foundation Legends Dinner.
Anderson becomes the ninth Legend the Burlsworth Foundation has honored, joining John Paul Hammerschmidt (2010), Frank Broyles (2011), John Boozman (2012), Mrs. Pat Walker (2013), Randy Veach (2014), Asa Hutchinson (2015), Judy McReynolds (2016) and Curt Bradbury (2017).
University of Arkansas Chairman of the Board of Trustees Mark Waldrip served as the master of ceremonies while Scotty Thurman, Steve Smith, Hunter Yurachek and Nolan Richardson each spoke during the program before Anderson was honored.
"The Legends Dinner recognizes a person each year who has made great contributions to our state," said Marty Burlsworth, Chairman/CEO and Founder of the Brandon Burlsworth Foundation. "Coach Anderson has a long history with the University and the state of Arkansas, so it was an easy choice for our board of directors to honor him in this way."
Anderson is starting his eighth season at Arkansas and owns a 151-86 record with the Razorbacks. Overall, this season will mark his 17th as a head coach, posting a 351-184 career record, and this season will be his 25th at the University of Arkansas. He is one of four Division I coaches with 15-plus years of head coaching experience and has never experienced a losing season while being the only coach to accomplish the feat at three different programs. In his 16 years of being a head coach, Anderson has led his teams to 11 postseason berths, including nine NCAA Tournament appearances, and posted 11, 20-win seasons.
This past season, the Razorbacks reached the NCAA Tournament for the second straight year, made the NCAA field for the third time in four seasons and played in the postseason for the fourth time in the last five years.
Prior to becoming a head coach, Anderson was part of the basketball staff when Arkansas won the 1994 NCAA Championship and finished runner-up for the national title the following year (1995), while helping the Razorbacks to three Final Four appearances and 15 postseason appearances in his 17 years as an assistant.
While his on-court success is evident, Coach Anderson is equally a champion in the community. He created his own Mike Anderson Foundation, which provides funding for programs focused on preventative health care education and assists organizations that offer nutritional support for children. Anderson is active with the Yvonne Richardson Center and Samaritan's Feet. Also, each year at the annual Red-White Game, fans get in free with a canned food item, which helps support the Northwest Arkansas Food Bank. In fact, Anderson has done similar food drives as the head coach at Missouri and UAB as well as assist with Special Olympics at all three stops.