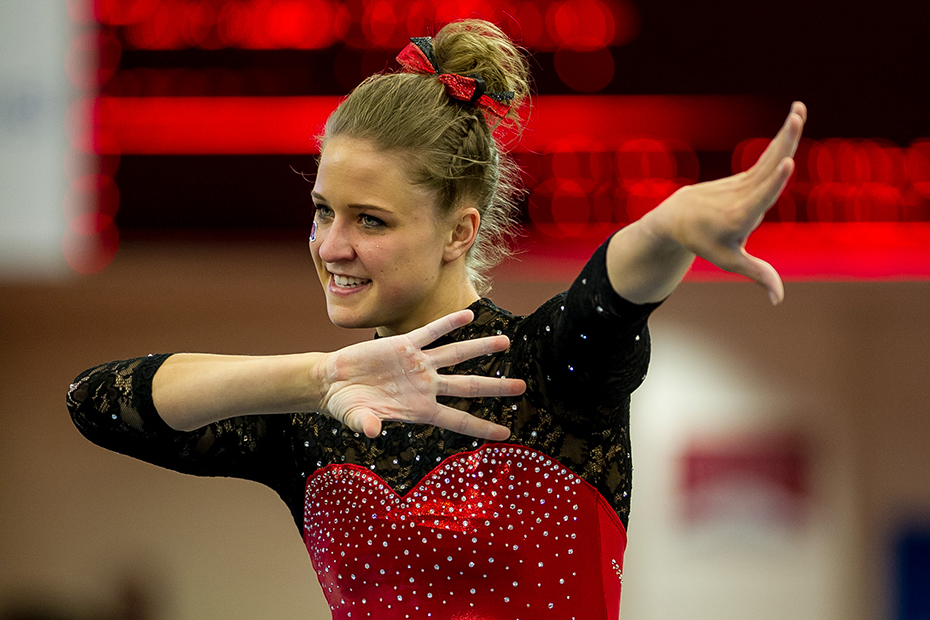 NCAA Nationals Preview: The Amanda Show
FAYETTEVILLE, Ark. — By the time Amanda Wellick walks off the Fort Worth Convention Center Arena floor Friday night, it will have been 104 days from her first uneven bars routine of the season in Cancun, Mexico, to her final floor exercise performance at NCAA Nationals.
One hundred and four days of focus, practice, preparation and execution. One hundred and four days of thrills, chills, ups and downs. One hundred and four days of a memorable 2016 season, in which the junior from Wheaton, Illinois, established herself as one of the best all-arounders in the nation.
Although Arkansas was not able to qualify for nationals as a team, Wellick was able to accomplish that feat with a score of 39.350 in all-around, which placed her second among gymnasts not on advancing teams. She will compete alongside No. 5 Utah in the evening session Friday night, which begins at 7 p.m. CDT.
Already earning All-SEC and regular season vault Second Team All-American honors, Wellick would claim postseason All-American status by finishing in the top eight of any event or in all-around. Unlike her first trip to nationals in 2014 as a freshman, competition will only take place Friday, not an additional day of individual events Sunday.
The NCAA Nationals evening session will be broadcast live on ESPNU. New this year, each apparatus will also have its own online stream for fans to follow along on WatchESPN. Arkansas fans can find links to live online content in a media center post that will follow this article.
GYMQUOTES
"I just want to go out and perform to the best of my ability and represent the Razorbacks the best I can while making some memories along the way. I know I can do this if I stay strong and consistent throughout the competition. Hopefully I can end up with some top scores of the night to earn All-American honors." — Junior Amanda Wellick on her goals while competing at nationals.
"I wouldn't have been able to get through the year without my coaches' leadership or my teammates by my side. I really couldn't have asked for better support leading up to NCAA, and it has really meant so much to me to have such a great support system." — Junior Amanda Wellick on the support she has received.
QUICK HITS
• Rotations will begin on vault and then have a bye. Wellick starts back up on uneven bars, then moves on to balance beam, followed by another bye. Her final event of the night will be floor exercise.
• Wellick is one of seven all-arounders in the country, including one of three in the SEC, with 10-plus scores of 39.300 or better this season.
• Wellick led the Razorbacks with a 9.875 average score on vault and a 9.846 average on floor exercise. She also tied for the team lead with Sydnie Dillard on balance beam, with an average of 9.827.
• Her scores counted in 11-of-13 uneven bars rotations, as well as all 39 vault, balance beam and floor exercise performances.
• Wellick led the team with nine event titles – four vault, three balance beam and two floor exercise – as well as five all-around titles this season.
• She had three uneven bars, eight balance beam and seven floor exercise scores lead the team. Wellick also was the top scorer on the team in all 13 of her vaults this season.
For more #Gymbacks content during the season, please follow @RazorbackGym on Instagram, Twitter and Snapchat.