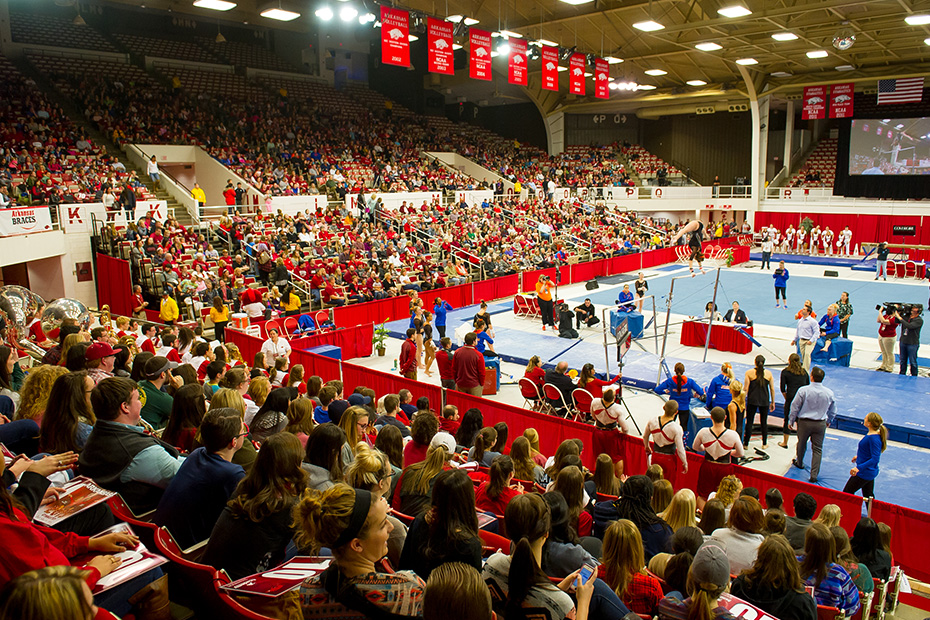 New Parking Areas Announced For @RazorbackGym Home Meets
FAYETTEVILLE, Ark. – Due to construction around the University of Arkansas, the Arkansas Athletic Department has announced new parking areas around Barnhill Arena for the remaining three home gymnastics meets this season.
Fans who are attending gymnastics meets are encouraged to park in the following areas:
1) Lot 73 at the corner of Razorback Road and Markham across from the Fred Smith Football Center. Fans can access Barnhill Arena by walking towards the football stadium and using the stairs at Gate 1 to cross behind the south end of Razorback stadium. Proceed to the north entrance of Barnhill Arena.
2) The stadium drive parking deck, it MUST be accessed from SOUTH Stadium Drive due to construction at the intersection of Maple and Stadium. From the parking deck, walk down to Stadium Drive and cross the street. Proceed south towards Barnhill Arena and access the arena through the north entrance by going down the stairs at Gate 17 of Razorback Stadium.
3) Lot 44 (the Pitt) northeast side of the Broyles Center. To access Barnhill Arena you must cross Stadium Drive and use the east sidewalk to walk around the construction zone then cross back over the street towards Razorback Stadium. Proceed to Gate 17 of Razorback Stadium, go down the stairs there to enter on the north side of Barnhill Arena.
The Arkansas women's gymnastics team wraps up its two-meet home stand tonight at 6:45 p.m., as they host Illinois State and Southeast Missouri in tri-meet action. It is Daddy-Daughter Date Night at Barnhill Arena, where the first 200 fathers with daughters will receive a free coffee mug. Former Arkansas gymnast, and two-time NCAA national champion, Katherine Grable, will also be honored tonight with a national championship banner.
For more information on Arkansas women's gymnastics, follow @RazorbackGym on Twitter.