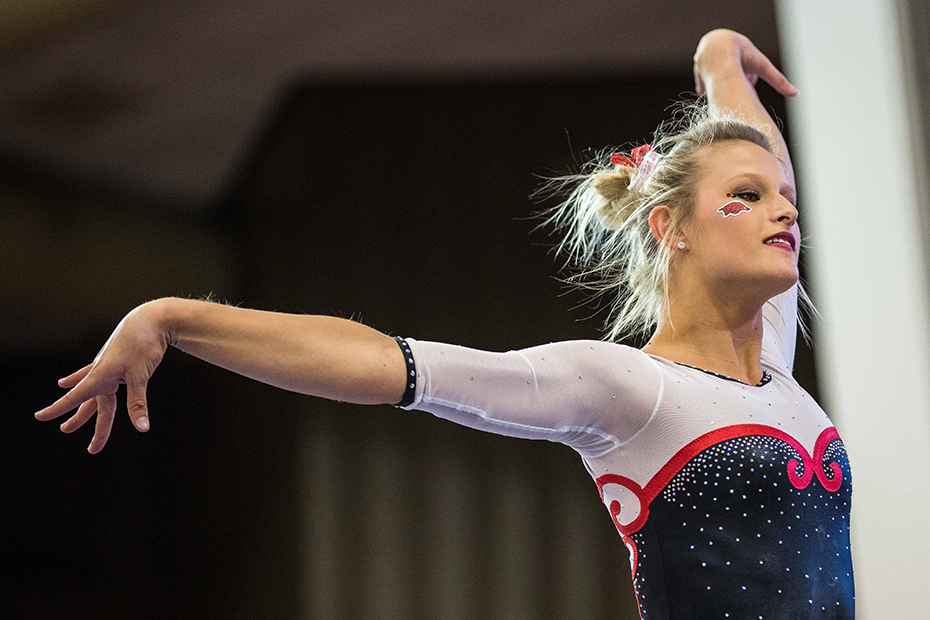 No. 11 Gymnastics Caps Road Swing with Win
COLLEGE PARK, Md. — It had been two long weeks since the Arkansas gymnastics team celebrated a Friday night with a head-to-head win. That short streak ended against Maryland, as the No. 11 Razorbacks scored a 196.150 to defeat the host Terrapins, who posted 194.425.
Amanda Wellick continued her strong all-around streak, finishing with a 39.375. The junior had a season high-tying 9.900 on vault and a 9.875 on balance beam, her second-highest score on the apparatus this year. With a 9.825 floor exercise score, she tied for the team high with Sydney McGlone and Samantha Nelson.
Paige Zaziski and Erin Freier tied for the event title on uneven bars, each posting a 9.800 in the team's first rotation of the night. It was Freier's fourth-consecutive bars rotation at 9.800 or better.
Moving on to vault, Arkansas notched a team score of 49.150, its best score of the evening and fourth-best of the season. Braie Speed set a career high of 9.850, then McGlone followed it up with that same score. Next up was Wellick, who earned a consensus 9.900 score from both judges to earn her sixth such score of the season.
On floor, Makenzie Anderson notched a career-high 9.800 in the No. 3 spot of the lineup, then Nelson, McGlone and Wellick followed with their 9.825's. The Razorbacks were once again clean on beam, as they notched a 49.050 in the final rotation to earn the win. It was the team's seventh-consecutive beam score above a 49.000.
GYMQUOTES
"The team did well tonight, however we made some small errors within the routines that affected our final score. We need to continue to focus on the details in order to maximize the potential in our gymnastics." — Head coach Mark Cook
"Tonight's win for the team felt really good. We had some highlights from the meet but still want to do better to reach our goals. We really worked well together and had each other's backs. I can't wait until next weekend so we can prove ourselves again." — Junior Amanda Wellick
UP NEXT
Arkansas will return to Barnhill Arena for the first time in 28 days when No. 23 Kentucky comes to Fayetteville on Friday, Feb. 26. It will be the team's annual Pink Meet for breast cancer awareness, and lucky fans will have the opportunity to compete in a hand stand contest for FREE BRACES from Arkansas Dentistry & Braces. Competition begins at 7 p.m. and will be streamed on SEC Network +.