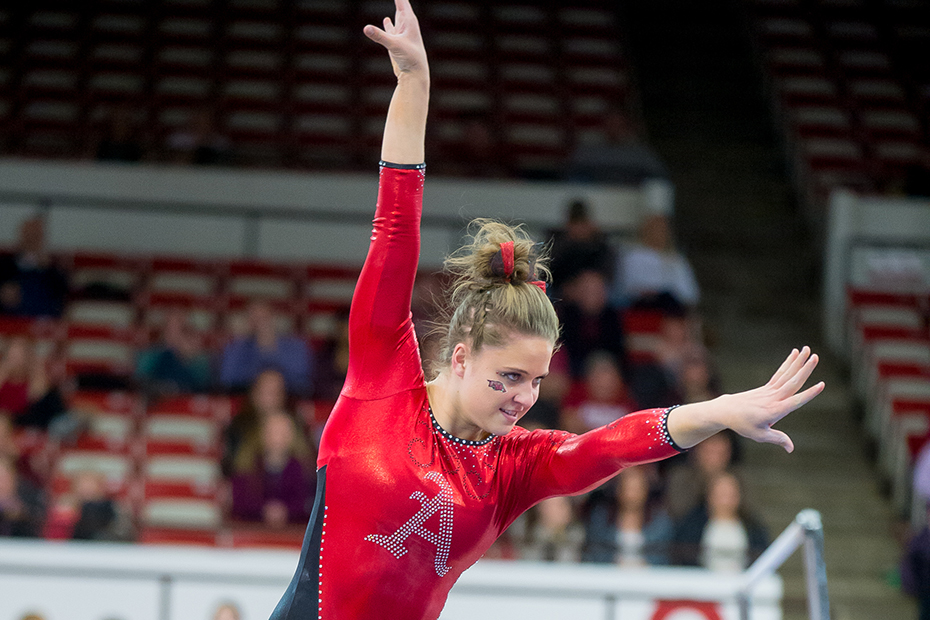 No. 13 Gymbacks Score 195.150 in Cancun Classic
CANCUN, Mexico — Arkansas gymnastics scored a 195.150 in the 2016 Cancun Classic, splitting decisions with Iowa (192.350) and No. 7 Michigan (196.975) at the Iberostar Hotel on Saturday night.
Amanda Wellick was the Razorbacks' lone all-arounder, and she netted a 39.300 score, including a team-high 9.900 vault on Arkansas' final rotation of the evening. Wellick finished third among all gymnasts in all-around and earned herself a large orange sombrero as a reward.
Sydnie Dillard notched a team-best 9.875 on balance beam, as well as a 9.775 to begin the floor exercise rotation. Samantha Nelson turned in a 9.825 on floor and a 9.700 on beam. Paige Zaziski was not in the all-around lineup for the first time in her career, but still racked up solid scores of 9.850 on uneven bars, 9.825 on vault and 9.750 on beam.
A few Gymbacks made their highly-anticipated debuts, including freshman Sydney McGlone, who competed on floor and vault. McGlone wowed the Arkansas fans in attendance when she scored 9.825 on floor, then followed with 9.875 on vault. Fellow freshman Makenzie Anderson also made her collegiate debut, competing on beam and floor.
Braie Speed competed on bars and vault, her first action since returning from a knee injury that kept her out all of 2015. Speed didn't disappoint, scoring 9.800 on bars and performing a vault of 9.775.
GYMQUOTES
"The overall performance wasn't what we expected or trained for, so I'm disappointed in that. We were really good on two events, but it's a four-event competition so we have to do better on those two events. We can't afford to make the mistakes we did tonight and we just have to focus on getting better every meet, and I feel very confident that we will do that." — Head coach Mark Cook
"It felt really good to start the season and this was a really fun meet to be a part of as a season opener. I'm pretty happy about my performance but there's still room for improvement to help the team score higher. As a team I think we overall responded really well in this meet and overcame different obstacles." — Junior Amanda Wellick
"This first meet was so fun and exciting. Obviously there's some room for improvement, but we finished the meet strong and I can't wait to continue the season." — Freshman Sydney McGlone
"Amanda did great on three events, she was a little bit shaky on beam but she'll get better there. Sydnie Dillard does a really good job on balance beam and floor, so she was solid. Sydney McGlone as a freshman did a great job, she came in on floor and vault and I was really proud of her." — Head coach Mark Cook
UP NEXT
Following a trip back to the States, Arkansas has 13 days until its next meet, the home opener vs. No. 9 Georgia on Friday, Jan. 15 in Barnhill Arena. It's then a quick turnaround for the Razorbacks, who also host No. 1 Oklahoma that weekend on Sunday, Jan. 17.