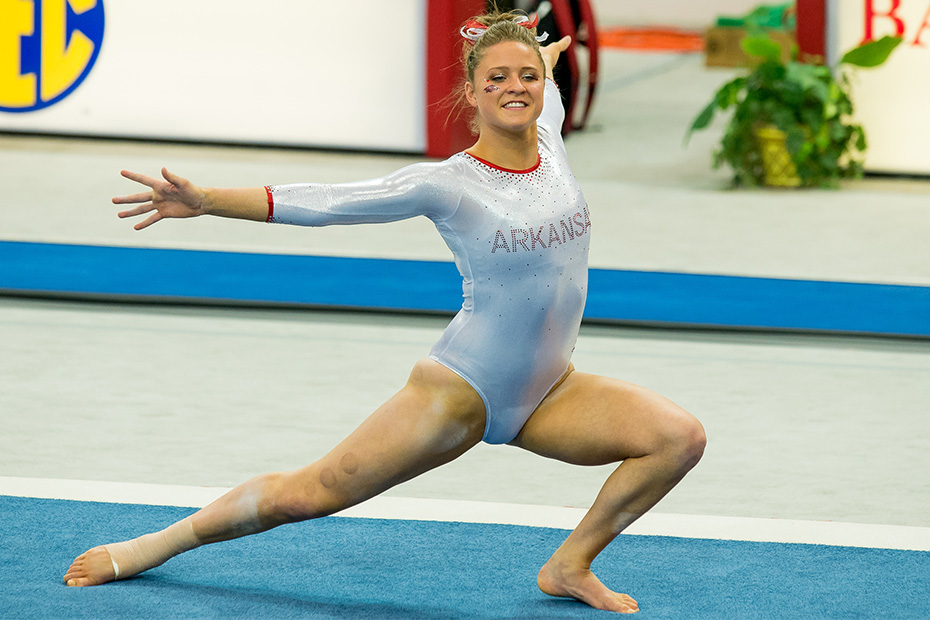 No. 13 @RazorbackGym Falls to Co-Defending Champion Oklahoma
NORMAN, Okla. –University of Arkansas sophomore Amanda Wellick began her 2015 season on a high note, as she captured her first career all-around title against the co-defending national champion and second-ranked Oklahoma on Friday night at the Lloyd Noble Center.
Wellick, who competed in the vault and floor exercise at last year's national championship session, strung together a trio of 9.80-plus scores on the vault, floor and beam to take home the all-around title. The sophomore began her night on the bars, where an early fall could of tripped up her night, instead the Wheaton, Ill., native was able to bounce back in the next rotation, as she posted her first 9.800-plus score of the night with a 9.850. She followed that routine up with a 9.875 in the floor exercise, which tied her with classmate Samantha Nelson for a team-high score in the event. Wellick concluded her night with a 9.800 on the beam to capture her first career all-around title.
The Razorbacks dropped the meet, 197.625-194.900.
Freshman Paige Zaziski, who was making her collegiate debut on Friday, had a spectacular beginning to her Arkansas career as she scored a team-best 9.850 on the bars and 9.900 on the vault.
The Razorbacks had a strong showing on the vault, as they had four gymnasts post scores over 9.800 in the rotation. Junior Heather Elswick led off with a 9.850, and Nelson, who was making her collegiate debut on the vault, followed up with a 9.825. Zaziski highlighted the event for Arkansas, as she was able to turn in a 9.900 on her turn to help the team score a 49.100 in the rotation.
Razorback of the Meet – Sophomore Samantha Nelson
• Collected a 9.825 in her first collegiate vault attempt.
• Tied a career-high 9.8875 on the floor exercise.
• Floor score was tied with classmate Amanda Wellick for a team best.
• Opened the year with a 9.700 on the beam.
9.80 Plus Routines
Bars – Paige Zaziski: 9.850
Vault – Heather Elswick: 9.850, Samantha Nelson: 9.825, Paige Zaziski: 9.90, Amanda Wellick: 9.850
Floor – Samantha Nelson: 9.875, Heather Elswick: 9.80, Amanda Wellick: 9.875
Beam – Keara Glover: 9.80, Amanda Wellick: 9.80, Sydnie Dillard: 9.875
All-Around Scores
Amanda Wellick: 38.800
Paige Zaziski: 38.650
Post-Meet Sound: Head Coach Mark Cook
On Tonight's Performance
"We had some good routines and some not-so-good routines. We had the jitters a little bit, but this is a starting point so we need to get better from here. We did have some really nice routines tonight, but we also counted some falls and you can't afford to count falls to be competitive. We have to tighten up in our practice, in our training and in our minds to perform better as a team next week."
On Sophomore Amanda Wellick Over Coming an Early Fall
"She is capable of hitting in all four events. She had a miscue tonight on the bars, but her experience allowed her to recover and finish strong. Amanda doesn't let what happened in one routine effect another, but she has to be able to hit in all four events and she is capable of that."
On Freshman Paige Zaziski's Fast Start
"She is a fantastic athlete and she is good in all four events. She got a bit distracted in her last event, so she needs to keep her focus so she can become more consistent. Freshmen tend to be a bit inconsistent in the all-around there first year because it's different than what they competed at in club. Paige will settle down a bit more every time she competes and will become more consistent."
On Sophomore Samantha Nelson's Performance
"She is learning to do vault, and she is performing it well to this point. She has a lot of power and it was nice to see her come out and perform the way she has in practice. She is very confident on the floor exercise and has demonstrated that tonight. She had a bit of a down night on the beam, but she will be able to recover from it. She is a very strong gymnast in all three events."
Quick Hits
• Three gymnasts, Samantha Nelson, Kathleen York and Paige Zaziski, posted career-high scores on the vault.
• Freshman Paige Zaziski collected the team's lone 9.900-plus score on the night with her 9.900 on the vault.
• Sophomore Samantha Nelson set a career-best on the vault with a 9.825 and tied her personal-best on the floor with a 9.875.
• Junior Heather Elswick started her night by setting a new career mark on the bars with a 9.675.
• Oklahoma now moves to 11-1 all-time against the Razorbacks.
Results
| | | |
| --- | --- | --- |
| Event | No. 13 Arkansas | No. 2 Oklahoma |
| Vault | 49.100 | 49.450 |
| Bars | 48.450 | 49.350 |
| Beam | 48.375 | 49.400 |
| Floor | 48.975 | 49.425 |
| Total | 194.900 | 197.625 |
Event Titles
| | | |
| --- | --- | --- |
| Event | Gymnast | Score |
| Vault | Haley Scaman (OU) | 9.950 |
| Bars | McKenzie Wofford (OU) | 9.925 |
| Beam | Chayse Capps (OU) | 9.925 |
| Floor | Haley Scaman (OU) | 9.950 |
| All-Around | Amanda Wellick (UA) | 38.800 |
Up Next
The Razorbacks will open the home portion of their 2015 schedule next Friday, Jan. 16, as they entertain No. 4 Alabama in Barnhill Arena. The meet will be the nightcap of the SEC's first-ever live gymnastics broadcast, which will take place on the SEC Network. Events are scheduled to begin at 8 p.m.
For more information on Arkansas gymnastics, follow @RazorbackGym on Twitter.