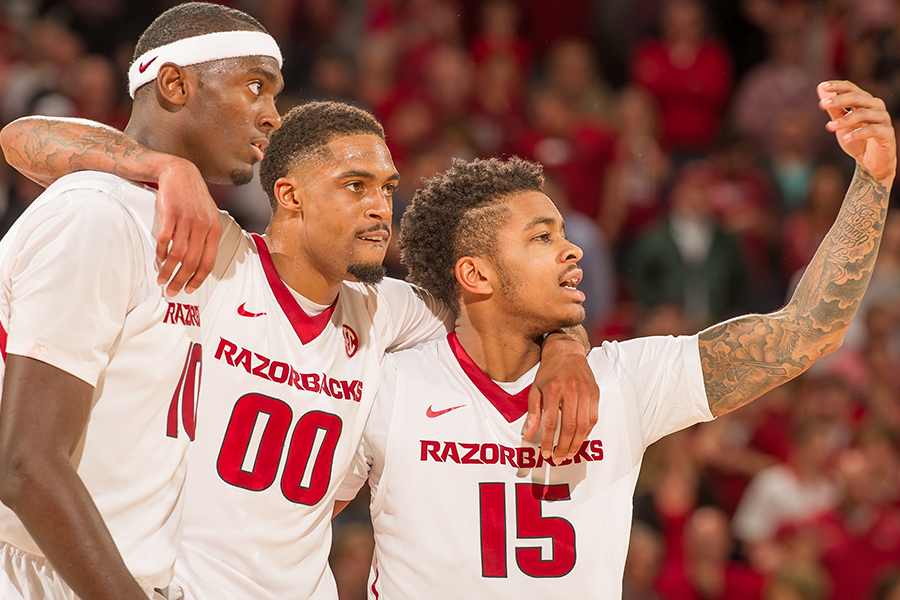 No. 25 Arkansas Takes Down Tennessee
FAYETTEVILLE, Ark. – Junior Michael Qualls scored 13 of his 17 points in the second half and the Razorbacks limited Tennessee to just 14 points over the final 15 minutes, as No. 25 Arkansas extended its win streak to three games with a hard-fought 69-64 SEC win over Tennessee on Tuesday night at Bud Walton Arena.
Both teams entered in a tie for second place in the SEC and were just two weeks removed from a meeting in Knoxville that was also decided by five points. With the win, Arkansas improves to 16-4 for the first time since 1997-98 and remains in second place in the SEC at 5-2. The road loss is the first in conference play (3-1) for Tennessee who now sits at 12-7 overall and 4-3 in the SEC.
Trailing 37-35 at the break, the Razorbacks turned to Qualls, who scored 30 points in the team's last game at Bud Walton Arena just six days ago. After being held to three points in the first half, Qualls scored 10 in the first 7:31 on the second half, highlighted by six straight during a 9-0 run that ended with his second three of the game for a 54-50 lead (12:29).
From that point forward Arkansas relied on its defense, limiting the Vols to just 14 points over the final 15 minutes of the game. Despite the improved defense, Tennessee was able to tie the game at 60-60 with 5:32 remaining before senior Rashad Madden hit his second big shot in as many games, draining a three-pointer from the left wing for a 63-60 lead.
Tennessee drew to within one, 63-62, after the two teams traded turnovers, but a quick mid-range jumper by junior Anthlon Bell and four straight offensive possessions without points for the Volunteers allowed the Razorbacks to grow the lead to 67-62 (1:03).
Arkansas had to make one final stop coming out of a Tennessee timeout with five seconds left, as Robert Hubbs III's three-pointer to tie the game hit every piece of the rim before Qualls grabbed the rebound and iced the game with two free throws.
Qualls and sophomore Bobby Portis' 17 points each marked the 17th time in the first 20 games that the duo has led Arkansas in scoring. Portis' streak of five consecutive double-doubles came to an end, as he came away with a game-high eight boards. Senior Alandise Harris reached double figures for the second straight game with 10 points while freshman Anton Beard scored 10 of the team's first 21 points on the night.
Tennessee was led by Josh Richardson's 17 points and six assists while he was joined in double figures by Hubbs III (15), Armani Moore (12) and Kevin Punter (10).
#RazorStat Of The Game
Arkansas never trailed over the final 14 minutes of the game, limiting Tennessee to just 14 points on 7-of-20 from the field and two free throw attempts over that span. The Volunteers came away with points on consecutive possessions just once over the final 14 minutes while the 27 second half points given up by the Razorbacks marks the first time this season they have limited back-to-back opponents to less than 30 points over the final 20 minutes.
Coach Anderson Postgame Sound
"I'm happy for our guys to win a hard-fought game against a Tennessee team that has been playing well. I really feel like we got better from a defensive standpoint tonight and built off a good defensive second half at Missouri. After three games in six days, our guys have earned a day off. Especially after three games in this league."
@RazorbackMBB Quick Hits
• Win was Arkansas' 300th at Bud Walton Arena (300-69).
• The 16-4 start is the program's best over the first 20 games since 1997-98.
• Arkansas is 5-2 in the SEC for the first time since 2007-08.
• Five (4-1) of seven SEC games have been decided by five points or less, including the last three wins.
• Three of five SEC wins have come after trailing at the half.
• Improved to 13-0 this season when forcing 15+ turnovers.
• Two wins in SEC play when trailing at the half.
• Arkansas has a three-pointer in its last 854 games.
• Opponents have finished with a positive assist/turnover ratio in just five of 20 games.
• Portis and Qualls have both finished in double figures 16 times.
• Portis or Qualls has led Arkansas in scoring 17 of 20 games.
• Portis extended his career-best double figure scoring streak to 15 games.
• Portis has gone for at least 17 points and eight rebounds in 9 of the last 14 games.
• Madden moved into a tie for eighth place all-time with 303 career assists.
• Both Beard and Harris have reached double figures three times in SEC play.
Up Next
Riding a three-game win streak, No. 25 Arkansas will look for its third SEC road win of the year when it travels to Florida (11-9, 4-3 SEC) on Saturday. The game will be televised nationally on CBS and is scheduled for a noon CT tip.