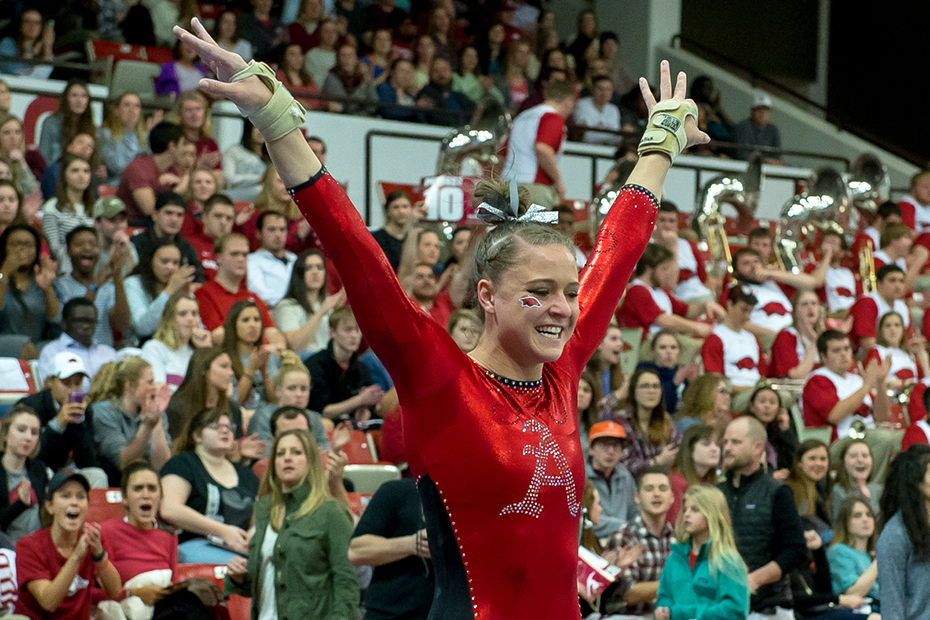 No. 8 Gymnastics Posts 196.150 at LSU
BATON ROUGE, La. — Led by Amanda Wellick's 39.350 in all-around, the No. 8 Arkansas gymnastics team scored 196.150 in the Pete Maravich Assembly Center on Friday night. Host No. 6 LSU posted a season-high 197.425 for the victory, as the Tigers defeated the Razorbacks in the top-10 SEC matchup.
Starting off on uneven bars, Arkansas saw a season-high performance of 9.875 by Erin Freier lead the way. With a strong bounce-back from a career-low score vs. No. 9 Auburn, Paige Zaziski also notched a 9.875 as the anchor of the lineup. The team's score of 49.175 on the apparatus was its second-best of the season.
Moving on to the second rotation, Wellick once again posted a 9.850 on vault. It was her 19th-consecutive vault of that score or better dating back to last season. Zaziski's 9.825 on the apparatus meant that the sophomore has made all six vaults this season of at least a 9.800. Braie Speed tied a career high of 9.800, while Sydney McGlone matched her.
Halfway through the meet, the Razorbacks were still in striking distance of the Tigers, down 98.575-98.200. Especially after the occurrences of the last two meets, it seemed at least possible. But the third rotation is what separated the two, as Arkansas scored 48.825 on floor exercise while LSU notched a 49.450 on balance beam. Wellick led the team with a routine of 9.825.
For the fifth-straight meet, the Razorbacks eclipsed the 49.000 mark on beam, this time with a 49.125. Arkansas counted five scores at 9.800 or above, topped by Wellick's 9.850. To tag along, Zaziski, Freier and Sydnie Dillard all notched 9.825's.
GYMQUOTES
"We made a few mistakes here and there, but all and all we competed very strong mentally. It was a very loud arena and I think we got better mentally by competing in this meet. Amanda put together all four routines, which was good, and we had some other good ones in there." — Head coach Mark Cook
"LSU has a loud crowd, so being able to come here is good preparation for the SEC environment. There's a lot of distractions and a lot of things going on. Today we really stayed in our bubble and that was really good for us." — Junior Amanda Wellick
UP NEXT
In their second of three consecutive road meets, the Razorbacks will travel to Gainesville to face No. 1 Florida on Friday, Feb. 12. The meet begins at 6 p.m. CT and will be streamed on SEC Network +.