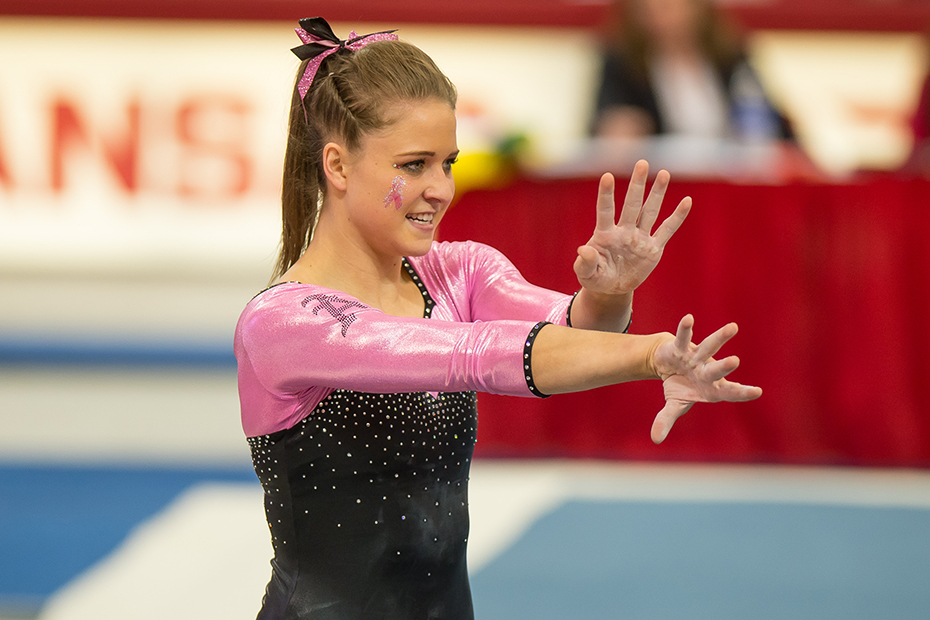 No. 9 Gymnastics Wins Fourth SEC Meet
COLUMBIA, Mo. — The Arkansas gymnastics team posted a 196.200, its highest road score in six weeks, to clinch a third-consecutive dual meet victory at No. 14 Missouri on Friday night. The No. 9 Razorbacks edged the Tigers – who scored a 196.050 on Senior Night – for their fourth SEC win of the season and improved to 4-3 in conference competition.
Amanda Wellick had yet another strong all-around performance with a 39.375. She scored above a 9.800 on all four events, and has now has reached that mark in 23 of her last 24 performances over the last six meets. Samantha Nelson had the highest Arkansas score of the night, with a 9.900 on floor exercise in the No. 4 spot in the lineup.
The Razorbacks began the night on uneven bars, with Wellick (9.825) and Erin Freier (9.800) posting score of that or higher. With one fall already in the rotation, Paige Zaziski saved one of her own at the anchor spot, as she hung on with a 9.750 and salvaged a 48.900 for Arkansas.
Moving on to the second rotation, Wellick extended her vault streak to 23-consecutive at 9.850 or higher with a 9.875 on this occasion. Sydney McGlone posted her second 9.850 in the last three meets, while Zaziski added a 9.825. The Razorbacks finished vault with a 49.075, and coupled with two falls on bars for Missouri, took a .400 lead into the second half of the meet.
Sydnie Dillard started off floor with a 9.825 and Arkansas never looked back, as Stephani Canizaro followed with a 9.825 of her own. To cap the rotation were Nelson's 9.900, a 9.825 from McGlone and a 9.850 from Wellick. The Razorbacks' 49.225 was their highest score of the night and fifth-best on floor this season.
Needed to stay steady on balance beam to pull out the win, Arkansas did just that throughout its lineup. Once again, Dillard started out with a 9.825 in the rotation for her second such score of the night. Wellick matched that score and Nelson anchored the lineup with a 9.800.
Wellick's 39.375 in all-around was her sixth straight at 39.325 or higher, the longest streak of her career. She fell shy of the Tigers' Morgan Porter, who notched a 39.675 to take the individual title.
GYMQUOTES
"We had a few uncharacteristic mistakes on our first event, but I felt that we bounced back really well on vault. We finished the meet aggressive and confident, which is what we needed to do. We've been saying all year that this team is mentally tough and I felt they proved that tonight." — Assistant coach Samantha Snider
"After tonight's meet we're very excited for Senior Night next week and motivated to go to the SEC Championship, where we will have the opportunity to show what we're made of against some of the best teams in the country." — Senior Sydnie Dillard
UP NEXT
Arkansas returns to Fayetteville on Friday, March 11 at 7 p.m. for the team's last meet at Barnhill Arena this season. Sydnie Dillard, Heather Elswick, Erin Freier and Keara Glover will be honored following the meet for their Senior Night.