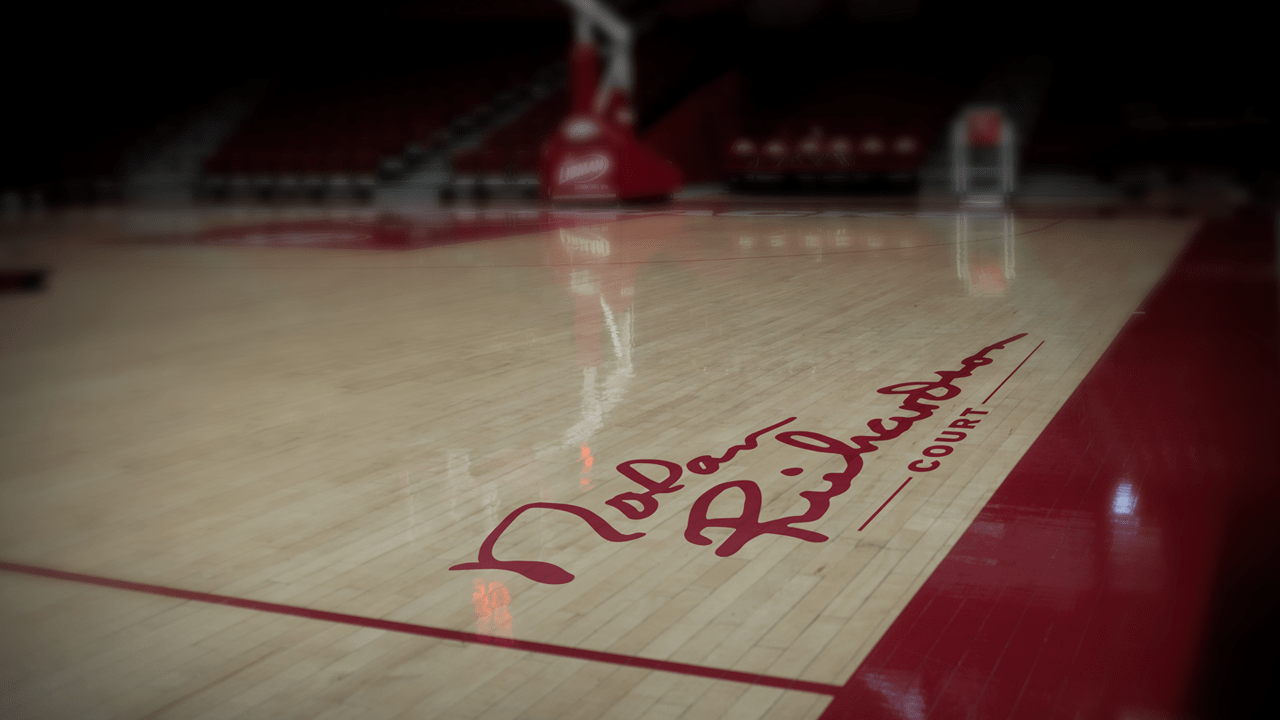 Nolan Richardson Court: Home to Razorback Basketball
FAYETTEVILLE, Ark. – The court at Bud Walton Arena will soon bear the name of Hall of Fame and legendary University of Arkansas men's basketball coach Nolan Richardson. A resolution submitted by Chancellor Joseph Steinmetz to the University of Arkansas System Board of Trustees to name the court at Bud Walton Arena for the long-time Arkansas men's basketball head coach was adopted at Thursday's Board of Trustees meeting in Hot Springs, Arkansas.
Vice Chancellor and Director of Athletics Hunter Yurachek read the resolution shortly before the Board of Trustees unanimously voted to adopt the resolution. Yurachek announced the court would be formally dedicated as Nolan Richardson Court prior to the 2019-20 basketball season.
"Today is a historic day for Razorback Athletics and for our state," Yurachek said. "Coach Nolan Richardson is a college basketball legend and a trailblazer on and off the court. Now each time a University of Arkansas team takes the basketball court at Bud Walton Arena, fans in the venue and throughout the nation will be reminded of Coach Richardson's many accomplishments and his lasting legacy."
While the head basketball coach, Richardson led the Razorbacks to an overall record of 389-169, setting a school record for wins and a .697 winning percentage. He led Arkansas to 13 NCAA Tournament appearances including six Sweet 16's (1990, 1991, 1993, 1994, 1995, 1996), four Elite Eights (1990, 1991, 1994, 1995), three Final Fours (1990, 1994, 1995) a national runner-up finish (1995) and the 1994 NCAA Championship, the first in school history.
He also coached Arkansas to five conference championships including three in the Southwest Conference (1988-89, 1989-90, 1990-91) along with SWC tournament championships in the same seasons. Richardson also guided the Razorbacks to two Southeastern Conference championships (1991-92, 1993-94), an SEC Western Division title (1994-95), and three trips to the SEC tournament championship including an SEC tournament title in 2000.
In Richardson's 22 combined years as a head coach at the collegiate level — at Western Texas Junior College, the University of Tulsa and the University of Arkansas — he compiled a record of 508-206 (.711) and became the only head coach in college basketball history to win a National Junior College Championship, NIT Championship and NCAA Championship.
Coach Richardson was elected to the National Collegiate Basketball Hall of Fame in 2008, the Naismith Memorial Basketball Hall of Fame in 2014, the University of Arkansas Sports Hall of Honor in 1996 and the Arkansas Sports Hall of Fame in 1998. He was also honored with a banner in Bud Walton Arena in 2015.