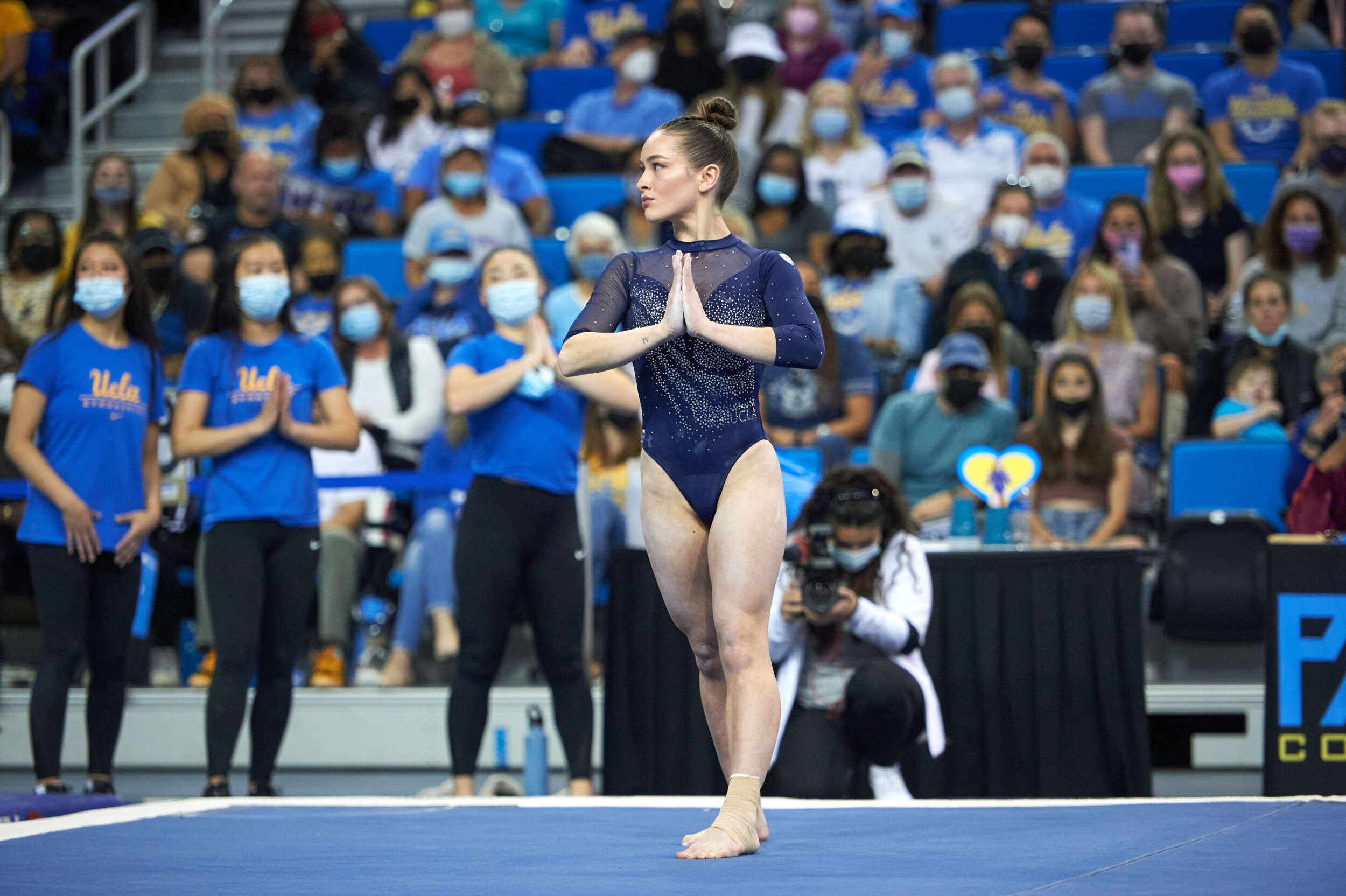 Norah Flatley Joins Gymbacks for 2023 Season
The Arkansas gymnastics program will boost its roster for the 2023 slate with the addition of one of the NCAA's most talented gymnasts, Norah Flatley, as a graduate transfer.
Flatley, a West Des Moines, Iowa, native, has spent the last four seasons at UCLA. She was a three-time All-American in her time with the Bruins, a four-time All-Pac-12 honoree and a 2019 regular season All-American on bars.
"I could not be more thrilled that Norah has chosen Arkansas for the upcoming season, to continue her academic and athletic career. Norah brings so much to the table, including her performance quality, difficulty, and experience," head coach Jordyn Wieber said. "She has already had incredible success and I have no doubt she will bring her competitive spirit and leadership to this program."
In her senior season at UCLA, Flatley battled back from an ankle injury as a junior to become a consistent all-arounder for the Bruins and was named the 2022 College Gym News Comeback Gymnast of the Year. She reached new personal highs on vault (9.900), beam (9.950), floor (9.975) and all-around (39.750) in 2022 and finished the regular season ranked 33rd all-around. She was ranked as high as 15th on bars throughout the year and was named All-Pac-12 on the event.
Flatley was crowned the all-around champion at the Raleigh Regional with a score of 39.575, which earned her a spot at the NCAA Championships as an individual all-around competitor, along with new Gymback teammate Kennedy Hambrick. She placed seventh overall at the NCAA Championships with a score of 39.600 and earned a 9.9375 on beam for her second and third career All-American honors.
In her freshman and sophomore years, Flatley was named All-Pac-12 three times, twice on beam and once on bars. She also received regular season All-American status on bars as a rookie in 2019.
Flatley competed with Arkansas coaches Felicia Hano and Kyla Ross at UCLA in her first two years, as Ross and Hano wrapped their collegiate competition careers in 2020. Flatley was also guided by Wieber in her freshman season, which was Wieber's final year as a volunteer assistant coach for the Bruins before being hired at Arkansas.
Prior to her time at UCLA, Norah trained at Chow's Gymnastics in West Des Moines, Iowa, and was a two-time junior national team member, in which time she won three beam and team titles with Team USA in international assignments.
More Information
Visit ArkansasRazorbacks.com for the latest information on all things Arkansas Gymnastics. You can also find the Razorbacks on social media by liking us on Facebook (Arkansas Razorback Gymnastics) and following us on Twitter and Instagram (@RazorbackGym).