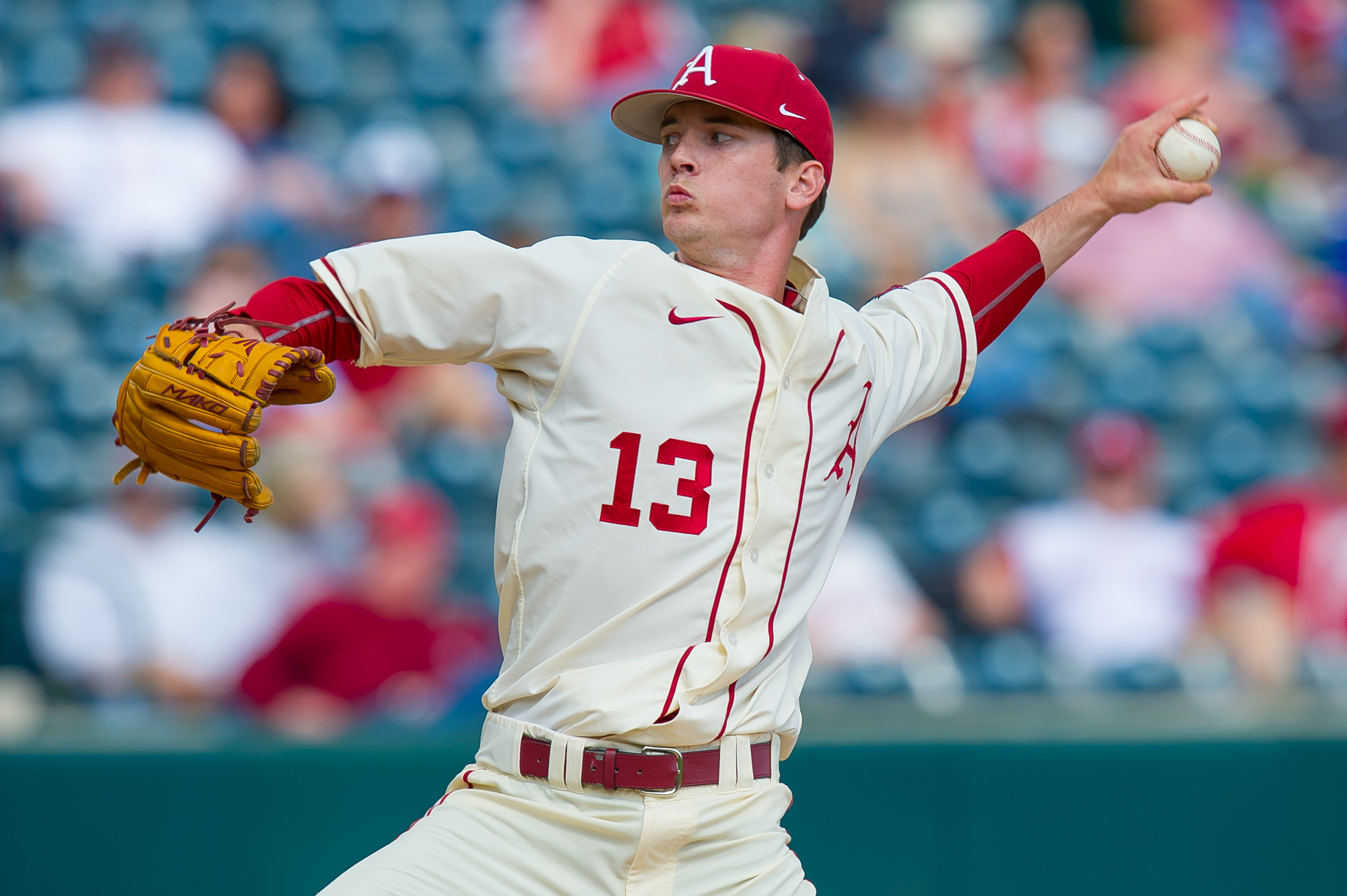 Pitchers Secure Sweep For Razorbacks
Box Score (PDF) | DVH Postgame | Players Postgame | Bernal Web Gem | Bonfield's Day At the Plate | Photo Gallery
FAYETTEVILLE, Ark. – Five Razorback pitchers combined for a two-hitter Sunday afternoon, helping to earn the sweep of Western Illinois, winning 3-0 at Baum Stadium. Led by freshman Barrett Loeske, who got the start and went four strong innings, the Razorback pitchers of Loeske, Kacey Murphy, Josh Alberius, Ty Harris, Doug Willey and Jordan Rodriguez, combined to give up no runs on two hits, walking two and striking out 10.
The sweep is Arkansas' (13-3) fourth weekend sweep of the season, which includes the three wins at the Houston College Classic and second shutout of the year. The loss drops Western Illinois' record to 2-11 overall.
Loeske got the win Sunday afternoon, his first of the season in his first career start, allowing just one hit over the four innings of work, walking one and striking out four. Western Illinois' starting pitcher Ian Koch was saddled with the loss after he gave up two earned runs on five hits over 4.2 innings to move to 0-2 on the year.
Offensively, Arkansas only managed six hits in the game with Luke Bonfield continuing his hot streak, going 2-for-4 with three RBI. Bonfield, who had three hits yesterday but no RBI, made up for it on Sunday as he was responsible for all three of Arkansas' runs, both hits with two outs.
His RBI single in the first and two RBI double in the fifth were all the Hogs needed to finish the sweep of the Leathernecks. In the series, Bonfield was 5-for-7 with three doubles and three RBI, all coming in the final two games.
The Razorbacks will play their final two non-conference games before the start of SEC play starting this Tuesday when Grambling State comes to Baum Stadium for a two-game midweek series.
First pitch on Tuesday is set for 6:30 p.m. and its also "Bark in the Park" night. Fans with a completed waiver can bring their dog to the stadium for this special night. More information on "Bark in the Park" night cane be found on ArkansasRazorbacks.com.
For more information on Razorback baseball, follow @RazorbackBSB on Twitter.
RAZORBACK QUOTABLES
"Just a great job by our pitching staff today. Everybody came in and did their job. I'm very proud of Barrett Loseke for getting us off to a fresh start and giving us a chance to win today." – Head coach Dave Van Horn on his team's series sweep of Western Illinois
"He been swinging the bat well and swung the bat well in practice yesterday. We gave him a shot yesterday and he, obviously, had a really good day. You know today, he gets two big two-out hits and drives in 3 of our runs and we set up inning after inning and couldn't get a good hit. I give them credit for pitching out of jams." – Head coach Dave Van Horn on Luke Bonfield's three RBI day
"Well, he is a little deceptive on the mound. He has that quick motion that's hard to run on and he just brings that fastness to you. He actually has a good breaking ball and it took him to the third inning to really get it going and that was pretty good. When you throw strikes, you get a chance to have some quick innings if they hit at us and that's what they did today." – Head coach Dave Van Horn on Barrett Loeske's first career start
"My fastball and my slider were working for me today. Some pitches were good, some weren't and then I only threw one change up, but location-wise I felt like I worked ahead in the count with my fastball. My slider was good in the bullpen. It has been getting better progressively." – Barrett Loeske on what worked for him today
"I feel like I am seeing the ball pretty well. It's just trusting my swing and not feeling like I have to try and hit the ball out of the park every time. Just hitting the ball where it is pitched and using my head. – Luke Bonfield on his three RBI day
ARKANSAS NOTABLES
Barret Loseke tossed four scoreless innings today and has not allowed a run over 10.2 innings this season.
Loseke earned his first collegiate win in his first collegiate start Sunday against Western Illinois.
Reliever Jordan Rodriguez collected his first save as a Razorback Sunday, pitching to the final batter in the ninth inning.
Luke Bonfield added his fourth multi-RBI game of the year after going 2-for-4 with three RBI. It's his third game of three or more RBI this season.
Carson Shaddy had his seventh multi-hit game of the year, going 2-for-3.
The Razorbacks held Western Illinois to four earned runs and fanned 29 hitters throughout the three-game series.
Arkansas turned two double plays for the day bringing their season total up to 18, which ranks second in the SEC.
The Razorback pitching staff tossed their second shutout of the year.
Arkansas improves to 9-1 against Western Illinois, all-time.