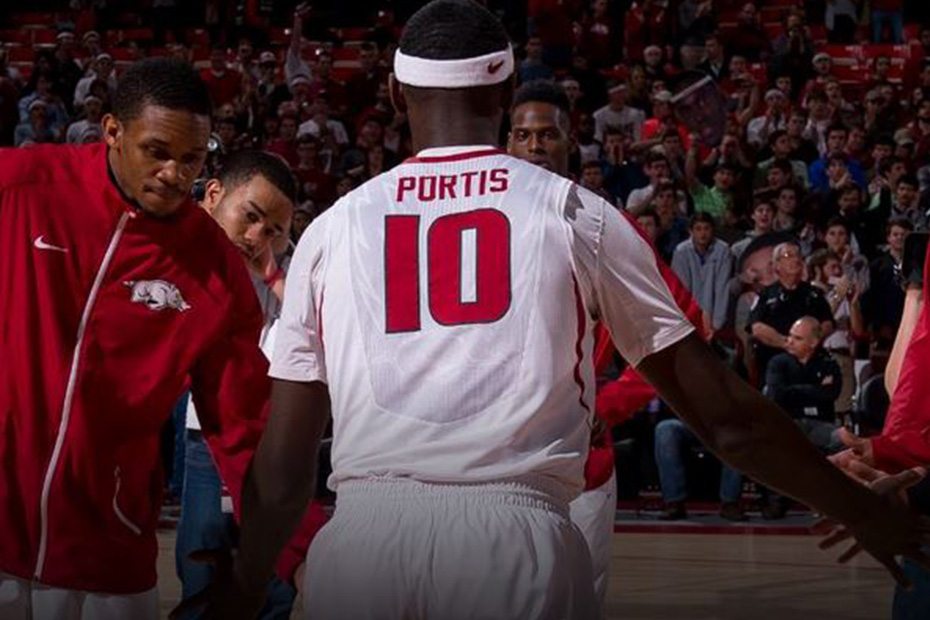 Portis Picks Up Second SEC Player Of The Week Award
BIRMINGHAM, Ala. – After leading Arkansas to a pair of SEC road wins with averages of 17.0 points, 6.5 rebounds and 3.0 blocks, sophomore Bobby Portis has been named the SEC Player of the Week for the second time this season, announced by the league office on Monday.
The SEC's leading scorer in league games at 18.7 points per night, Portis is the only player to be named SEC Player of the Week twice this season and the sixth to do it in program history. Last year, he was a three-time SEC Freshman of the Week, equaling current Houston Rocket guard Patrick Beverley's program record.
Portis opened the week with 22 points, including 14 in the second half, and eight rebounds during a 101-87 win at Auburn. Behind Portis' league-leading fifth 20-point game in SEC action, Arkansas became the first power conference team this year to score 100 points in a league contest. Just four days later, Portis put together 12 points, five rebounds and a season-best four blocks to help the Razorbacks take sole possession of second place in the SEC with a 71-70 win at Ole Miss.
Arkansas has won seven of its last eight games, moving up to No. 18 in Monday's latest Associated Press Top 25 poll. The 20-5 start marks the first time since 1997-98 that the Razorbacks have 20 wins in their first 25 games. Arkansas will look to hold on to sole possession of second place (9-3) in the SEC on Wednesday when it hosts Auburn at 8 p.m. on the SEC Network.
Portis' AAU coach as a kid, Corliss Williamson will be honored at halftime of Wednesday's game. Currently an assistant for the Sacramento Kings, Williamson was a two-time All-American (1993-94, 1994-95) and two-time SEC Player of the Year (1993-94, 1994-95) for the Razorbacks. As a sophomore in 1993-94, he earned Most Outstanding Player honors in the NCAA Tournament in leading the Hogs to their first national basketball crown with a 76-72 win over the Duke Blue Devils. He averaged 20.4 points a game in Arkansas' national championship season.
Elite Company 
Portis has put his name amongst the nation's elite in his sophomore campaign. Portis is one of just eight players on the current Watch List for the Naismith Trophy, Wooden Award, Lute Olson Award and Oscar Robertson Trophy. Below is a list of the eight players on that list with Portis being the only underclassman.
Bobby Portis, Arkansas 
Ron Baker, Witchita State
Jerian Grant, Notre Dame
Montrez Harrell, Louisville
Frank Kaminski, Wisconsin
Georges Niang, Iowa State
Kevin Pangos, Gonzaga
BP Quick Hits
• In the top 10 in the SEC in six statistical categories.
• One of four high-major players averaging at least 17.5 points and 8.5 rebounds per game.
• Eight double-doubles in SEC action and a team-high 10 on the year.
• Averaging 18.7 points and 9.6 rebounds in SEC play.
• Scored 20 points a team-best nine times after doing so once as a freshman in 2013-14.
• Reached double figures in 20 straight games, a career-best.
• Has led the team in rebounding 20 times, scoring in 15 games and both in the same game on 13 occasions.
• Wednesday against Missouri will be his 50th consecutive start to open his career.
• Became the first player in program history with a double-double in five straight SEC games earlier in the year.
• First player in program history with 30 & 10 in an SEC game, going for 32 points and 11 boards against Vandy.