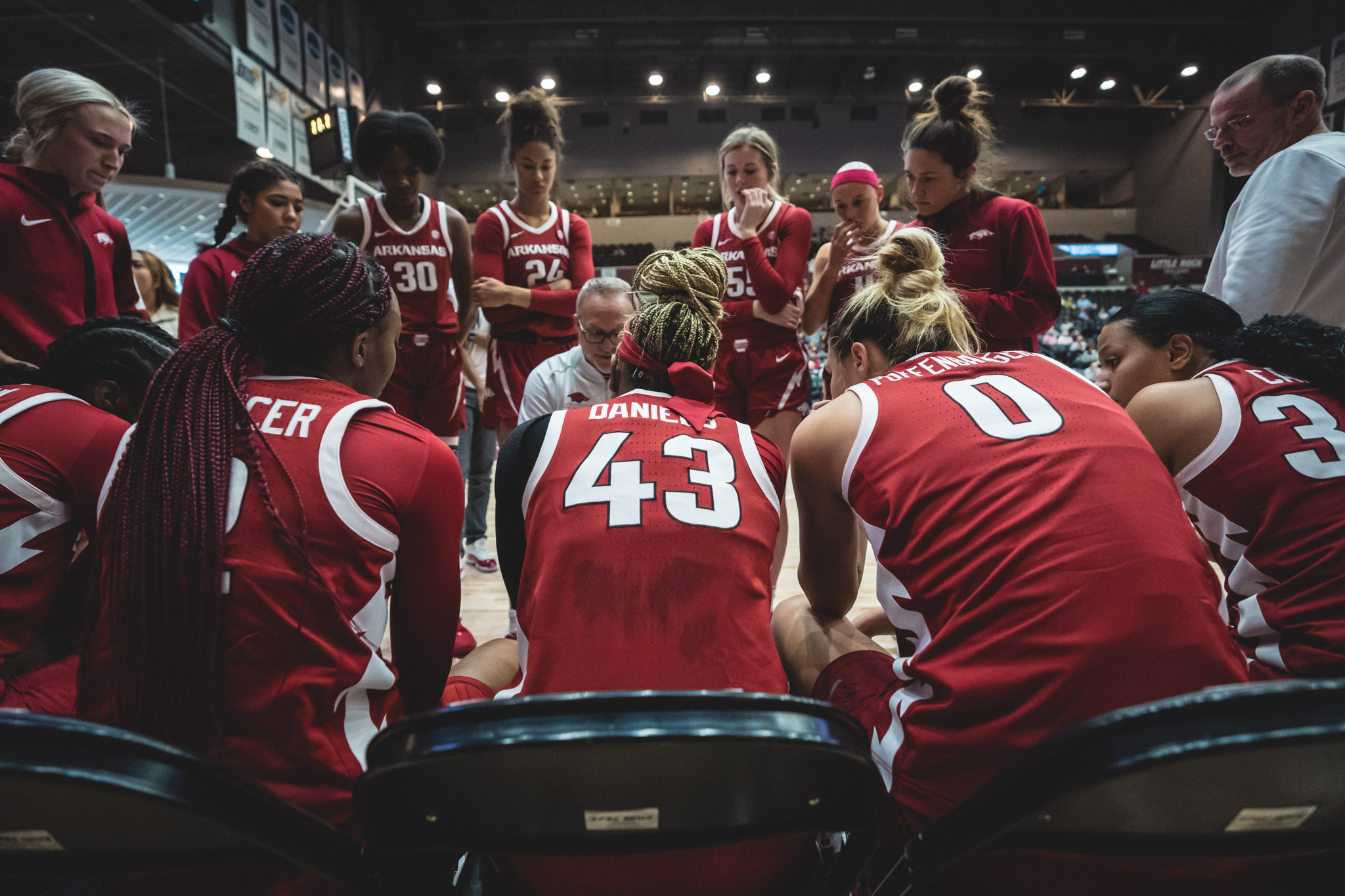 Preview – Arkansas Set for Paradise Jam
ST. THOMAS, UVI – The Arkansas women's basketball team (5-0) will look to keep its superb start to the season, as the team is geared up to play three games during Thanksgiving week for Paradise Jam. Arkansas will play Northern Arizona, Clemson and No. 25 Kansas State in the Reef Tournament bracket at the University of Virgin Islands Sports and Fitness Center. All three of the Razorbacks' games will be streamed on ESPN3.
GAME INFORMATION
NAU
Date: Thursday, Nov. 24
Time: 4:45 p.m. (CT)
Clemson
Date: Friday, Nov. 25
Time: 7 p.m. (CT)
Kansas State
Date: Saturday, Nov. 26
Time: 7 p.m. (CT)
Location: University of Virgin Islands Sports and Fitness Center
Watch: ESPN3
Listen: Razorback Sports Network from Learfield
Arkansas Game Notes
Clemson Game Notes
NAU Game Notes
Kansas State Game Notes
STORYLINES
This is Arkansas' second appearance at the Paradise Jam. The last time was 2002 when the Razorbacks when 2-1
Arkansas has started the year 5-0 for the first time since 2019. This marks the second time a Mike Neighbors team at Arkansas has gotten off to a start like such
The Razorbacks will hope to continue the momentum going into the Paradise Jam with three games lined up. Arkansas got off to an 8-0 start in 2016-17 and will look to match that with three more wins at the Paradise Jam
With a win on Thursday, Neighbors will have achieved the 200th win of his career as a Division I head coach. He just earned his 100th at Arkansas in the Razorbacks' 80-59 win over Kent State on Nov. 17
The Razorbacks keep on besting its season-high point total after every game, scoring 70 in the season opener at Arkansas – Pine Bluff, 72 versus Central Arkansas, 79 against Tulsa, 80 at home against Kent State and 93 most recently at Little Rock
Arkansas is now 10-0 against in-state schools since the ban was lifted prior to the 2019-20 season and 3-0 versus teams in the Natural State this year
After four games, Erynn Barnum is leading Arkansas with 19.2 points and 8.6 rebounds per game. She has the best field goal percentage in the SEC at .673, as well as second in scoring and sixth in rebounding in the league. Barnum's field goal percentage is tied for the seventh best nationally
Samara Spencer paces the team with 24 assists (sixth most in the SEC with 4.8) and Makayla Daniels has the most steals with 10
The team leads the SEC in 3-point attempts per game and 3-pointers per game (8.2) and is second in least turnovers committed per game (12.8) and most free throws made per game (19)
Arkansas teams in the past few years have not been known for rebounding the ball effectively, but that has changed, as the Razorbacks have outrebounded opponents in all five games so far. Arkansas is third in rebounds per game with 47.40 (17th in the NCAA)
With Neighbors in charge, the Razorbacks are coming off back-to-back NCAA Tournament appearances (should be back-to-back-to-back had the COVID-19 pandemic have not cancelled the 2020 tournament) and four consecutive winning seasons. Neighbors also has the most wins of any collegiate coach with 10 years of experience
Arkansas was projected to finish fourth in the SEC Preseason Media Poll and tied for fifth in the SEC Preseason Coaches Poll. Daniels represents Arkansas on the Preseason Second Team (Coaches poll)
The Razorbacks are traveling out of the mainland for a tournament for the first time since 2019 when the team played at the Bahamas Hoopfest in 2019. The team will look to win another tournament title after taking home the title in the Bahamas that year
This edition of the Paradise Jam is the 23rd year of the event
Daniels is now tied with Blair Savage (1989-93) at No. 27 on the all-time scoring list with 1,072 points. Her next step is reaching No. 26 to tie Kelly Johnson (1992-96) at 1,109 points
SCOUTING NORTHERN ARIZONA
Northern Arizona was projected to finish third in the Big Sky Media Poll and fourth in the Coaches Poll out of 10 teams
The Lumberjacks are 3-2 heading into St. Thomas behind two 100-point wins (at California Baptist, 110-104 in 2OT and versus Park Gilbert, 111-44) and a tight 69-68 loss to Arizona State
After five games, Montana Oltrogge leads the team with 14.2 points and 6.8 rebounds per game
Regan Schenck has been putting in work as a floor general with a team-leading 35 assists, while her and Emily Rodabaugh have the most steals on the team with 10
NAU finished the 2021-22 season with 17-14 record, 12-8 in Big Sky play
The team is coming off a Big Sky Championship game appearance, falling to No. 2-seed Montana State, 75-64
Loree Payne is in her 13th year as a head coach and sixth season at the helm of NAU
Payne is coming off her 200th career win, which was done in a big way with a double overtime victory over California Baptist
HISTORY AGAINST THE LUMBERJACKS
Thursday will be the first time these teams will meet in the series
SCOUTING CLEMSON
Clemson was picked to finish 12th in the ACC Blue Ribbon Panel Preseason Poll. The Tigers are coming off a 10-21 season
Ruby Whitehorn made a spot on the Blue Ribbon Panel Newcomer Watch List. Whitehorn is a freshman from Detroit
The Tigers are 3-1 going into the Virgin Islands with wins coming over Gardner-Webb, Wofford and Richmond. Their lone loss is vs. No. 1/1 South Carolina
Amari Robinson leads the Tigers with 14.0 points and 5.5 rebounds per game
Daisha Bradford paces the team in rebounds (7.3 RPG), assists (13) and steals (8)
Head coach Amanda Butler is in her fifth year at the helm of Clemson
Butler has experience playing against the SEC and Arkansas, as she was the head coach at Florida for nine years. Butler has an 11-2 record against the Razorbacks
HISTORY AGAINST THE TIGERS
Arkansas is 3-0 in the series vs. the Tigers
The last time these two teams met was on Dec. 7, 2007, which resulted in a 79-63 win
The first game of this series was on March 15, 2002, in the NCAA Tournament (79-63, Arkansas) 
SCOUTING KANSAS STATE
No. 25 Kansas State, who just cracked the AP Top 25, is 5-0 coming into the Paradise Jam with its biggest win of the season coming against No. 4/6 Iowa (84-83)
K-State was projected to finish sixth in the Big 12 with 37 votes
Serena Sundell earned her way on the All-Big 12 Preseason Team
After five games, Gabby Gregory leads with 21.4 points per game
Sundell pulls down a team's most rebounds per game with 7.0 and has the most assists (25). Jaelyn Glenn has tallied a team's most 15 steals
The Wildcats are coming off a 20-13 season in 2021-22, which ended in a second-round appearance at the NCAA Tournament, losing to NC State, 89-57
Jeff Mittie is in his 31st season as a head coach and approaching his ninth year at K-State. He is recently coming off his 600th win in the first game of the season
At K-State, Mittie has led his teams to six postseason appearances and four NCAA Tournament trips
HISTORY AGAINST THE WILDCATS
Arkansas and K-State are tied in the series, 3-3
These two teams met last on Dec. 7, 2019, resulting in an 81-72 win for Arkansas
Arkansas is on a two-game winning streak against the Wildcats
The first time these two teams met was in 1982, when the Razorbacks won 68-53 in Fayetteville
 LAST TIME OUT
Arkansas handed it to Little Rock on Sunday with a 93-49 win at the Jack Stephens Center
The Razorbacks shot a season best 62.5 from the field, marking the first time since 2020 the Razorbacks shot 60+ percent (Feb. 16, 2020, vs. Ole Miss)
Four players reached double digits in scoring for the fourth time this season
Chrissy Carr logged a season-best 22 points off 7-of-10 shooting and 4-of-6 from 3-point, delivering 15 of her points in the third quarter
Barnum registered 15 points and nine rebounds, while Saylor Poffenbarger had nine points and nine boards, with both just shy of reaching a double-double
Daniels delivered 12 points and four assists and Spencer had 11 points, seven rebounds and six assists
All 12 players played, while 11 scored
 UPCOMING
Arkansas returns to Bud Walton Arena for a four-game homestand, starting with a matchup against Troy on Dec. 1 with tipoff at 7 p.m.
MORE INFORMATION
For more information about Arkansas Women's Basketball, follow us on Twitter and Instagram at @RazorbackWBB and on Facebook at Facebook.com/RazorbackWBB. Be sure to subscribe to our YouTube Channel, "Kickin' It In The Neighborhood" for an inside look at the Razorback women's basketball program and check out The Neighborhood podcasts at CoachNeighbors.com.