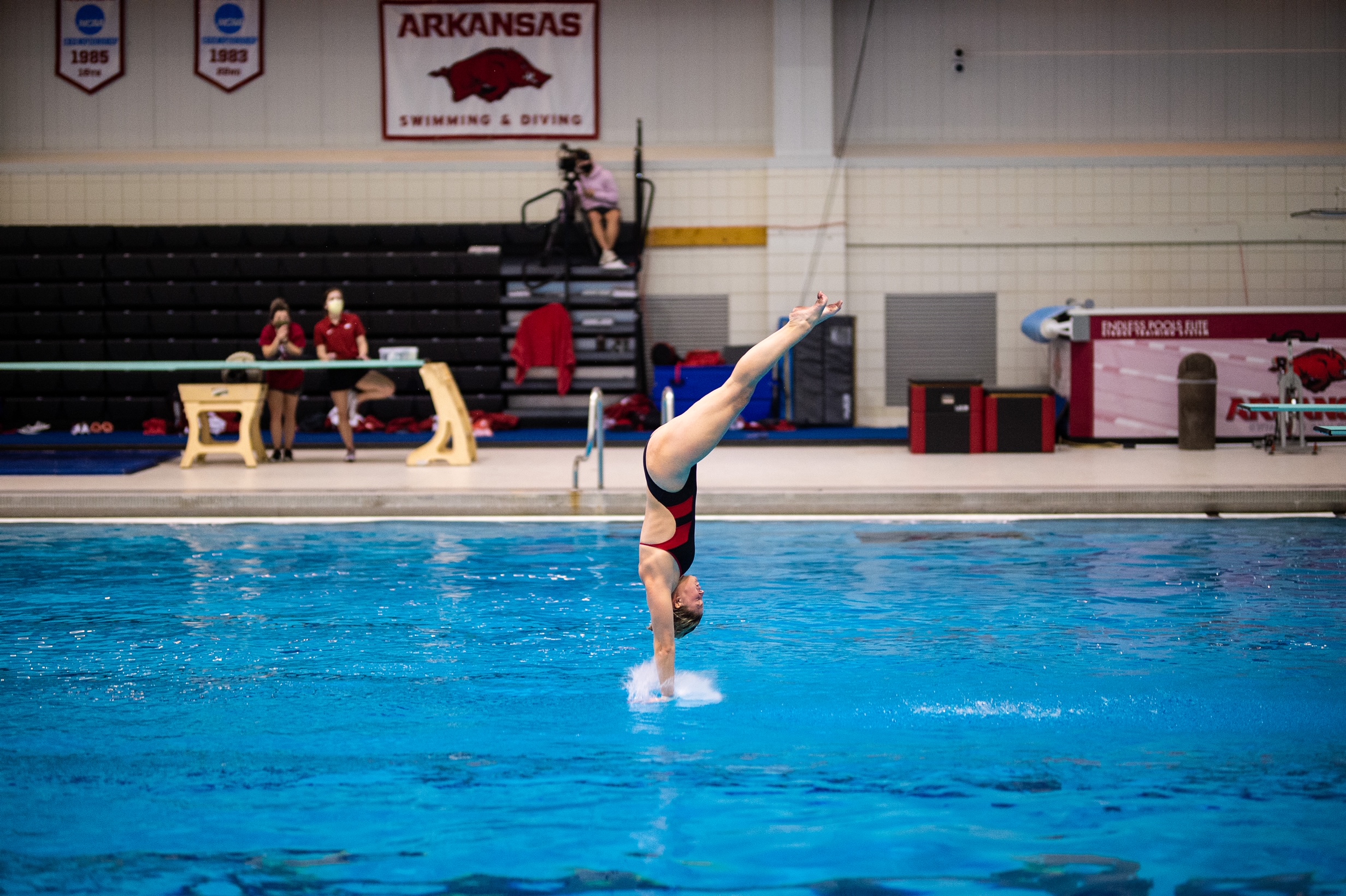 Razorback Divers Set Sights on Zone Diving Championships
Fayetteville, Ark.- The Arkansas Razorback divers will compete in the Zone D Diving Championships beginning Thursday in Lexington, Kentucky at the Lancaster Aquatic Center.
The women's one-meter is scheduled for Thursday, the women's three-meter will be on Friday and the platform dive wraps up the three-day event for the women on Saturday. The Razorbacks are coming off a great regular season led by Brooke Schultz, a three-time SEC Diver of the Week this season. Schultz, Maha Amer and Estilla Mosena will be competing in the one-meter and three-meter competitions. Amer will be the lone Razorback competing in the platform dive.
Order of Events
Thursday, March 11  
Women's 1M
1M Prelim – 10:00 a.m. – 12:45 p.m. CT
1M Final – 1:00-  2:00 p.m. CT
Friday, March 12  
Women's 3M
3M Prelim – 10:00 a.m. CT – 12:45 p.m. CT
3M Final – 1:00 – 2:00 p.m. CT
Saturday, March 13  
Women's PL
PL Prelim – 10:00 – 11:15 a.m. CT
PL Final – 11:15 a.m. CT – 12:15 p.m. CT
Quotables
Diving Coach Dale Schultz: "We are excited for the Zone D Championships. We have quite a few spots for this zone due to the performances at the NCAA championships two years ago. Brooke, Maha and Estilla have looked solid so far in warmup."
For more information on Arkansas women's Swimming and Diving follow @RazorbackSD on Twitter, Instagram and Facebook.