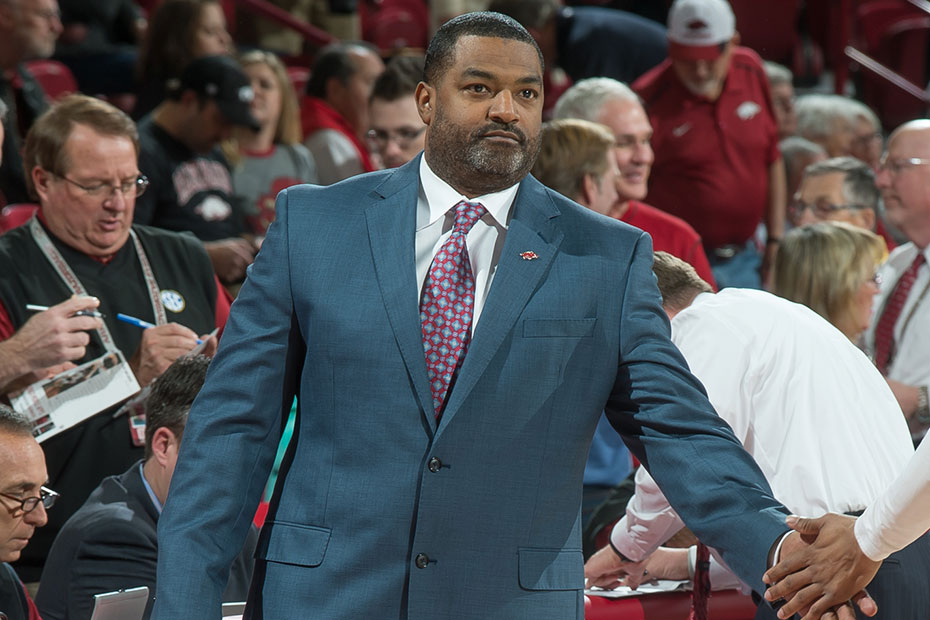 Razorback Legend Joins Mike'd Up on Monday
FAYETTEVILLE, Ark. – Razorback legend and current staff member Lee Mayberry will join Mike Anderson on Mike'd Up, the weekly radio show dedicated to Arkansas basketball at Sassy's Red House in Fayetteville on Monday at 7 p.m.
The one-hour program gives fans an opportunity to interact with Razorback coaches and players, while also getting a chance to learn more about the personalities they witness on the court. Hosted by the voice of the Razorbacks, Chuck Barrett, the program features interviews with Coach Anderson and Arkansas student-athletes, coaches and staff members. Fans in attendance will also have an opportunity to ask the head Razorback their own questions. Fans can also send in questions to Coach Anderson on the day of each show via Twitter to @RazorbackMBB and by using the hashtag #MikedUp.
As one of the most decorated players in program history, Mayberry led Arkansas to four NCAA Tournaments from 1989-1992, including the 1990 Final Four before being selected in the first round of the 1992 NBA Draft by the Milwaukee Bucks. His legacy is visible all over the Razorback record book, as he still holds the program record for career steals (291) while ranking second in assists (729) and third in points (1,940).
Mayberry played seven seasons in the NBA, scoring over 2,500 points with Milwaukee and the Vancouver Grizzlies. He went on to become a mentor in the National Basketball Developmental League (NBDL) for three years before transitioning to an NBA Scout for the Golden State Warriors from 2011-2013. Mayberry is the Co-owner of the Playing With Basketball program. The faith-based program teaches youth the basics of basketball and stresses the importance of quality. He returned to Arkansas for the 2014-15 season and completed his degree.
Arkansas hits the road to take on the Florida Gators on Wednesday, Feb. 3, before returning home to host Tennessee on Saturday, Feb. 6. Both games will be televised on SEC Network. To purchase tickets click here.
Mike'd Up can be heard across the Razorback Sports Network from IMG College across the state. All four remaining shows are held on Mondays at 7 p.m.
Remaining 2015-16 Mike'd Up Schedule (All Shows At 7 p.m.)
Monday, Feb. 1
Monday, Feb. 15
Monday, Feb. 22
Monday, Feb. 29
For more information on Arkansas men's basketball, follow @RazorbackMBB on Twitter.