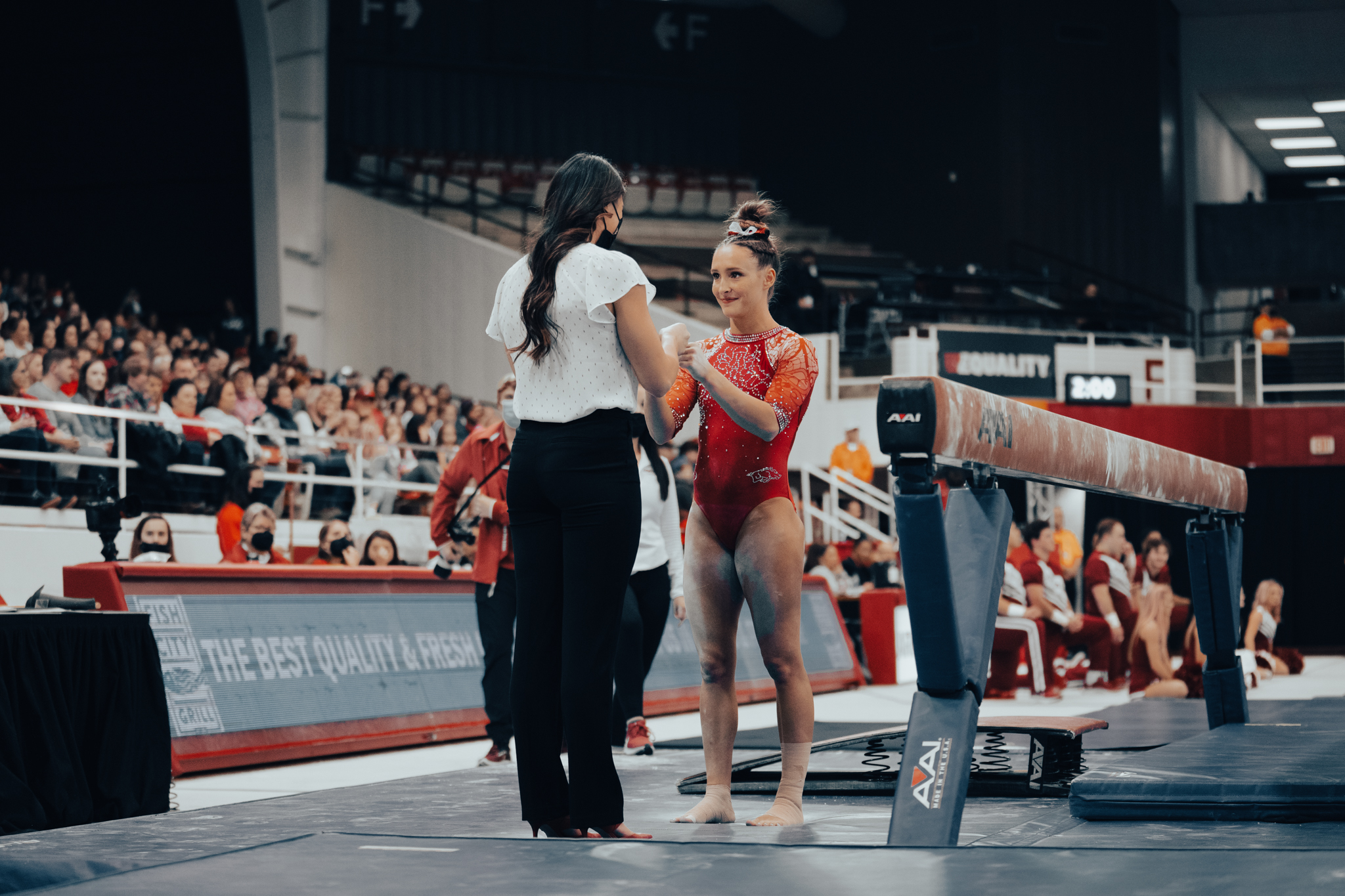 Razorback Review: Beam
Recap highlights of the 2022 season with the Gymbacks in the Razorback Review, starting with achievements on balance beam.
New Program Record
Under the guidance of Olympic gold medalist and NCAA and elite beam champion Kyla Ross, the Gymbacks re-wrote the record books on Jan. 28 with a new program record on beam. The Gymbacks posted a 49.475 on the event against the Florida Gators in Gainesville and counted four of five scores over 9.9. Seniors Bailey Lovett, Kennedy Hambrick and Amanda Elswick all earned a share of third place with 9.925 marks.
16 Scores Over 9.9
In the 2022 slate, the Gymbacks recorded 16 scores of 9.9 or above across 13 meets. This metric contributed to Arkansas' jump from 36 total 9.9+ scores in 2019 to 62 in 2022. Three gymnasts also recorded new personal bests over 9.9 on beam:
Kennedy Hambrick, 9.975
Amanda Elswick, 9.950
Leah Smith, 9.900
Six Beam Titles
Arkansas captured at least a share of a beam title six times over the team's 10 regular season meets. Elswick and Hambrick both took the top spot on the event twice, while Lovett and Smith did once each.
Beam was Arkansas' strongest event several weeks throughout the season. The Gymbacks posted a final ranking of 16th, a high ranking of 8th, and fell within the top 10 as a team for four straight weeks in January and February. Hambrick and Elswick led the way, with rankings as high as 7th and 18th in the country, respectively.
Season High Routines
Kennedy Hambrick, 9.975 (career high, earned one 10)
Grace personified. Unmatched skill.@ken_gymnast with a 9.975 in the fifth spot! pic.twitter.com/DdeHNqbx5P

— Arkansas Gymnastics 🐗 (@RazorbackGym) February 6, 2022
Amanda Elswick, 9.950 (career high, 2x)
How 'bout a career high to end the night? @lilwicky519 will take that challenge.

She scores a 9.950 to match her personal best and clinches her second beam title in as many weeks! pic.twitter.com/6iawJF4sgK

— Arkansas Gymnastics 🐗 (@RazorbackGym) March 5, 2022
Bailey Lovett, 9.925
Big time, Bailey ‼️

Season-high 9.925 for @bailey__lovett in the two spot. 🤩 pic.twitter.com/Sz3hdQcRUc

— Arkansas Gymnastics 🐗 (@RazorbackGym) January 29, 2022
Kalyxta Gamiao, 9.875
Kiara Gianfagna, 9.850 (2x)
Presidents of the @kiara_gianfagna fan club. 🥰 pic.twitter.com/v8h5f3JuaJ

— Arkansas Gymnastics 🐗 (@RazorbackGym) March 6, 2022
Makie Sedlacek, 9.825
Sarah Shaffer, 9.800
Maggie O'Hara, 9.775
More Information
Visit ArkansasRazorbacks.com for the latest information on all things Arkansas Gymnastics. You can also find the Razorbacks on social media by liking us on Facebook (Arkansas Razorback Gymnastics) and following us on Twitter and Instagram (@RazorbackGym).