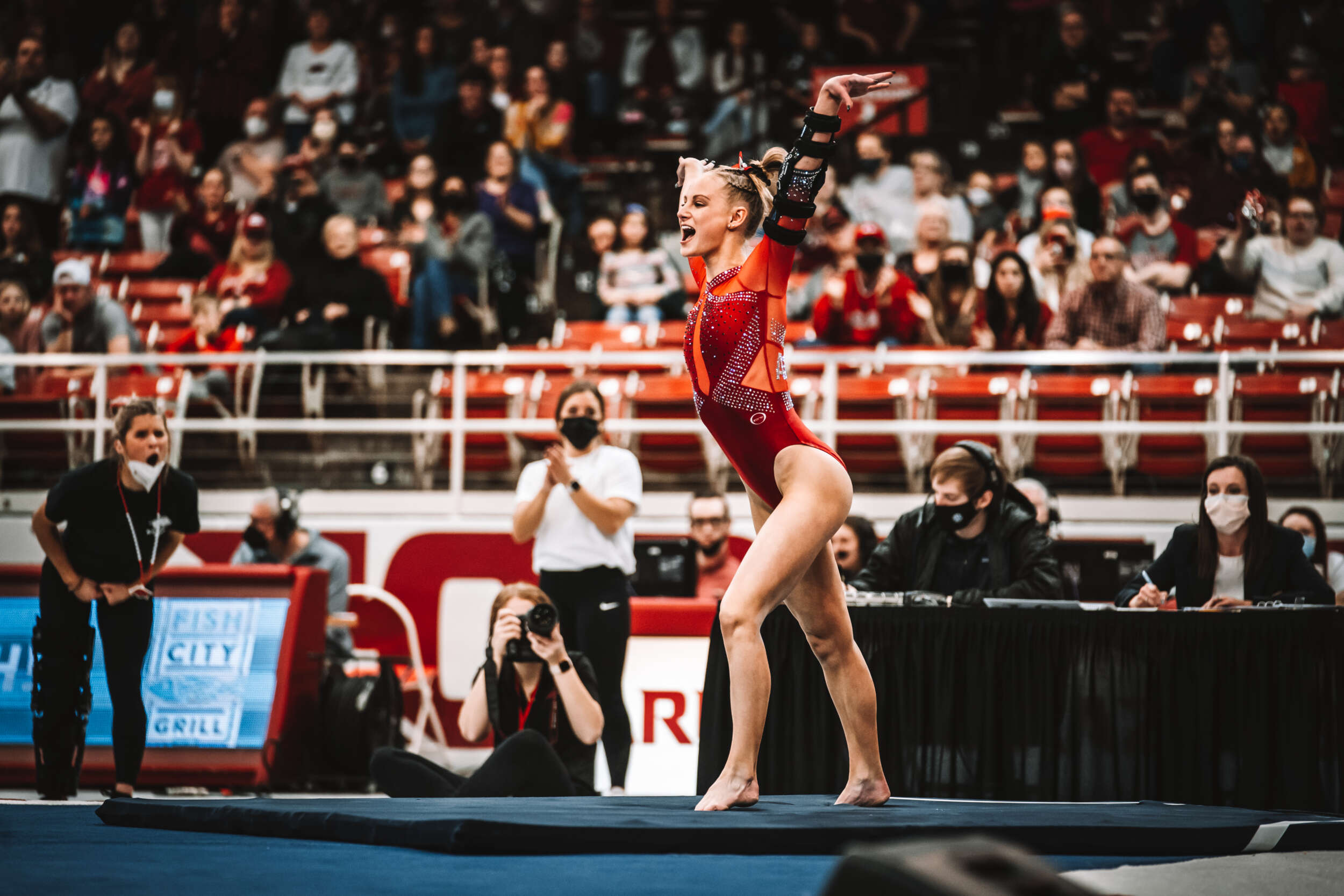 Razorback Review: Floor
Recap highlights of the 2022 season with the Gymbacks in the Razorback Review, next with notable stats on floor exercise.
39 Straight Meets with 49+
Headed into head coach Jordyn Wieber's third season in 2022, the Gymbacks were carrying a 32-meet streak of floor scores over 49, which was the third-longest active streak in the country. Arkansas extended it seven more meets to 39, besting Alabama and moving into the second-longest active position. The Hogs were ranked as high as ninth on floor in the regular season and fell within the top 15 in five of seven weeks.
7 Gymnasts with 9.9+ Season Highs
Nine Gymbacks competed in the floor lineup in the 2022 slate, and seven of those gymnasts posted season highs of 9.9 or above. Among gymnasts who made at least three floor appearances, none had a season high lower than 9.875. Arkansas' rookies showed great promise and confidence from the start, and each of the Hogs' three freshman floor workers will carry career highs over 9.9 into their sophomore years. It's the first time since 2004 in which three first-year Gymbacks set highs of 9.9 or above on floor in one season.
New Regional Floor Record
Arkansas has now appeared in 18-straight NCAA regionals and Jordyn Wieber has appeared in two of two possible regional finals during her tenure as head coach. In 2022, the Gymbacks elevated their postseason performance on floor in back-to-back nights. In the regional semifinal in Norman, Okla., the Hogs used a new regional record 49.375 floor score in the third rotation to help propel the team to a spot in the second day of competition. The Gymbacks rose to the occasion yet again in the regional final and posted a 49.400 floor score to rewrite history in back-to-back contests. The Hogs also posted a fourth-best program SEC Championships floor score of 49.225.
Season High Routines
Kennedy Hambrick, 9.950
Have a night, @ken_gymnast!

Mark that one down as a 9.950 for Hambrick. pic.twitter.com/GW9Zp8oFIW

— Arkansas Gymnastics 🐗 (@RazorbackGym) February 6, 2022
Maddie Jones, 9.925 (career high)
Bailey Lovett, 9.925 (3x)
Skills as strong as her nerves.

That's @bailey__lovett for you. 💪 pic.twitter.com/YAgb6BGAiY

— Arkansas Gymnastics 🐗 (@RazorbackGym) April 1, 2022
Madison Hickey, 9.900 (career high)
Maddie Hickey bringing the heat. 🔥@madgymnast8 ties her career high of 9.900 in the second spot! pic.twitter.com/pRRFfTJsW9

— Arkansas Gymnastics 🐗 (@RazorbackGym) February 6, 2022
Makie Sedlacek, 9.900 (career high)
How do you frame a video?

Asking for us because this is art. pic.twitter.com/EhFsvjuaXi

— Arkansas Gymnastics 🐗 (@RazorbackGym) February 6, 2022
Sarah Shaffer, 9.900
Looking back on that spectacular @sarah_shaff floor because it's so much fun. 💃 pic.twitter.com/f1CniIRoDM

— Arkansas Gymnastics 🐗 (@RazorbackGym) April 2, 2022
Leah Smith, 9.900 (career high)
Savannah Pennese, 9.875 (2x, career high)
She does it again, folks. 🙌@savannah_2799 matches her career high set earlier this season with a 9.875 to start floor! pic.twitter.com/6mLFl92yBM

— Arkansas Gymnastics 🐗 (@RazorbackGym) February 12, 2022
Emma Kelley, 9.050