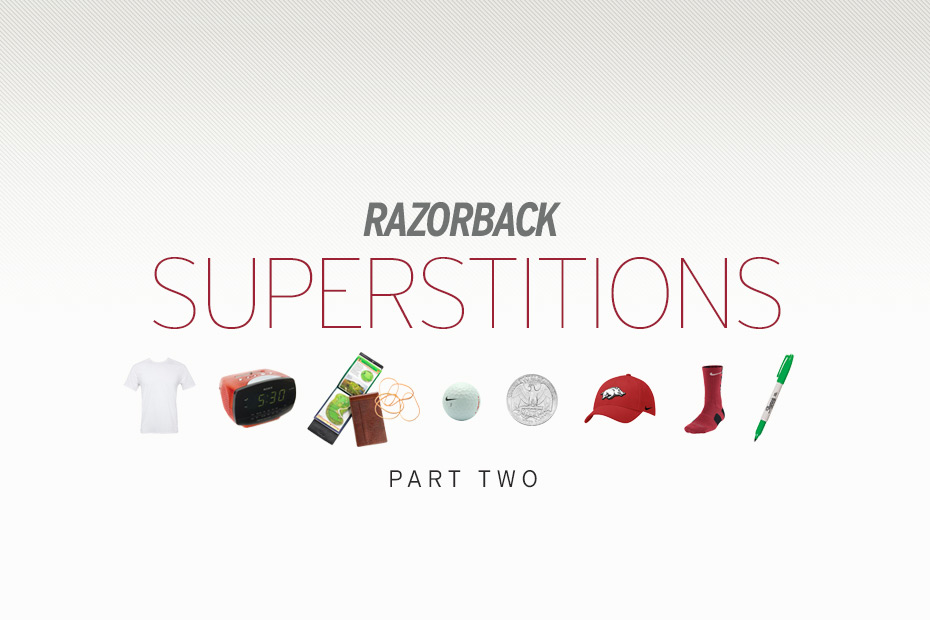 Razorback Superstitions: Part Two
FAYETTEVILLE, Ark. – From eating the same meal on a specific day of the week during a win streak, to pumping a precise amount of gasoline during gamedays, we explored the sports superstitions of five Arkansas head coaches in Part One of Razorback Superstitions.
But do they actually work and provide intangible benefits? Arkansas Director of Clinical and Sport Psychology Dr. Michael Johnson said there are positive and negative aspects of sports superstitions.
"[Superstitions] can be calming and relaxing," Johnson said. "[They] can also be a boon toward performance. On the other hand, superstitions can also be a controlling factor. For example, Les Miles eating grass on gamedays. I'm not sure how that benefits performance. If it's a ritual that gets in the way of performance, it can be a detriment. But if it can be a positive ritual, I say go for it."
With that in mind, let's take a look at a few more of our Razorback head coaches' superstitions and rituals.
Dave Van Horn, Baseball
Arkansas head baseball coach Dave Van Horn said his superstitions revolve around the long baseball season, and include continuing routines already in motion when the team is doing well.
"The way superstition goes in baseball, when you start winning and you get on a little bit of a run, then whatever you've been doing, you're going to continue to do," Van Horn said. "[If] the same coach is throwing pre-game batting practice because we're hitting the ball extremely well – even though his arm is getting tired and hurting – he's going to keep throwing pre-game batting practice. Why change things when it's going well?"
Van Horn also said the number of games in the baseball schedule lend to superstitions developing as the season goes on.
"It's not like I start the season saying, 'I'm going to wear this, this, and that because I'm superstitious,' Van Horn said. "I think it's more of things developing as you're going good or bad. If you're going bad, you're going to change it up, whether it's what you wear, or the lineup, or both, or maybe how you run your practices, so there are superstitions, but I don't think they're so set in stone that they don't change as the season is going on."
Some of Van Horn's superstitions are:
• Wardrobe: "I'm going to wear the same undershirt all the time if it's going good."
• Rolling up your pants: "If we're losing, I'm going to roll up my pants leg up a little bit every now and then to see if I can change our luck. If we win, I'm just going to keep them up."
• Hats: "Whatever hat I start with in the spring, that's the one I'm going to wear all 60-something games we end up playing. If we go all the way to the World Series, I'm going to wear the same hat no matter what. It's been like that my whole career."
Van Horn also said washing his hat is a big no-no.
"It might be to the point where I never wear it to practice," Van Horn said. "A lot of times I don't wear it during pre-games especially when I'm going to throw batting practice because that's when you really break a sweat. A sweaty hat can get a little smelly after a while."
Does Van Horn think all of these superstitions help him and his team?
"Probably not, but sometimes it's just about the mental part of it," Van Horn said. "I think that's what superstition is, it's about mentally changing it up or keeping it the same and feeling good about it."
Michael Hegarty, Women's Tennis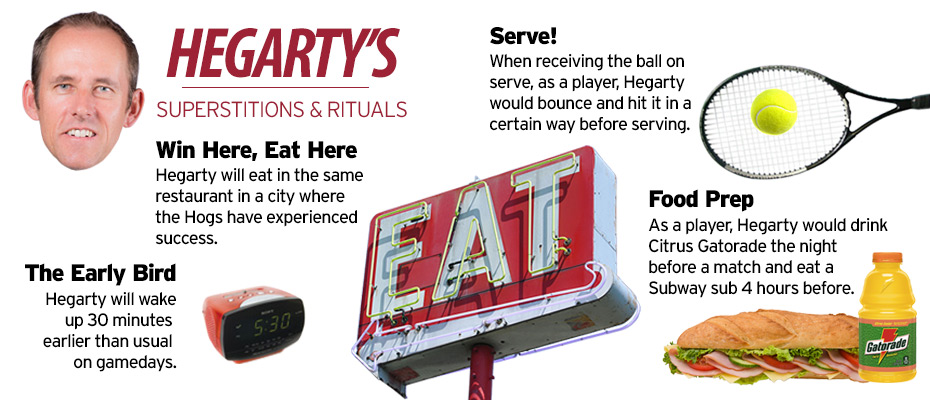 Michael Hegarty said he's not a very superstitious person as a head coach for the Razorback women's tennis team, although he does have some rituals:
• On gameday, he wakes up 30 minutes earlier than his usual 6 a.m. routine
• On the road, he likes to eat in the same restaurant in the same town where the Hogs have experienced success in the past. For example, Hegarty favors a tea shop in West Lafayette, Ind. and a certain restaurant in Los Angeles
But Hegarty said he was "a lot more" superstitious as a player. The night before a match, Hegarty would always drink the same flavor of Gatorade: Citrus.  Four hours before the match, he would eat the same exact Subway sandwich: A foot-long Cold Cut Trio on a wheat loaf.
At the time, it was the best value on the menu," Hegarty said. "But that was just a reliable go-to as a player and that was probably done hundreds of times."
During the match, when the ball was sent to him to serve, he would always hit it up in the air with a spin, land it on one side of the baseline, and bounce it back over the other side of the baseline before he would serve.
"Solid ritual right there," he said. "Obviously I've been doing that since I was a young player, so that was probably 15 years' worth of practice, so I got pretty good at it."
Shauna Estes-Taylor, Women's Golf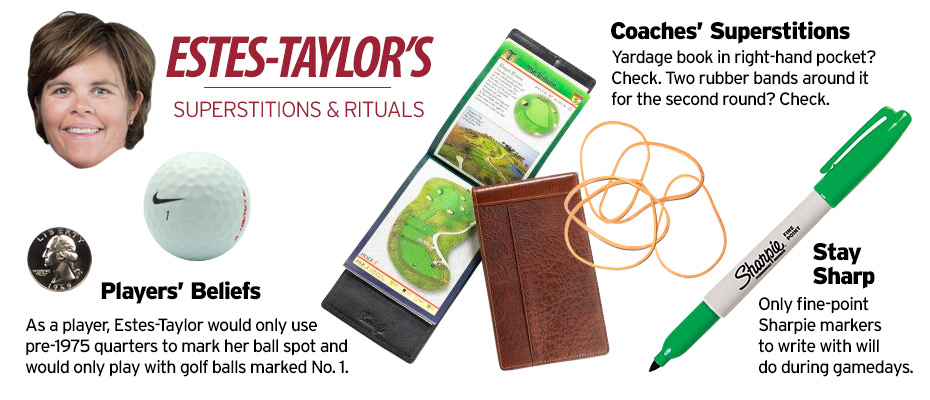 Arkansas women's golf head coach Shauna Estes-Taylor said as a coach, she always puts her yardage book in her right pocket. She also puts a rubber band around the book to denote what round the team is currently playing in. So for example: "One rubber band means we're in the first round, two in the second, and three on the final round," Estes-Taylor said.
In addition, Estes-Taylor said she only uses Sharpies to write with during gamedays. She doesn't have a color preference, but the permanent marker has to be the fine point version.
"If I don't have one on me at the moment, I will go out and buy one at the store.," she said.
One thing Estes-Taylor has in common with women's tennis head coach Hegarty is that both had more superstitions during their time as athletes versus their current head coaching roles. Estes-Taylor's superstitions as a player included:
• She would only play with golf balls marked with the number one
• She would only use quarters to mark her ball spot. And not just any old quarter – the coin had to be minted pre-1975 and never from the 1980s.
Estes-Taylor said since an 80 is a bad score in golf, she would always avoid quarters minted in that decade. She said the oldest quarter she was able to find in her golf bag or source from her parents was a 1969 coin. Estes-Taylor said she held on to that quarter for a long time until she lost it.
Sean Schimmel, Swimming

If you thought Arkansas football head coach Bret Bielema or baseball head coach Dave Van Horn had an extensive list of superstitions, well, you're wrong. Swimming head coach Sean Schimmel said he "probably has more than 50" sports superstitions.
But, we won't be sharing too many of them here, since one of his superstitions is about sharing his superstitions.
"Yeah, I usually don't share my superstitions," said Schimmel, laughing. "I definitely have them. When good things happen, I usually don't change it. Maybe I'll be vague so then I won't be telling you my superstitions."
Schimmel's superstitions are:
• If the Hogs win a swim meet, expect Schimmel to wear the same style and color socks at the next meet
• He'll stand at a certain spot on the deck during a meet, and if the team is doing well, he's not going to move from that spot
"That's it," he said. "That's all I'm going to tell you. There's probably 50 more, but I'm not going to tell you those. Now I won't be able to use the one where I stand on the same spot anymore because now people will know about it." (laughs)
Chris Bucknam, Men's Track and Field/Cross Country

Chris Bucknam, Arkansas men's track and field and cross country head coach, said he's definitely superstitious and he shared one of them with us: Sticking with articles of clothing he's worn during successful meets.
Since footwear is one of the most critical equipment pieces for track and field and cross country student-athletes, shoes would be the logical item one would be drawn to as a lucky charm in this particular sport. In Bucknam's case, luck comes from a specific pair of Nikes.
"In cross country, I wore a pair of Nikes at the outdoor championship, and we had good success — a third place finish," Bucknam said. "I've been wearing the same Nike shoes at our championship meets ever since."
Jimmy Dykes, Women's Basketball
Razorback women's basketball head coach Jimmy Dykes said he's probably the least superstitious coach on the University of Arkansas campus, but that he does follow the same non-superstitious routines on a daily basis: Starting the day with a devotional and a workout, then "work all day like everybody else."
There is one thing Dykes is known to do consistently: Wear a grey shirt with a red Hog (or a white shirt with a red Hog) with black slacks and a black belt with the Razorback on it.
"That's my gameday attire," Dykes said. "That's more of a routine and comfort level for me on gameday and I don't plan on changing it."
After two rounds of covering the superstitions, routines and rituals of 11 Razorback head coaches, it's clear that there are several ways coaches handle courting Lady Luck and coaxing wins by unorthodox means.
But we've got one more round in store for you.
Stay tuned for the final installment of Razorback Superstitions where we cover the rituals and habits of Arkansas head coaches Mike Anderson, Colby Hale, Courtney Deifel, and Mark Cook.