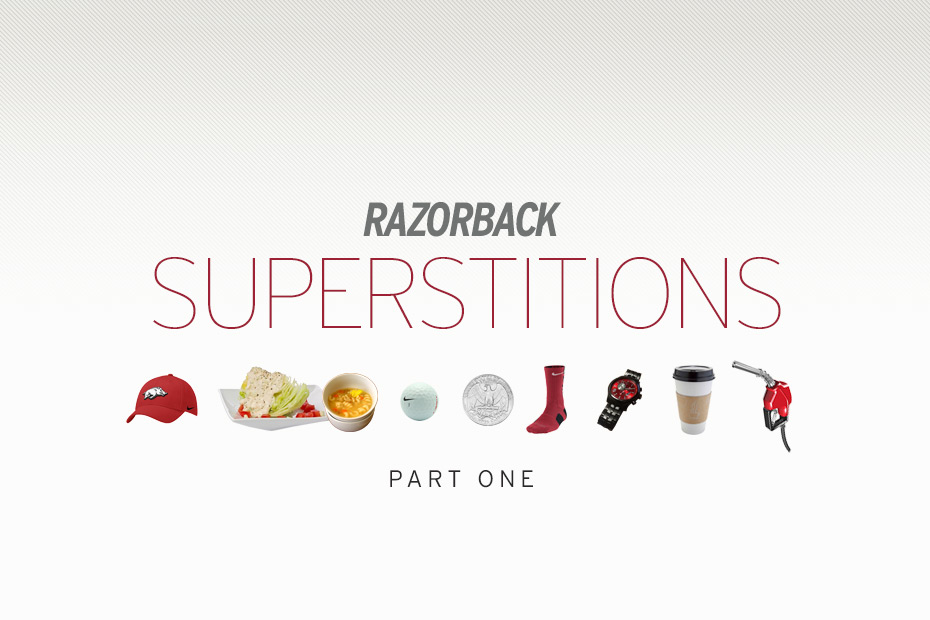 Razorback Superstitions: Part One
FAYETTEVILLE, Ark. – Trading away Babe Ruth to the Yankees was the root cause of the Red Sox's eight decades-long World Series drought.
Being on the cover of the Madden NFL video game series or Sports Illustrated will jinx the featured player.
Growing a beard during the playoffs will help your team win a championship.
Sports has always been a fertile ground for superstitions, rituals and habits like these that are thought to provide both good and bad luck during individual performances, games, seasons, and even careers.
And Razorback Athletics head coaches, many of whom are former athletes themselves, aren't immune to this part of the sports experience. For many, maintaining a set of unique sports beliefs helps them find comfort in times of great stress, and court Lady Luck for success in the SEC — the most competitive collegiate sports conference in the country.
We asked the head coaches of all 19 Razorback sports about their pre-game, season, and career superstitions and rituals and got some really interesting responses.
Check them out and let us know which coach you think has the most unique routine.
Bret Bielema, Football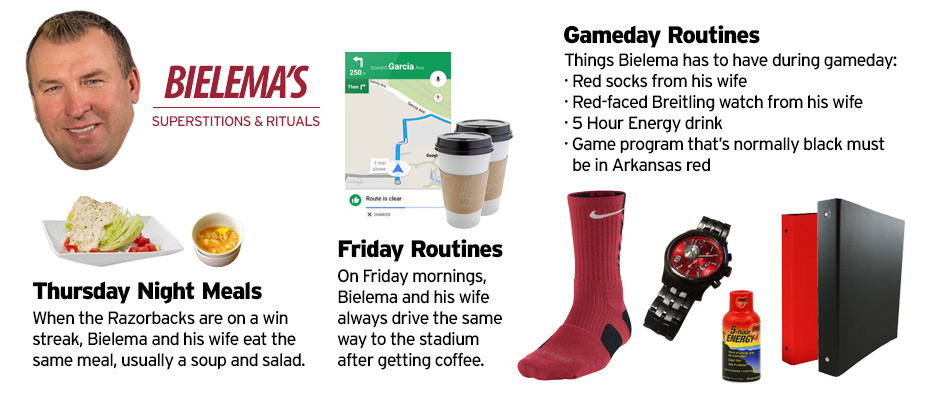 Arkansas head football coach Bret Bielema said trying to form routines and transforming them into good habits have helped him experience success over time as a head coach. From how he dresses, to how he prepares for games, to the time he goes to the stadium, consistently repeating habits that work for him increases his confidence and level of success. Some of Bielema's superstitions and habits include:
Eating the same dinner Thursday nights during a win streak
(This was during the Hogs' four-game win streak from Oct. 24-Nov. 20) "This superstition started way back when my wife and I first got married. The last four weeks, we've had the same meal every Thursday – a little wedge salad with some bleu cheese crumbles, black olives for her, none for me, and a cup of chicken noodle soup. That's our meal on Thursday nights, so it's been four weeks running. Once we win, we always stay with the same meal every Thursday. Thursday night is always family night. I've pretty much always stuck true to that, it's hard to get me off that."
Gameday rituals
Bielema said he has a number of superstitions and rituals during gameday. Some of them include:
• Wearing his "lucky watch": "[My wife] bought me a watch several years back, a Breitling with a red face on it. It's something I only wear during game days and it's been pretty lucky for us as of late. I also wear red socks, another gift from my wife. I also wear those in every game."
• Drinking a 5 Hour Energy: "Since I became a head coach, Mark Taurisani, my director of operations, brings me a 5 Hour Energy drink that's always out when I get to the locker room. I try to drink that an hour before the game. I'm not sure it does anything, but it's just a way to get myself wired up and focused."
• Program layout: During the week, the Razorback Football program is always in black, but on gamedays, Bielema said he has to have the program in Arkansas red.
Superstitions as a player
"A couple of things I did as a player: I always pulled my shirt through my belt loop and I would always listen to Bruce Springsteen's My Hometown. I carried that [ritual] all the way through my coaching career until I came here, and now the latest song I listen to is This Kind of Town by Justin Moore. That song reminds me of Fayetteville, the setting here, and it's kind of a way to draw a full circle."
What his wife thinks
If you're reading this and are thinking, 'Wow, that's a lot,' Bielema said his wife, Jennifer, is 10 times worse than him when it comes to observing superstitions and rituals.
In addition to helping him decide what their "Thursday night family win streak dinner" will be, the Bielemas always get coffee together on Friday mornings and stop at their favorite coffee shop on their way to Donald W. Reynolds Razorback Stadium. Lattes are the drink of choice for the Bielemas – vanilla for Bret, and caramel for Jennifer.
The route to the stadium is always the same: The long way. "We have to drive the same path," Bielema said. "We come in on North Street and we go around the stadium the long way because we want to have a little more time together. That's always a constant on Fridays."
Andy Jackson, Men's Tennis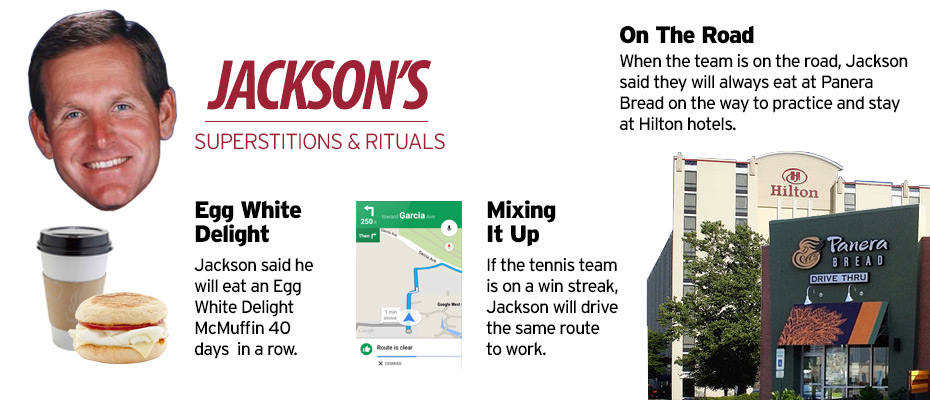 Head men's tennis coach Andy Jackson's superstitions are "probably all the normal ones," he said, from taking the same route to work, to eating the same breakfast if you're winning.
Jackson said his superstitions are more routine-based. He said the habits that turn into rituals and superstitions aren't what cause wins, "but you get it in your head and you figure, 'Hey, it can't hurt.'"
"In tennis, you actually teach people that it's important [to have rituals]," Jackson said. "Before serves, almost every player will have the same ritual, like how many times they bounce the ball."
Here are some of Jackson's "extremely ritualized" sports superstitions:
Food
• Breakfast: "I will eat an Egg White Delight McMuffin with a large coffee at McDonald's for 40 days in a row."
• Picking a restaurant and sticking with it: "There's something called the National Clay Courts in college, and I had a guy that had to play the prequalifying. You have to win three matches in the prequalifying, four matches in the qualifying, and six matches in the main draw to win. I didn't think he was going to win, so in the first day, he wanted to go to this Italian restaurant for dinner. We went, and he ended up winning the pre-qualifier, so we ate in the same Italian restaurant 11 nights in a row. When you got to the sixth or seventh [match], you didn't even have to ask where we were going to go. We were going to go to the same place every time."
• On The Road: "When we go on the road, we always eat at Panera Bread on the way to practice, and we always stay at Hilton hotels as well."
Route to work
"If I come down College Avenue going to work, then I go back home on [Interstate] 49. You have to mix it up a bit."
Brad McMakin, Men's Golf
Arkansas men's golf head coach Brad McMakin said he doesn't like playing with golf clubs stamped with the number three on them. He also said his players often mark their golf balls in honor of a friend who passed away, and family members often write or draw symbols on them as well for good luck.
Exclusively using quarters, and not any other coin denomination like dimes and nickels, to mark the ball's position on the green is a big golf superstition that McMackin also observes.
In addition, McMakin said some of his players don't like using certain clubs during their warmups, for example, drivers, wedges, and 7-irons are unpopular warmup clubs among Hogs men's golfers.
Jeff DiNicola (Diving)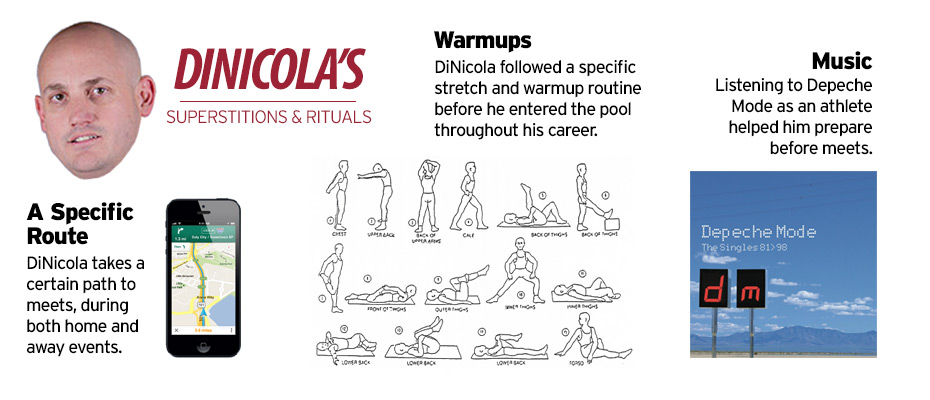 Diving head coach Jeff DiNicola said as a coach, he only has one major superstition: "There's a certain path I take before meets, whether it's a home meet and I'm driving to the pool, or if we're leaving to go to an away and I have to catch the bus to go to the airport, or if I'm driving myself to the airport, I'll go on a certain path and then turn and go whichever way I need to go," DiNicola said. "That's really my only superstition as to how I start out the trip. From then on, it's pretty fluid."
As an athlete, DiNicola said he had more elaborate superstitions and rituals prior to a meet:
"I listen to certain music while doing a certain warmup ritual. I did the same stretch routine all the way throughout my career, and the same warmup basically before I enter the pool. I had to stretch a certain way, and do certain things," DiNicola said. "If the coach wanted me to do something that he wanted, then I did that plus my [own] stuff. I always made sure to get my ritual in there."
DiNicola said listening to music was probably the most important part of his warmup ritual.
"There were certain songs that I would always listen to, certain bands that would help me out," DiNicola said. "Depeche Mode covers a majority of that. Listening to Depeche Mode seems to always calm me down and put me into a rhythm. It's just my style of music."
Lance Harter (Women's Track and Field/Cross Country)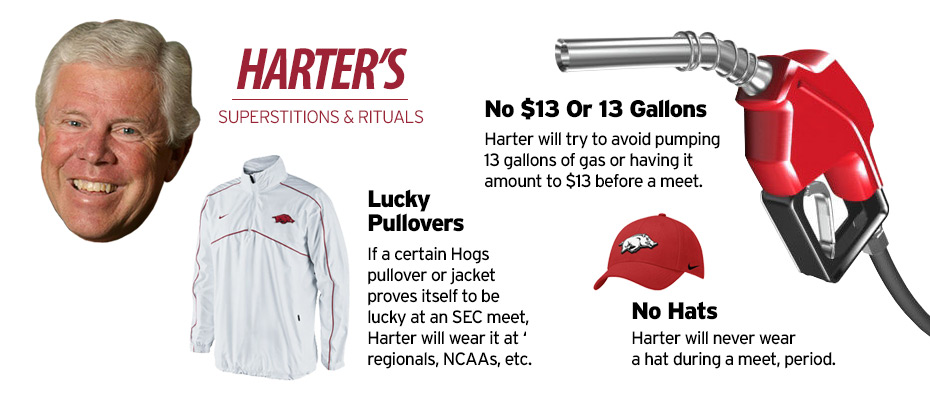 Women's head track and field and cross country head coach Lance Harter said he has a unique superstition: "One of the things I'm always addicted to is when I pump gas, I never want it to finish on 13 gallons, or [have] a 13 on the dollar side. When I'm filling the car up with gas and I'm on my way to a meet and it hits 13, I'm like, 'Nothing good is going to happen today,' Harter said. "I'm sure that's kind of quirky, but that's something I've always [been] sensitive to, and I don't know why, but 13 on the gas meter doesn't work for me."
In addition to his refueling numerical superstition, Harter has a few clothing-centric superstitions as well: "I never wear a hat, and my dermatologist is opposed to that," Harter said. "There was a meet one time where I wore a hat and things didn't go as expected, so I've always had a phobia about wearing a hat.
"There will be times when I've worn a certain Razorback pullover or jacket, and if it worked at, for example, the SEC cross country meet, I'll wear it again at the regional meet. If things go well there, then I'll wear it again at the National meet," Harter said. "Some of my athletes will see me and they'll say, 'Same outfit? Don't you have other clothes?' So I get ridiculed for that. (laughs)"
Which coach from the first batch do you think has the most interesting sports superstitions and rituals? Do you have a sports superstition you'd like to share? Send a tweet to @ArkRazorbacks and tag it #superstitions.
Check back soon for Part Two of our Razorback coaches' superstitions series.