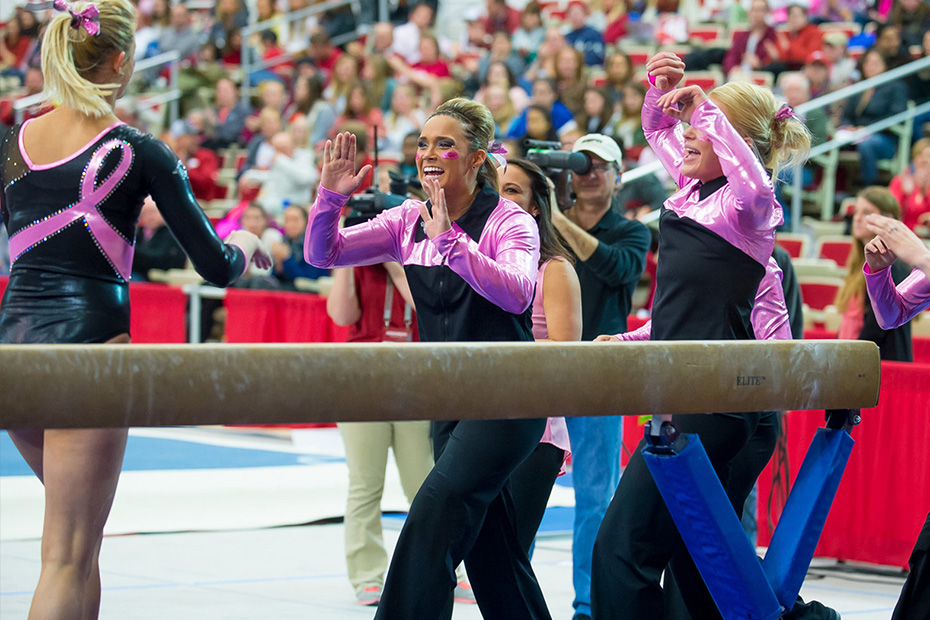 @RazorbackGym at the NCAA Regional
FAYETTEVILLE, Ark. – Last Monday, the University of Arkansas women's gymnastics team was selected to compete in Morgantown, West Virginia for the 2015 NCAA Women's Gymnastics Regionals. The Razorbacks will compete against five other teams from around the nation at the West Virginia Coliseum on April 4 at 3 p.m. CT.
The Morgantown Regional will be a six-team competition which will feature five top-25 ranked teams and one of the defending NCAA National Champions. The top seed in West Virginia will be the co-defending champion, and second-ranked, Florida Gators. No. 11 Stanford, No. 14 Illinois and No. 25 New Hampshire will join the No. 19-ranked Razorbacks in Morgantown, along with host-school West Virginia.
Keeping The Streak Alive
This year's NCAA Regional marks 12th-straight appearance for the Razorbacks in the Regionals. Arkansas gymnastics has competed in the NCAA Regionals in all but one season of the program's existence, which came back in the inaugural 2003 season.
NCAA Regional Rotation
The team's rotation will be Bye 2, FX, V, Bye 1, UB and BB. It will be the third time in the last four years that Arkansas will compete at the NCAA Regional in this rotation.
Tickets and Live Feed
Fans who are wanting to purchase tickets can do so by clicking the link here. Tickets are $12 if purchased in advance of meet day and $15 if purchased on the day of the meet. Groups of 10 or more receive a special discount at $9 per ticket. The meet will be webcast live on the WVUSports.com.
Advancing To The NCAA Championship Session
Arkansas will go into this year's NCAA Regional looking to advance to the team's seventh NCAA Championship Session in the last eight years. The Razorbacks have been featured in eight NCAA Championship Session in the program's 13-year history. Arkansas advanced to its first NCAA Championship Session in 2006, just three season after the school began competition.
The top two teams and the top two all-around competitors (who are not on an advancing team) from each regional will receive an automatic berth to the national championships. In addition, the event winners at each regional will advance to the national championships (in that event only) if they are not part of a qualifying team or an all-around qualifier.
At Last Year's NCAA Regional
The Razorbacks posted a 196.375 at the 2014 NCAA Fayetteville Regional to finish third in the event. Two-time NCAA National Champion, Katherine Grable won the vault and floor exercise to advance to the NCAA Championship Session as an individual. Then freshman, Amanda Wellick also advanced to the NCAA Championship, as she posted the second-highest score of any individual not on the top-two teams in the all-around.
Arkansas Best at the NCAA Regional
Team
Vault: 49.300, NCAA Northeast Regional, 2007
Bars: 49.400, NCAA West Regional, 2010
Beam: 49.300, NCAA Corvallis Regional, 2013
Floor: 49.300, NCAA North Central Regional, 2011
Total: 196.950, NCAA Corvallis Regional, 2013
Individual
Vault: 9.950, Katherine Grable, 2013 & 2014
Bars: 9.925, Melissa Leigh, 2004
Beam: 9.925, Jaime Pisani, 2012
Floor: 9.950, Jaime Pisani, 2012
All-Around: 39.675, Katherine Grable, 2014
Individual Regional Champions
Arkansas has had four gymnasts win a total of 13 regional championships. Two-time NCAA National Champion, Katherine Grable, collected a program-best six regional championships during her career with three vault titles ('11, '13, '14), two floor exercise titles ('13, '14) and an all-around title (2013). Former All-Americans, Jaime Pisani (FX; '11, BB, AA; '12) and Casey Jo Magee (BB, FX; '09, BB; '10) have each won three regional championships and former All-American Michelle Stout won the vault in 2009.
For more information on the Arkansas women's gymnastics team, follow @RazorbackGym on Twitter.