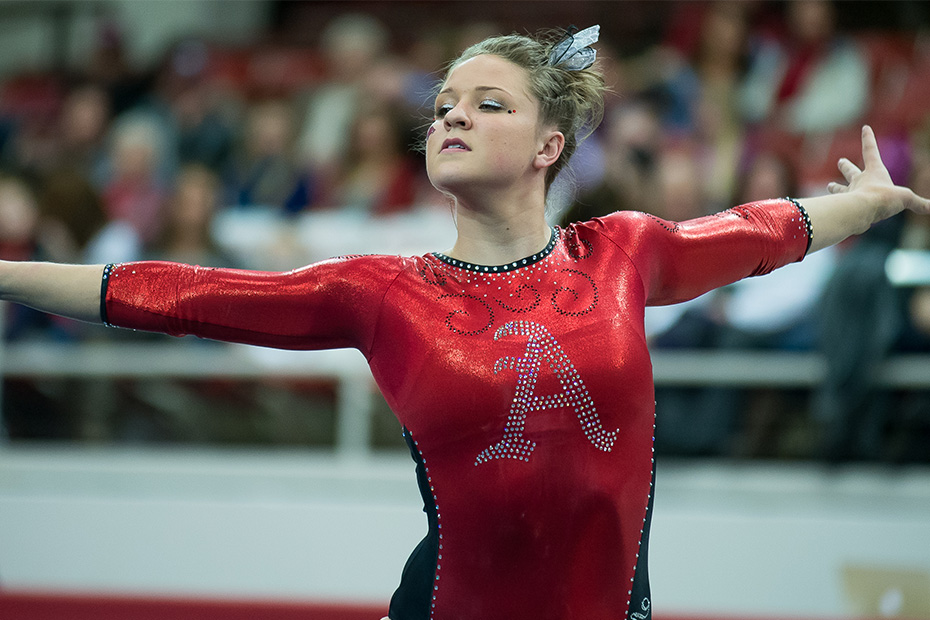 @RazorbackGym Concludes Intrasquad Meets Inside Barnhill Arena
FAYETTEVILLE, Ark. — On Friday, the No. 13-ranked University of Arkansas gymnastics team competed in its final intrasquad meet of the preseason, as they prepare for its season-opening contest next Friday, Jan. 9, against the Co-Defending NCAA Champions, Oklahoma.
Like previous intrasquad meets, head coach Mark Cook wanted to simulate in-meet situations, as he had his team conduct its final preseason intrasquad inside Barnhill Arena in front of a contingency of fans. Cook believes that having his gymnasts compete in their home arena in front of a crowd will better prepare the squad for the conditions they will face in Norman, Okla., next Friday when they take on the No. 2-ranked team in that nation.
"We had another solid intrasquad meet," said Cook. "We were able to create a live atmosphere and make it a bit more real for our girls. We wanted to put the pressure of performing in front of a crowd on them tonight and get them out of their comfort zone a bit, and I think we responded well. We hit all of our routines, we once again didn't have any falls and we are hoping that can progress into the season."
Tonight's intrasquad featured a bars, vault, floor exercise and beam rotation.
Of the individual performances tonight, Cook stated that sophomore Amanda Wellick took another big step in her progress, as she competed in the all-around, and freshman Paige Zaziski continues to impress during the preseason as she performed well in all four events.
"Amanda is really settling in for her second season in the program and Paige has really been on fire since she has arrived," Cook expressed. "A lot of girls done a good job tonight and once again, it makes us really excited for our season opener."
The Razorbacks, who are coming off a 2014 season that saw them place third as a team at the NCAA Fayetteville Regional, enters the 2015 season ranked at No. 13 in the Gyminfo Preseason Coaches' Poll. It is the ninth straight year that the team has been ranked inside the top 15 in the Gyminfo Preseason Poll.
Arkansas opens the 2015 season next Friday, as they hit the road to take on the Co-Defending NCAA Champion and preseason No. 2, Oklahoma. Start time from the Lloyd Noble Center is slated for 7 p.m.
For more information on Arkansas gymnastics, follow @RazorbackGym on Twitter.