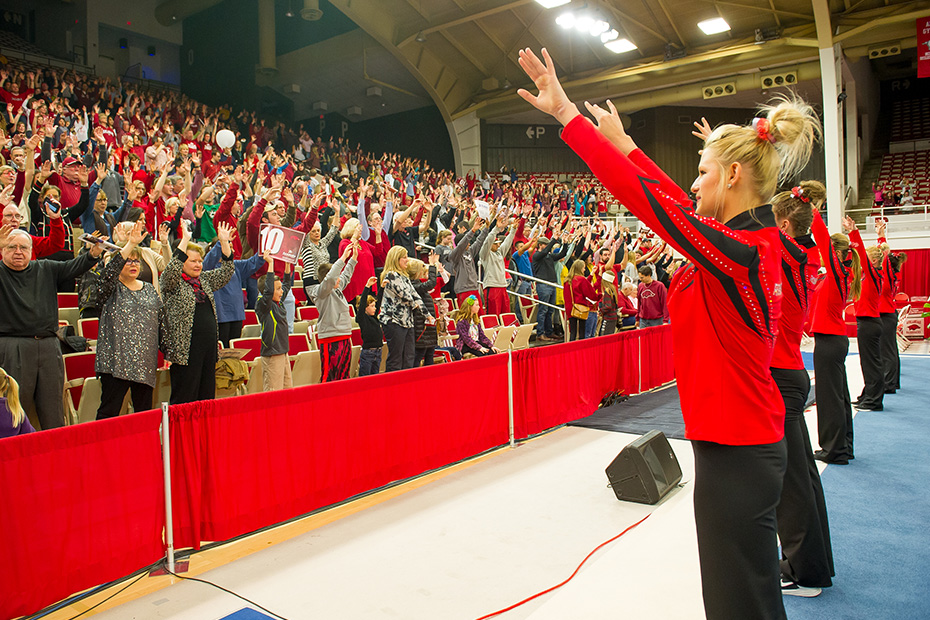 @RazorbackGym Finishes 11th Nationally in Average Attendance
FAYETTEVILLE, Ark. – The University of Arkansas women's gymnastics team finished the 2015 season with the 11th-highest home attendance average in the nation. It extends the program's streak of finishing inside the top-15 in attendance to 13 years, which dates back to the program's inception in 2003.
Arkansas averaged 2,930 fans per meet at Barnhill Arena this season, which was the 11th-best home average out of 80 NCAA school that hosted a gymnastics meet. The Razorbacks hosted some of the best teams in the nation, as all but one meet featured a top-25 opponent. This year's five-meet home schedule included powerhouse programs such as Alabama, Florida and UCLA, along with SEC for Missouri and a tri-meet against Illinois State and Southeast Missouri.
Arkansas fans also posted the 11th-highest attendance mark for a single meet in the nation, when they played host to 4,654 fans on Feb. 6 for a meet against the three-time defending national champion, Florida.
Since the program began in 2003, the University of Arkansas has been a mainstay inside the top-15 nationally in attendance. The program has been featured inside the top-15 in each of the last 13 years and has finished inside the top-10 seven times. This is the fourth time that the Razorbacks have placed 11th in attendance in program history.
Arkansas ended its season back on April 4 with a fourth-place finish at the 2015 NCAA Morgantown Regional. The 2015 season saw the program set the highest floor exercise score in program history, with a 49.600 to upset perennial power Alabama, and had just its second gymnast named to a National Association of Collegiate Gymnastics Coaches/Women (NACGC) Regular-Season All-America, as sophomore Amanda Wellick earned Second-Team Regular-Season All-American honors on the vault. Freshman Paige Zaziski also burst onto the scene in 2015, as she became just the second Razorback gymnast to win the SEC Freshman of the Year honors, and she set a pair of program record by winning the SEC Freshman of the Week honors three times, and tied the program's best mark on the uneven bars with her 9.950 in the regular season finale against No. 8 UCLA.
For more information on the Arkansas women's gymnastics team, follow @RazorbackGym on Twitter.