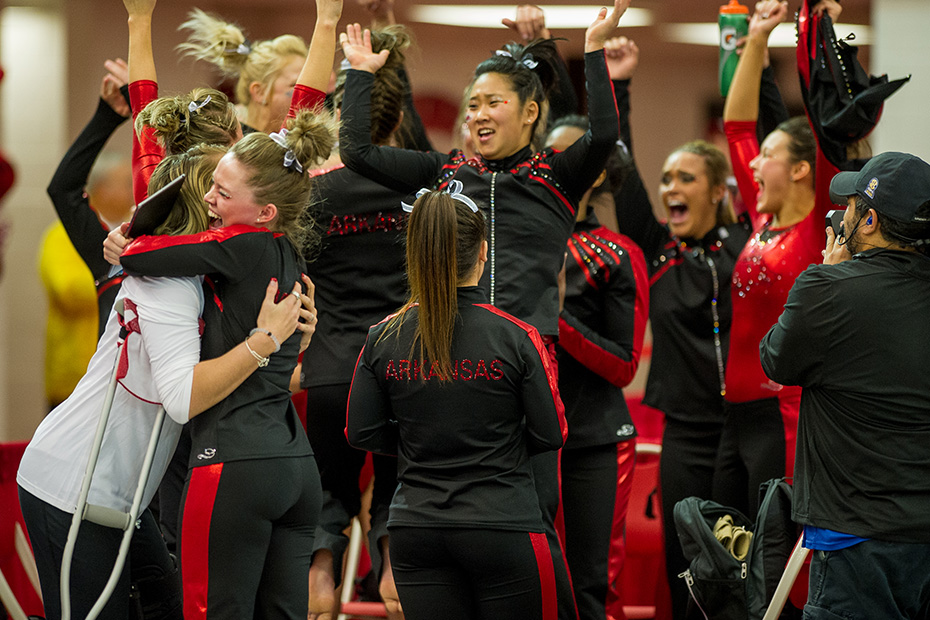 @RazorbackGym Moves Up To No. 8 In GymInfo Rankings
FAYETTEVILLE, Ark. — The University of Arkansas gymnastics team moved up four spots in this week's Gyminfo Ranking, as they check in at No. 8 after posting a 196.250 on the road last weekend.
The No. 8-ranking gives the Razorbacks their first appearance inside the top 10 this season, as they posted an average score of 195.825. This week's ranking marks the highest placing for Arkansas in the Gyminfo Ranking since the final poll of the 2012 season when they came in at No. 6.
The Razorback's No. 8 placing gives the Southeastern Conference four teams in the top 10, as LSU and Florida come in second and third respectively this week, while Alabama moved up one spot to No. 6.
For the second-straight week, Arkansas ranked inside the top 10 in the floor exercise and vault. The Razorbacks came in at No. 3 in the floor exercise with an average score of 49.275 and No. 10 on the vault with a 49.175. The team was also ranked 15th nationally on the bars with a 48.900 average.
In individual rankings, sophomore Amanda Wellick came in tied for eighth in the nation on the floor exercise with a 9.908 and 14th on the vault with a 9.900. The Wheaton, Ill., native, who has captured six event titles through three meets this season, is also tied for 23rd nationally in the all-around with a 39.192.
Arkansas had three other gymnasts rank inside the top 25 in national rankings, as junior Heather Elswick and sophomore Samantha Nelson ranked 21st and 24th on the floor exercise and freshman Paige Zaziski is tied for 24th on the uneven bars.
The Razorbacks will be back in action this Saturday, as they travel to Dallas, Texas to compete in the 2015 MetroPlex Challenge. Arkansas will go against a trio of teams in the Longhorn State, as they face off against No. 1 Oklahoma, No. 2 LSU and Iowa State. Start time is slated for 7 p.m.
For more information on Arkansas gymnastics, follow @RazorbackGym on Twitter.