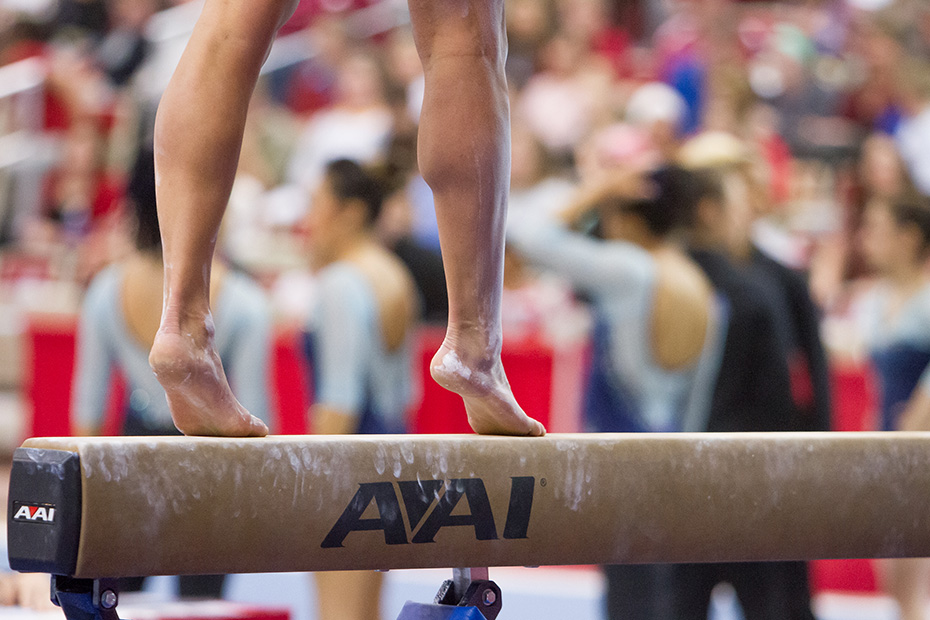 @RazorbackGym Moves Up Two Spots To No. 16 in the RQS
FAYETTEVILLE, Ark. — On Monday, Gyminfo Rankings released its third set of Regional Qualifying Scores of the 2015 season, and the University of Arkansas women's gymnastics team moved up two spots this week to No. 16.
The Razorbacks were able to raise their total RQS to 196.260, thanks to tying their season-best score of 196.650 in their 2015 Southeastern Conference regular season finale at No. 10 Georgia last Saturday. This week's RQS pushes Arkansas up two spots in the rankings to No. 16, making it the 10th-straight week that the Razorbacks have been featured inside the Gyminfo Rankings Top 25 this season.
The Regional Qualifying Score (RQS) is used to determine which 36 schools will qualify for the NCAA Women's Gymnastics Regional on April 4. Qualification for regional competition is based on a team's six best regular-season-meet scores, of which three much be away. To calculate the RQS, the team's highest score is dropped and the five remaining scores are then averaged.
In event rankings, Arkansas maintained its place inside the top-20 in three events for the seventh-straight week. The Razorbacks ranked 12th in both the vault (49.260) and floor exercise (49.225) and came in at tied for 17th in the uneven bars with a 49.065 RQS. The balance beam rotation, which is coming off a season-best performance with a 49.100 at Georgia, tied for the 39th-best RQS score in the event with its 48.645.
Sophomore Amanda Wellick, who set a career-best all-around score (39.650) at Georgia to win her 14th event title of 2015, is currently ranked inside the top-20 of the RQS in three events. The Wheaton, Illinois, native is tied for 10th on the vault with 9.920 average score, 14th in the all-around with a 39.385 and tied for 20th on the floor exercise by averaging 9.900.
The SEC had seven of its eight teams rank inside the RQS top-25 this week, once again had five teams place inside the top-10. Florida and LSU switched positions in this week's rankings, as the Gators jumped up to No. 2 and the Tigers fell to No. 3. Alabama also moved up one spot to No. 5, while Auburn jumped up two spots to No. 7. Georgia maintained its No. 10 positioning this week, while Kentucky fell two spots to No. 24.
The 16th-ranked Razorbacks conclude the 2015 regular season this Friday, March 13, as they host Pac-12 power, and eighth-ranked, UCLA. Start time from Barnhill Arena is set for 6:45 p.m. CT, with the live webcast on the SEC Network+ beginning at 7 p.m. CT.
For more information on the Arkansas women's gymnastics team, follow @RazorbackGym on Twitter.