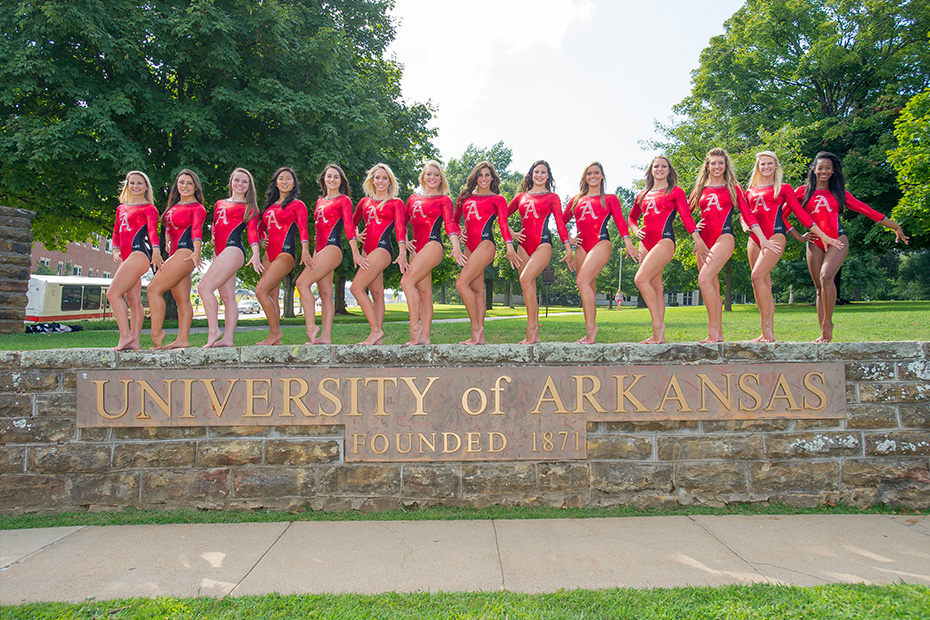 @RazorbackGym Remains at No. 8 in Gyminfo Rankings
FAYETTEVILLE, Ark. — For the second-straight week, the University of Arkansas women's gymnastics team came in at No. 8 in the Gyminfo Rankings after posting its second-consecutive 196.250 at the Metroplex Challenge on Saturday.
Arkansas comes into this week with an average score of 195.931 to place eighth in the Week Four Gyminfo Rankings. The No. 8 ranking puts the Razorbacks inside the top 10 in back-to-back weeks for the first time this season, and marks the second-straight year that the team has spent multiply weeks inside the top 10. Last season, they occupied the No. 10 spot for a three-week stretch from Jan. 13 to Jan. 31.
In event rankings, Arkansas placed inside the top 15 in three events. The Razorbacks came in at No. 6 in the floor exercise with a 49.231 average and 11th in the vault with a 49.194. They also tied for the 14th-best score on the uneven bars with a 48.950.
Sophomore Amanda Wellick highlighted the individual rankings for Arkansas, as she placed inside the nation's top 20 in three events. The Wheaton, Illinois native is tied for eighth in the nation on the floor exercise with an average score of 9.900, 17th in the all-around with a 39.231 and tied for 20th on the vault with a 9.894.
The Razorbacks had two more gymnasts rank inside the top 25 in individual rankings, as sophomore Samantha Nelson's score of 9.875 tied her for 16th-best in the nation on the floor and freshman Paige Zaziski was tied for 21st on the bars with a 9.856.
The Southeastern Conference dominated this week's ranking, as they had five teams represented inside the top 10. Florida, who will compete against Arkansas this Friday, comes in at No. 2, followed by LSU, who fell one spot to No. 3. Alabama comes in at No. 6 for the second-straight week, while Georgia reentered the top 10 at No. 9 after a scoring a 196.950 at Florida this past weekend.
Arkansas will be back in action on Friday, as they host No. 2 Florida in Barnhill Arena. It will be 'Light Up The Night' at Barnhill Arena, as the first 1,000 people in attendance will receive a pair of free glow-in-the-dark glasses. Also, a select 20 fans will be able to compete in a handstand contest to win a pair of free braces, courtesy of Arkansas Braces. Events are scheduled to begin at 6:45 p.m.
Friday's meet will be televised on tape delay on the SEC Network and will be broadcasted on Feb. 9 at 8 p.m. CST.
For more information on the Arkansas women's gymnastics team, follow @RazorbackGym on Twitter.