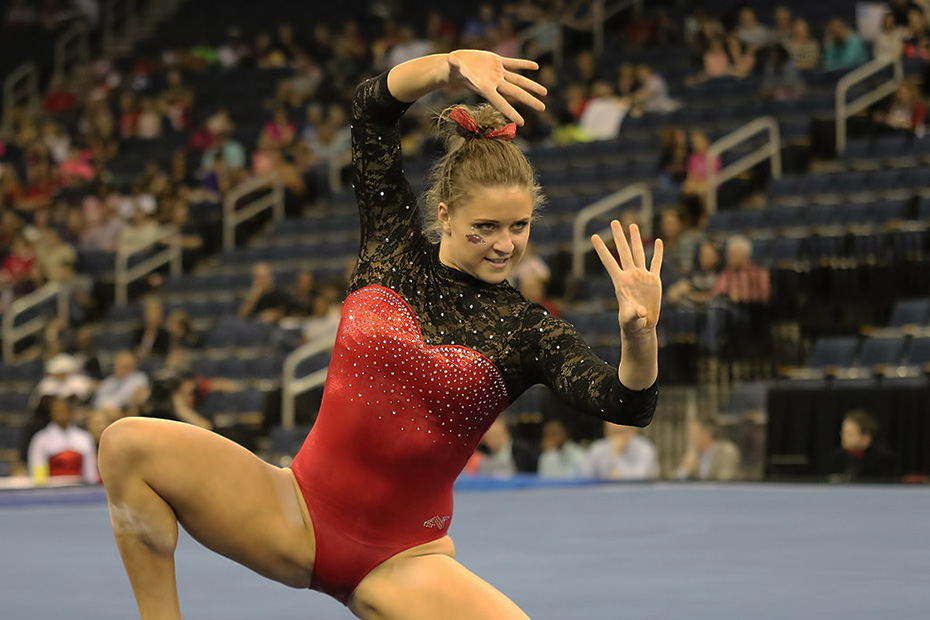 @RazorbackGym Slides to No. 19 in the RQS Ranking
FAYETTEVILLE, Ark. — On Monday, Gyminfo Rankings released its fifth set of Regional Qualifying Scores of the 2015 season, and the University of Arkansas women's gymnastics team slid down one spot to No. 19.
Despite raising their overall RQS to 196.285 this week, the Razorbacks fell one spot from last week's ranking to No. 19. This week's RQS makes it the 12th-straight week that the Razorbacks have been featured inside the Gyminfo Rankings Top 25 this season. Arkansas is coming off a 195.925-performace at the 2015 Southeastern Conference Championship, which earned them a sixth-place finish at the Championship. The 195.925 marks the second-highest score ever recorded by Arkansas at the SEC Championship.
The Regional Qualifying Score (RQS) is used to determine which 36 schools will qualify for the NCAA Women's Gymnastics Regional on April 4. Qualification for regional competition is based on a team's six best regular-season-meet scores, of which three much be away. To calculate the RQS, the team's highest score is dropped and the five remaining scores are then averaged. The NCAA will announce its parings for each regional competition today at 2 p.m. CT.
In event rankings, Arkansas maintained its place inside the top-20 in three events for the ninth-straight week. The Razorbacks are tied for 13th in the vault (49.280) and are ranked 14th in the floor exercise (49.260). The team is also tied for 20th in the uneven bars with a 49.065 RQS. The balance beam rotation moved up three spots to No. 37 nationally with a 48.755 RQS.
Sophomore Amanda Wellick, who finished first in on the vault during the SEC Championship's afternoon session, is currently ranked inside the top-20 of the RQS in three events. The Wheaton, Illinois, native is tied for 14th on the vault with 9.920 average score, 18th in the all-around with a 39.400 and tied for 23rd on the floor exercise by averaging 9.900.
The SEC had six of its eight teams rank inside the RQS top-25 this week, and once again had five teams place inside the top-10. Florida remained at No. 2 in this week's rankings, while LSU dropped one spot to No. 4. Alabama, who won the SEC Gymnastics Championship on Saturday, maintained its No. 5 ranking. Auburn came in at No. 8 and Georgia rounded out the top-10 at No. 10.
For more information on the Arkansas women's gymnastics team, follow @RazorbackGym on Twitter.