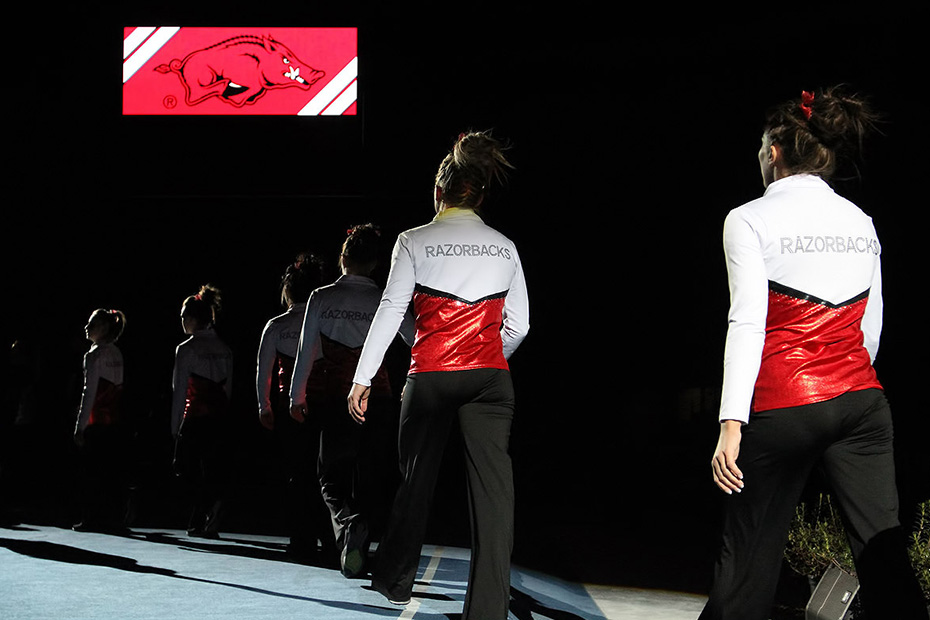 @RazorbackGym Travels to West Virginia for the 2015 NCAA Regional
INDIANAPOLIS, Ind. – On Monday, the NCAA announced its parings for the 2015 Gymnastics Regional meets and the University of Arkansas women's gymnastics team will compete in the Morgantown Regional in Morgantown, West Virginia on April 4. The Morgantown Regional will be held at Cary Gymnasium on the campus of West Virginia University, with events starting at 3 p.m. CT.
The Razorbacks are one of six teams headed to Morgantown, West Virginia, as they will be joined by co-defending national champion, and fellow Southeastern Conference team, Florida, along with Stanford, Illinois, New Hampshire and host-school West Virginia. The Morgantown Regional features five teams in the Gyminfo Top 25, as the Gators will be the highest-rated team in the field with their No. 2 ranking. The Cardinal of Stanford are currently No. 11 nationally and the Illini are ranked 14th. Arkansas will come into the meet as the 19th-best team in the country and the Wildcats will be the final ranked team, entering in at No. 25. The Mountaineers are just outside the top-25 with its No. 36 ranking.
Head coach Mark Cook is excited about traveling to West Virginia and looks forward to the challenge that the Morgantown Regional will bring to his team.
"We are excited about the matchups," said Cook. "We've traveled to Morgantown for competitions before, so we are familiar with the trip. It's going to be a competitive session and we are going to go in there give it everything we have and never yield."
This will be the third time in program history that the Razorbacks will compete in West Virginia. The last time came in 2012, when they traveled to Morgantown for a regular season contest against the Mountaineers.
The top two teams and the top two all-around competitors (who are not on an advancing team) from each regional will receive an automatic berth to the national championships. In addition, the event winners at each regional will advance to the national championships (in that event only) if they are not part of a qualifying team or an all-around qualifier.
The Razorbacks are coming off the program's second-best score at the Southeastern Conference Championship, as the team recorded a 195.925 to finish sixth in the event. Arkansas was led by a strong performance on the vault (49.250) and floor exercise (49.200), as the team posted the second-highest event score at the SEC Championships in both events.
For more information on the Arkansas women's gymnastics team follow @RazorbackGym on Twitter.