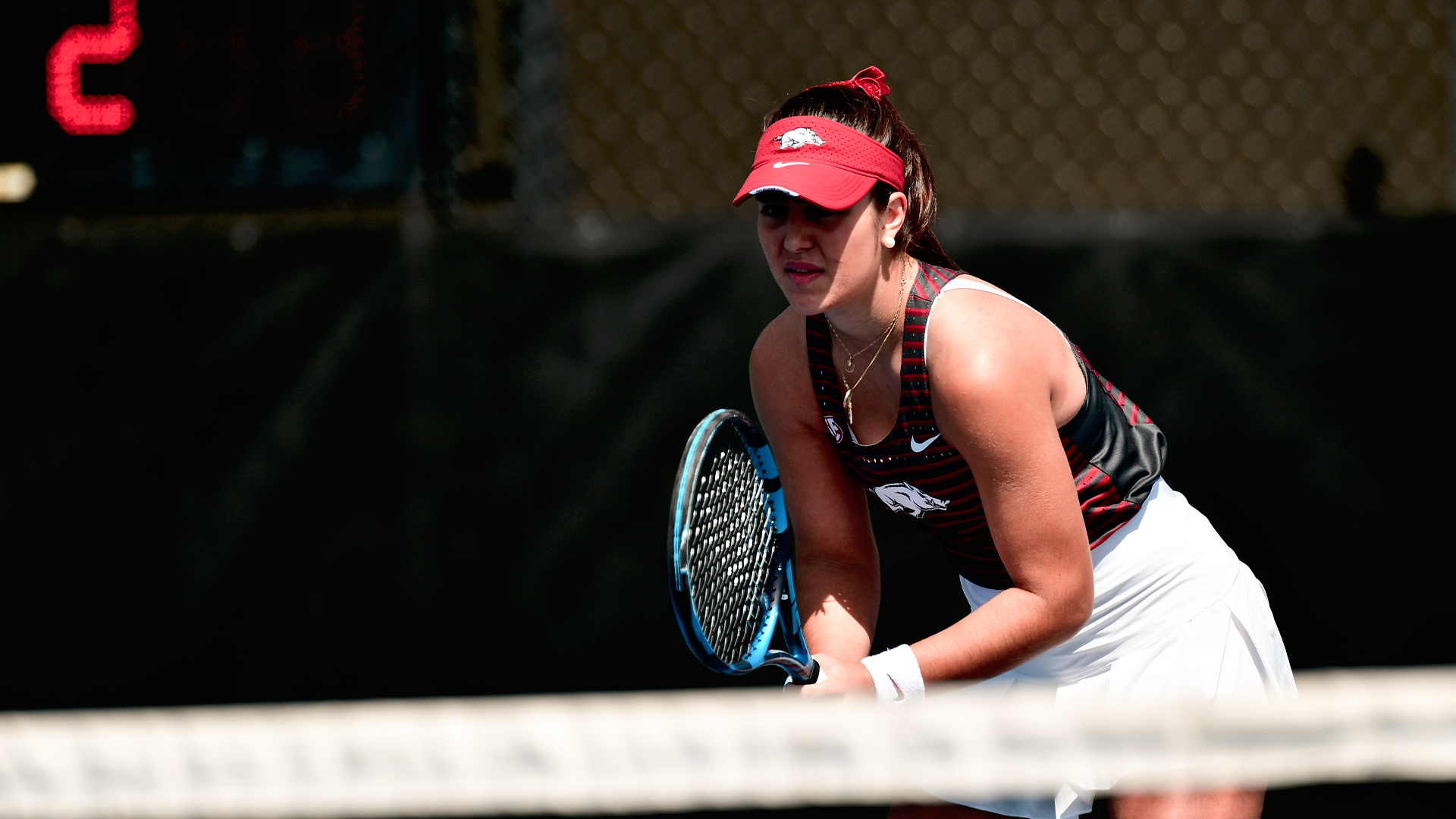 Razorbacks Bested by Kentucky, 5-2
FAYETTEVILLE, Ark.  – The No. 65 Arkansas women's tennis team dropped a 5-2 decision to the No. 45 Kentucky Wildcats (12-7, 4-4) on Sunday afternoon. The Razorbacks fall to 9-8 overall and 3-5 in league play.
The Wildcats had a quick start to doubles, taking court three 6-1 over Carolina Gomez Alonso and Kelly Keller. On court one, No. 23 Spink/Cross put up a fight but eventually fell 6-4 to No. 63 Stevens/Molina to give Kentucky an early 1-0 lead.
In singles play, it was close all around with the Wildcats jumping off to a hot start on four courts. Kentucky added on to their lead with No. 48 Urrutia defeating No. 79 Kelly Keller 6-2, 6-4 on court one, but junior Morgan Cross responded with a 6-0, 1-6, 6-4 win of her own on court five. Cross has now won four-straight matches, holding a perfect 8-0 record on court five. Kentucky took court six to make it 3-1 with the remaining three courts all in a third-set.
Kentucky clinched the match victory on court four 3-6, 6-3, 6-2 over junior Lenka Stara. The remaining courts were played out with freshman No. 85 Carolina Gomez Alonso earning Arkansas' second point 6-7, 6-0, 6-2 on court two. With the win, Gomez Alonso has now won her last three matches.
The Razorbacks are back on the road next weekend, traveling to No. 26 South Carolina on Friday, March 31 and No. 19 Florida on Sunday, April 2.
For the latest information on all things Arkansas Women's Tennis, follow the Hogs on social media by liking us on Facebook (Arkansas Razorback Women's Tennis) and following us on Twitter and Instagram (@RazorbackWTEN).