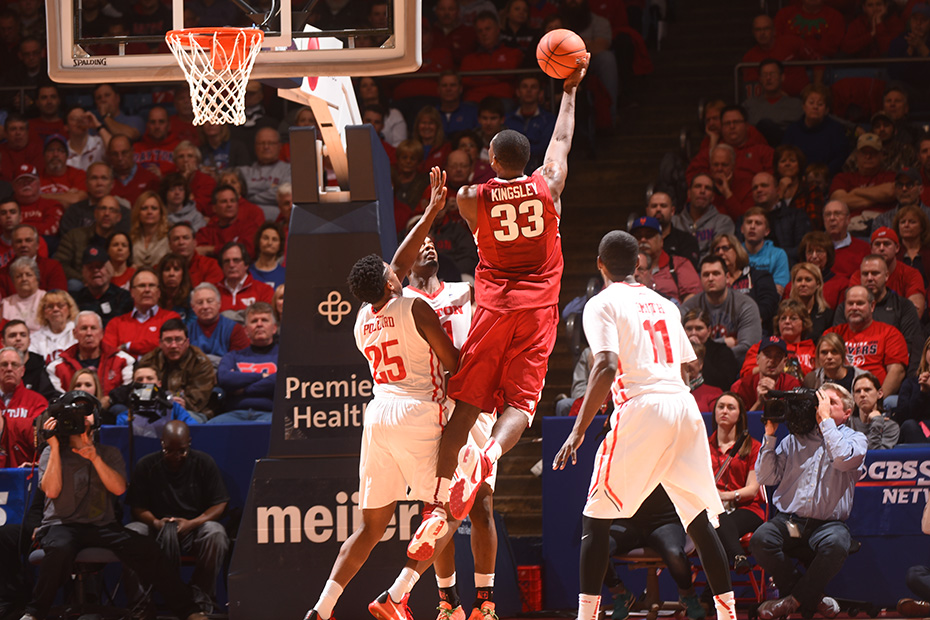 Razorbacks Climb Back, Fall 85-81 in OT
DAYTON, Ohio — A heroic Anthlon Bell three with 1.4 seconds remaining sent the game into overtime, but Arkansas men's basketball ultimately fell to Dayton 85-81 on Wednesday night.
Moses Kingsley once again led the Razorbacks in scoring with a career-high 26 points on 9-for-13 shooting from the field and 8-for-9 from the foul line. He also added 11 rebounds for his fourth-consecutive double-double. Anton Beard also notched a career high with 15 points, while Dusty Hannahs (13) and Jabril Durham (12) joined them in double digits.
Down 30-7 at the 9:46 mark of the first half, the Razorbacks clawed back and finished the first frame trailing only 38-34. Kingsley kept Arkansas in the contest early, scoring 16 of the team's points and grabbing six boards in the first 20 minutes of action. On the defensive end, the Flyers hit only two of their last 10 shots in the first half.
After missing their first eight attempts from beyond the arc, Beard knocked down the Razorbacks' first trey of the night at the 11:08 mark of the second frame. Arkansas would hit its next seven shots, including another Beard three-pointer to put the visitors ahead 65-62 with 5:40 remaining.
It was a back-and-forth game from there, but the Razorbacks found themselves down two with only seconds left. Dayton's Kyle Davis made his first from the line, then missed the second. Kingsley relayed the rebound to Durham, who sent it ahead to Bell, who fired from the left wing over a leaping Flyer defender and in to extend the game, tied 72-72.
Beard's third three of the contest put Arkansas ahead 79-75 in overtime, but Dayton scored the next seven points and hung on to the four-point victory. With the loss, the Razorbacks fell to 6-6 on the season.
QUICK HITS
• Kingsley (26) and Beard (15) each went for career-high scoring performances.
• With 26 points and 11 rebounds, Kingsley secured his fourth-consecutive double-double and eighth in 12 games this season.
• Kingsley is now the only Arkansas player to score in double figures in all 12 games this season.
• By going 5-for-15 from beyond the arc, the Razorbacks have hit five-plus threes in 11-of-12 games this season.
• Before hitting the game-tying three-pointer, Bell had been 0-for-4 from deep in the contest. He has hit a three in all 12 games this season.
• The Razorbacks out-rebounded the Flyers 39-36; Arkansas has out-rebounded 7-of-12 opponents this season.
UP NEXT
Arkansas opens conference play on Saturday, Jan. 2, traveling to College Station for a 3:30 p.m. tip-off against Texas A&M on SEC Network.