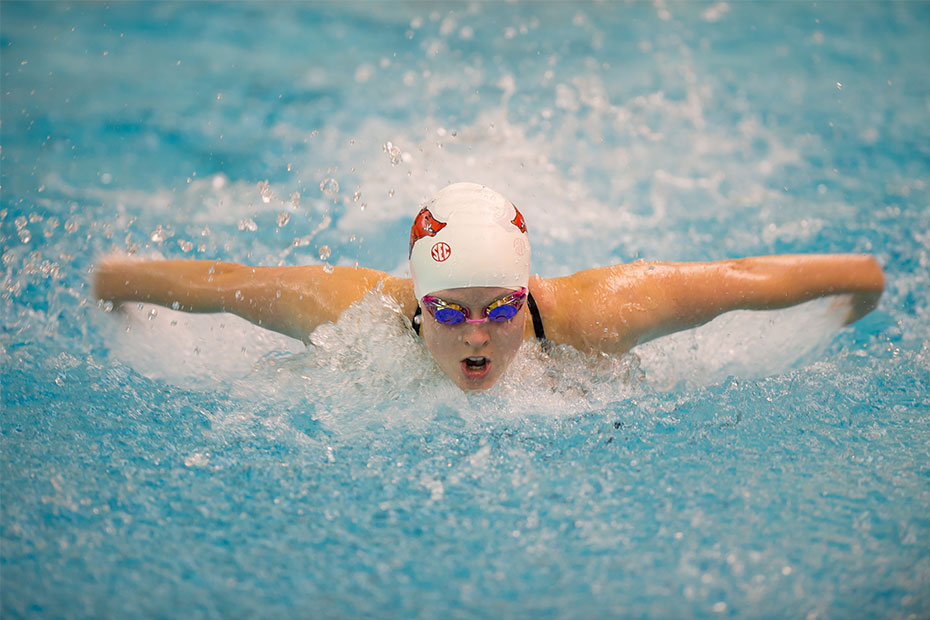 Razorbacks Compete At International Events
FAYETTEVILLE, Ark. – With the collegiate season complete, five members of the Arkansas swimming and diving team have taken their talents to international competitions during the past two weeks.
Canadian Olympic & Para Swimming Trials | Toronto, Canada | April 5-10
Freshman Kiera Michailoff-Russell competed in the 50 LCM freestyle, clocking a time of 27.19 seconds, as well as the 100 (59.04) and 200 (2:08.21) LCM free events.
"Having the opportunity to attend the Canadian 2016 Olympic Trials was really exciting," Russell said. "I'm so thankful I was able to race at this meet and represent both the Razorbacks and my club swim team. Swimming at a national tier event was a great experience. Although I attended the meet solo, the support of all the girls on the team here followed me all the way back home and throughout the whole meet."
Australian Championships | Oaklands Park South Australia | April 7-14
Junior Aiden Lister placed 12th in the 400 LCM free in a time of four minutes and 15.88 seconds, 28th in the 200 LCM free in 2:04.17, 10th in the 800 LCM free in 8:51.36 and fourth in the 1500 LCM free in 16.52.28. She was out-touched for third place in the 1500 free by just 0.8 seconds and her time of 16.52.28 was 28 seconds faster than her previous personal best.
"I always enjoy competing at Olympic trials," Lister said. "Racing alongside my country's best athletes is always an experience and honor."
South African Nationals and Olympic Trials | Durban, South Africa | April 11-13
Sophomore diver Nicole Gillis garnered national titles in the 1m and synchronized 3m springboards and platform diving events, posting scores of 253.05, 283.44 and a personal-best 252.15 respectively. In addition, she notched a third-place finish in the 3m springboard event with a score of 254.20.
"Olympic Trials was a great opportunity for me to gain more competition experience," Gillis said. I learned a lot throughout the days I competed. Overall, I was very happy with how the week went. I am looking forward to the new season ahead as well as the new goals that I have set for myself."
British Swimming Championships | Tollcross, Glasgow | April 12-17
Sophomore Chloe Hannam won bronze in the 200 LCM backstroke in a lifetime-best time of 2:11.47, setting both an Arkansas and East Region record. Hannam also placed eighth in the 400 LCM individual medley in 4:49.76 and 18th in the 200 LCM IM in 2:19.15.
"I didn't really know what to expect coming into trials," Hannam said. "However, I'm over the moon and can't really complain at two lifetime-best performances, an Arkansas record, an ASA East Region record and coming away as the third fastest in Great Britain in the 200 backstroke."
Freshman Caitlin Tootill placed 51st in the 50 LCM free (27.60).