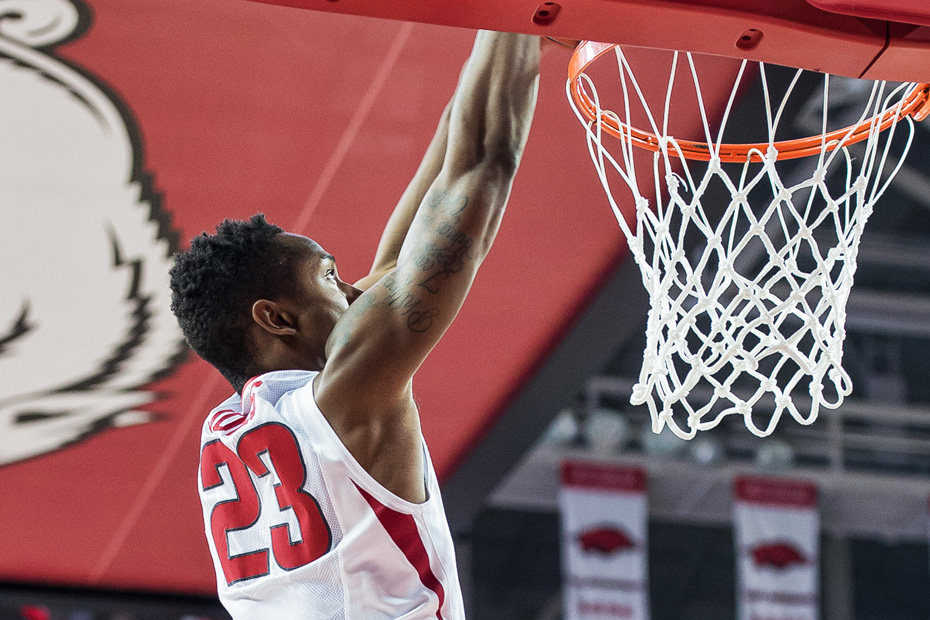 Arkansas' Depth Shines In Victory
Box Score | Highlights | Anderson Interview | Players Interview
FAYETTEVILLE, Ark. — The Arkansas men's basketball team improved to 2-0 for the ninth time in the last 11 years after beating Southern Illinois 90-65 Monday night inside Bud Walton Arena.
For the first time since the 1997-98 season, Arkansas has scored 90 or more points in its first two games of the season.
Mike Anderson coached teams have now started 2-0 in 14 of his 15 years, as the Razorbacks improved to 48-2 against non-conference opponents inside Bud Walton Arena under Anderson.
The depth of the Razorbacks shined as 10 different players recorded points, while six finished with nine of more. Arkansas outscored the Salukis 17-2 on the fast break and has now outscored its opponents 41-2 in transition this season.
Arkansas used 11 turnovers and nine 3-point baskets in the first half to build a 56-25 lead at the intermission. Dusty Hannahs and Daryl Macon each had a trio of 3-point baskets in the half. As a team, Arkansas made 13 three pointers, the most since making 16 against Mississippi State a season ago.
Hannahs entered the night with 56 points in the last two games, dating back to last year's SEC Tournament game where he scored a career-high 33 points. He has now scored 75 in the last three games, averaging 25.0 over that span, including a team-high 21.0 points per game so far this season. Hannahs has led the Razorbacks in scoring in five straight games and scored 10 or more points in 10 straight contests dating back to last season.
Moses Kingsley finished three rebounds shy of a double-double, scoring 15 points to go along with five blocks to bring his count to 12 swats through two games.
After missing the season opener to a knee injury, freshman C.J. Jones came off the bench and immediately sank his first 3-point opportunity as a Razorback, finishing with 11 points and two rebounds.
QUOTABLES
"Anytime our defense is on point and we are making shots, we are an explosive team, and I thought we exploded tonight. In the second half it is hard to manage time and keep the same intensity with a lead that big. I thought we did a good job containing their two key players and made them work for everything. I thought we ran the tempo and pushed the ball. It was working for us tonight." – head coach Mike Anderson
"We came out tonight with a lot of intensity. The first five started strong and then the next five came in with the same energy. That kept us going and helped build a lead. We were able to shut down their key player and that helped." – freshman guard C.J. Jones
UP NEXT
Arkansas will face the preseason Sun Belt favorite UT Arlington on Friday, Nov. 18 at 7 p.m. inside Bud Walton Arena as the Razorbacks look to improve to 3-0 for the fourth time in the last five years.
TICKETS
Season tickets, mini plans, mobile passes and single-game tickets for the 2016-17 season are available now at the Razorback Ticket Center by calling at 1-800-982-HOGS (4647) and online by clicking here.
 For more information on Arkansas Men's Basketball, follow @RazorbackMBB on Twitter.