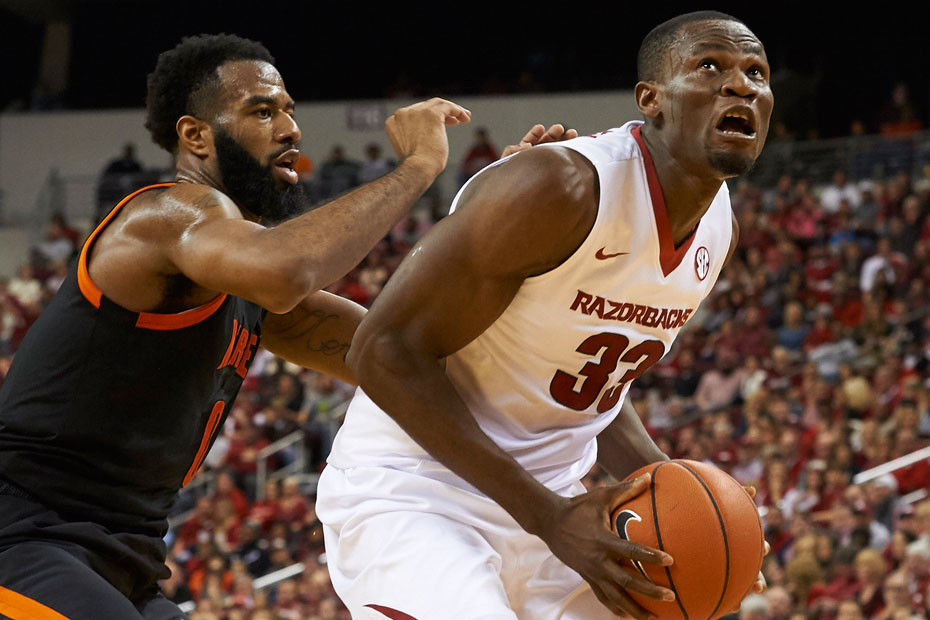 Razorbacks Drop OT Thriller in North Little Rock
NORTH LITTLE ROCK, Ark. — A potential game-winning three-pointer by Dusty Hannahs spun out with under 10 seconds left in overtime and the Arkansas men's basketball team fell just shy of an improbable comeback, dropping a 69-66 decision to Mercer on Saturday night in Verizon Arena.
Moses Kingsley recorded his sixth double-double of the season with 18 points and a career-high 14 rebounds, including two thunderous slams as the Hogs ended the second half on a 26-13 run to force an extra period. Making his return to his hometown, Dusty Hannahs scored 10, including a driving layup that tied the game at the end of regulation.
It took a while for both teams to get going offensively, as Mercer took a 19-17 lead into halftime. The teams combined to shoot 13-52 (25 percent) in the Razorbacks' lowest-scoring frame of the season. Kingsley and Trey Thompson kept things afloat early with five and four points, respectively, at the break.
Arkansas came out with a vengeance in the second half, producing a 9-2 run to take a five point lead on an Anthlon Bell three-pointer at the 17:19 mark. But back came the Bears with a 20-2 run over the next seven minutes to take their biggest lead of the game at 41-28. Seeking a spark, Mike Anderson subbed in Jimmy Whitt to join Hannahs, Bell, Kingsley and Durham, and it worked.
The lineup stayed the same for the next 12:40, as Arkansas went toe-to-toe with the feisty Bears up until the final horn. With the loss, the Razorbacks fell to 5-5 on the season and 3-2 in games played at Verizon Arena under Anderson.
QUOTABLES
"It was a disappointing result but our guys gave everything they had. It was one of those games that whoever had the ball last was probably going to win the game. Moses was a warrior out there. He has to continue to get better and get other guys to help him. Dusty had a nice look at the basket and that's the shot we want him to take, he was wide open." — Head coach Mike Anderson.
"We aren't going to dwell on this. All the stuff we did wrong are adjustments we can make and it's something to look forward to. Mercer came ready to play, they were quicker to the ball than we were today." — Senior guard Anthlon Bell
QUICK HITS
• Anton Beard made his return to the court with six points on 2-for-3 shooting from long range in 18 minutes.
• It was the first time since Dec. 30, 2005 that both Arkansas and its opponent both scored fewer than 20 points at halftime. In that game, the Razorbacks led UTPA 19-12 after the first half and eventually won the game 66-38 (via @HogStats).
• Hannahs, Bell and Kingsley have now scored in double digits in all 10 games this year, the only trio in the country to accomplish the feat.
• Moses Kingsley has six double-doubles on the year is one of two players in the SEC averaging a double-double on the season.

UP NEXT
Arkansas returns to Fayetteville for a matchup with North Florida on Tuesday, Dec. 22. The Razorbacks and the Ospreys tip off at 7 p.m. CT in Bud Walton Arena.