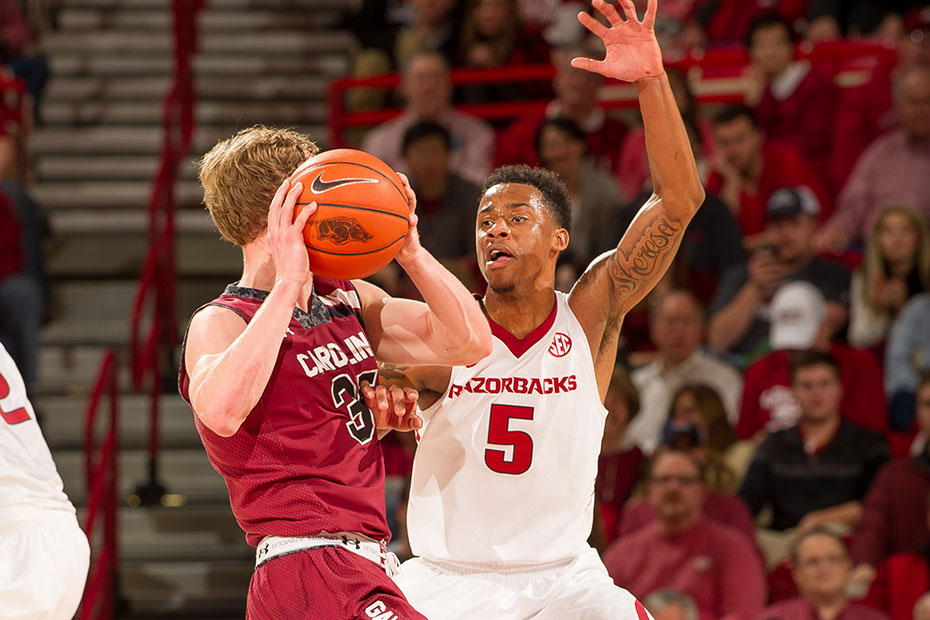 Razorbacks Eye Fifth Straight Win on Senior Day
Game Notes (PDF)  |  Anderson Presser  |  Players Presser  |  Hype Video
FAYETTEVILLE, Ark. – The Arkansas men's basketball team (16-14, 9-8 SEC) will close out the regular season Saturday afternoon on Senior Day, welcoming South Carolina (23-7, 10-7 SEC) to town for a 4 p.m. tip-off at Bud Walton Arena on SEC Network.
Tip-off: Saturday, March 5 at 4 p.m. CT
Location: Bud Walton Arena (Fayetteville, Ark.)
TV: SEC Network  |  WatchESPN
Tickets: Click Here
Senior Day: Arrive by 3:45 as we honor Bell, Durham, Miles and Kouassi before tip-off.
The Opponent
• The Gamecocks are 23-7 on the year with a 10-7 record in conference play. South Carolina was one of the last undefeated teams in the country to open the season, going 15-0 before finally losing its first game at Alabama on Jan. 13 by a score of 73-50. Since then, the Gamecocks are only 8-7, and coming off consecutive losses at Mississippi State on Feb. 27 and against Georgia Thursday night. In true away games, USC is 4-5 this season, including 3-5 in SEC games.
• The Gamecocks have a well-balanced scoring attack, with five players scoring nine-plus points per game. Senior forward Michael Carrera leads the way, averaging 14.5 points and 7.7 rebounds, while also adding one block, one steal and 1.6 three-pointers. Sindari Thornwell (12.8), Duane Notice (11.1) and Mindaugas Kachinas (10.1) also average double figures, while Laimonas Chatkevicious adds 9.4 points a contest. USC leads the SEC in a number of categories, including rebounding margin (plus-7.1), turnovers forced (15.2) and free throws attempted and made per game (18.8-27.6).
• Head coach Frank Martin is in his fourth year with the Gamecocks, and has a 68-61 (.527) record in three-plus seasons. Previously, Martin was with Kansas State for five years, where he led the Wildcats to four NCAA Tournament appearances. His best season was in 2009-10, when K-State went 29-8 and reached the Elite Eight.
#Fastest40 Facts
• The Razorbacks are tied with Vanderbilt for the second-longest winning streak in the league at four games, while SEC leader No. 20 Texas A&M leads the pack with five straight victories.
• Entering the final day of the regular season, Arkansas could be anywhere from a 5-10 seed in the SEC Tournament. A win over South Carolina, coupled by losses from UGA and Ole Miss would send the Razorbacks to a No. 5 seed.
• The Razorbacks lead the SEC and ranks No. 11 in the country in three-point field goal percentage at .404. An SEC team hasn't shot 40-percent from behind the arc in a season since Florida in 2007.
• Arkansas and Michigan State are the only high-major programs in the country with 75-plus made three pointers by two different players. Bell and Hannahs are the first Razorback teammates in program history to each make 75-plus treys in a season.
• Arkansas is the only high-major program in the country with three players averaging 15-plus points per game, as Moses Kingsley (16.2), Dusty Hannahs (16.0), and Anthlon Bell (15.9) all rank in the top 11 in the SEC in scoring.
• A win over South Carolina would make Arkansas and Kentucky the only programs in the SEC with a winning record in league play each of the last four years.
• Kingsley has four double-doubles in the last six games and is one of five high-major players in the country with 15-plus double-doubles on the year.
• Kingsley is one of four high-major players in the country averaging at least 16.0 points and 9.0 rebounds per game this season.
• Jabril Durham has been the ultimate floor general over the last five games, dishing out 28 assists and committing only one turnover. His 187 assists this year rank sixth all-time for a single season.
• Anthlon Bell and Dusty Hannahs have combined to hit 161 three-pointers, making them the No. 1 three-point shooting tandem in the SEC. Bell has hit a three-pointer in all 30 contests this year and Hannahs has connected in 26 of 30 games.
Up Next
Arkansas travels to the 2016 SEC Tournament in Nashville, Tennessee, where it will open play on Thursday, March 10. The opponent will be determined Saturday evening.
For more information on Arkansas men's basketball, follow @RazorbackMBB on Twitter.