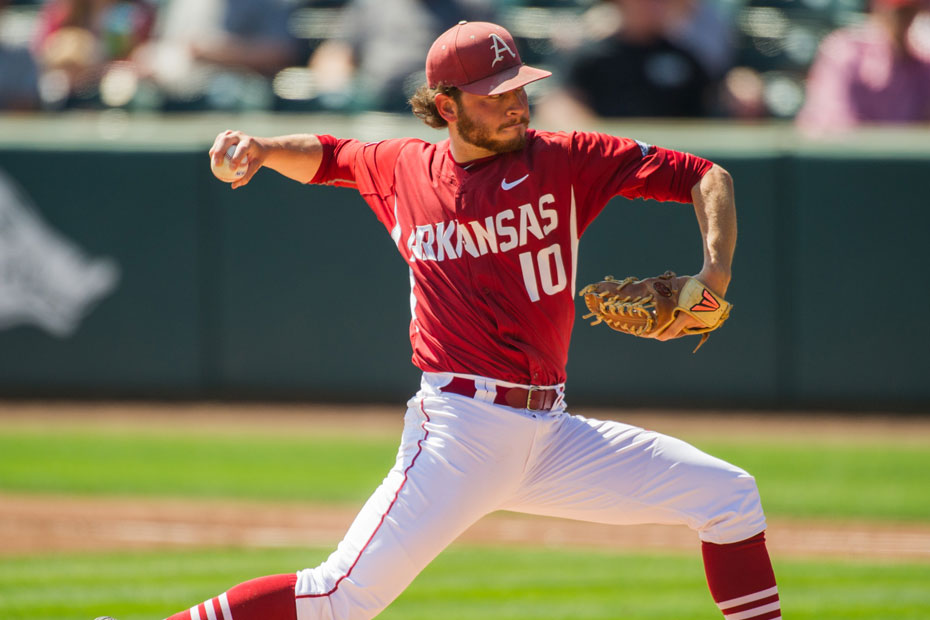 Razorbacks Face Commodores In Final Home Series
FAYETTEVILLE, Ark. – The 15th-ranked Razorback baseball team is back home this weekend for its final regular-season series at Baum Stadium when it takes on the Vanderbilt Commodores for a three-game set. The series is set to begin on Friday at 6 p.m. and game one will be televised on the SEC Network.
For seniors Cannon Chadwick, Dominic Taccolini, Jake Arledge, Alex Gosser, and Josh Alberius, this weekend's series will be their final games on their home turf. All five seniors will be honored prior to Saturday's game with the Commodores.
Follow Live
Friday's game one is scheduled for a 6 p.m. CT start in Fayetteville and will be televised on the SEC Network with Tom Hart (PXP) and Kyle Peterson (Analyst) calling the game. Games two and three of the series will be on SEC Network+ and start at 6 p.m. and 1 p.m., respectively. Alex Perlman (PXP) and Troy Eklund (Analyst) will have the call for those games.
Game 1 – Friday | 6 p.m. on SEC Network |   | LIVE STATS
Game 2 – Saturday | 6 p.m. on SECN+ | WATCH | LIVE STATS
Game 3 – Sunday | 1 p.m. on SECN+ | WATCH | LIVE STATS
Phil Elson will be joined by Rick Schaeffer on the radio for all three games via the Razorback Sports Network.
Probable Starters
Fri. | 6 p.m. | (ARK) RHP Trevor Stephan (5-3, 3.14 ERA, 82/14 K/BB) vs. (VU) RHP Patrick Raby (8-3, 2.29 ERA, 68/19 K/BB
Sat. | 6 p.m. | (ARK) RHP Blaine Knight (6-3, 3.63 ERA, 72/13 K/BB) vs. (VU) RHP Kyle Wright (2-5, 3.35 ERA, 82/25 K/BB)
Sun. | 1 p.m. | (ARK) TBA vs. (VU) RHP Chandler Day (7-1, 3.54 ERA, 52/20 K/BB)
Knight and Stephan Flip Spots
The Hogs will be making a slight change to their pitching rotation this weekend as reigning SEC and NCBWA National Pitcher of the Week junior Trevor Stephan will be on the mound Friday night for his 13th start of the year. Stephan has been the Saturday night starter for each weekend series this season, but will make his first start in a series opener on Friday, fresh off his complete game one-hitter at Tennessee.
Stephan struck out 11 Tennessee batters in the 2-0 victory last Saturday, his third outing of 10 or more strikeouts and second-most in a game this season. In three of Stephan's last five starts, the Magnolia, Texas native has gone at least six innings and has allowed five hits or less in five of his last six outings.
Sophomore Blaine Knight will move into the Saturday slot after throwing on two separate days last weekend at Tennessee. Knight only threw one inning last Thursday before inclement weather forced the Hogs and Vols to finish their game two days later. Knight did come back to throw four more innings on the resumption, but was given a no decision in the 5-4 loss.
Knight has been rock solid for the Razorback rotation this year as he has thrown five or more innings in nine of his 12 starts this season. In those nine starts, he has given up more than three runs only once. Against SEC opponents, Knight is 5-2 on the year with a 3.97 ERA and is holding league opponents to a .220 average.
Spanberger and Biggers Lead Way In SEC Play
On the offensive end, it has seemingly been a new hero every week. Last week, freshman Dominic Fletcher homered twice in the two-game series with Tennessee, including hitting deciding solo shot in the fifth inning that secured Stephan's complete game shutout.
Sophomore Jax Biggers and junior Chad Spanberger continue to set the pace in conference play hitting .324 and .323, respectively, in SEC play. Biggers has at least one hit in 12 of his last 15 games and has six multi-hit games during that span. His average is the highest among all shortstops in the SEC.
Spanberger has had of the best bats in conference play as seven of his 10 home runs have come against SEC opponents and he leads all SEC players with 29 RBIs in 23 conference games.
For more information on Razorback Baseball, follow @RazorbackBSB on Twitter.