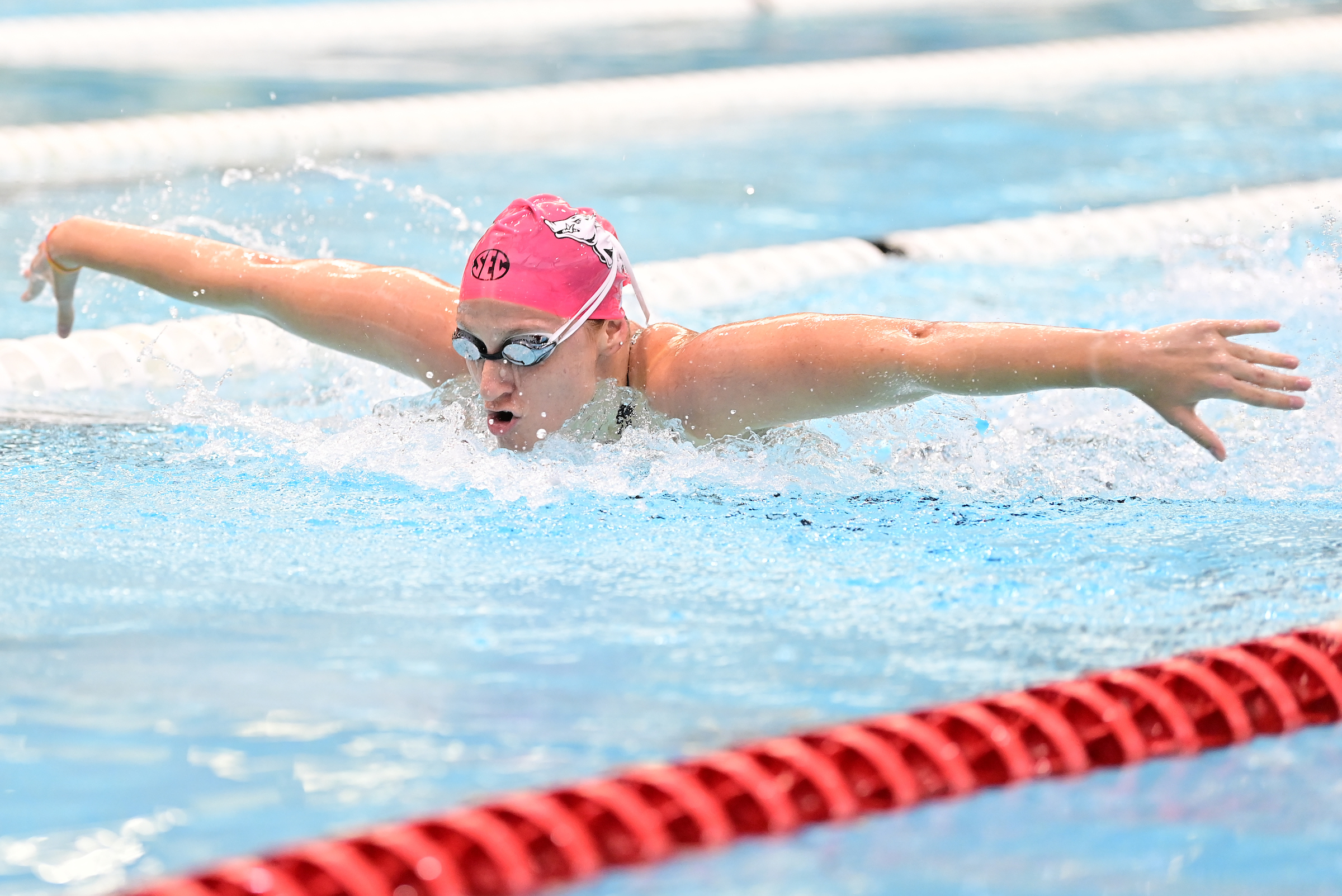 Razorbacks Fall Short to the Tide
FAYETTEVILLE, Ark. – The Arkansas Swimming and Diving team lost a close contest to the Alabama Crimson Tide in the team's home opener on Friday afternoon. The Hogs put up a score of 139 to the Crimson Tide's team score of 161.
"It's always exciting when a top 5 nationally ranked team comes to Fayetteville. Alabama returns all of their NCAA All-Americans and Olympians so it was an honor to race some of the fastest individuals in the country. We had some great races and to win both relays and four individual events was another sign that we are a better team than last year," stated head coach Neil Harper. "I thought our four 5th year seniors Vanessa Kobie, Andrea, and Luciana set the tone as they all won an individual event and or were part of the two relay wins. Luciana's 1:56.83 in the 200 fly and Vanessa's 1:00.57 were very strong. I was particularly impressed with how our freshmen handled their first college dual meet. Betsy was very strong and with a 1:46.35 in the 200 free and a 53.47 in the 100 fly led to great contributions from our younger swimmers. I have the utmost respect for the Alabama team and their coaches. They just won a few key races at critical parts of the meet that secured their eventual victory. I am extremely proud of our ladies and we showed the rest of the country that we have a great team!"
Hog Highlights
The Razorbacks broke a pool record in the 200-medley relay with a time of 1:37.53
Graduate Student Luciana Thomas posted a win in the 200 butterfly event.
Freshman Sydney Craft finished first in the 500 freestyle event.
Freshman Betsy Wizard picked up wins in the 100 freestyle and 200 freestyle events.
Up Next
Arkansas returns home to host Liberty at 5 p.m. CT on Friday, Nov. 4 at the Arkansas Natatorium.
More Information
Keep up with all the latest news and information and get behind the scenes looks into our program on social media. Follow us on Twitter at @RazorbackSD and check out our Facebook page. Stats, news, and athlete information can be found at ArkansasRazorbacks.com.