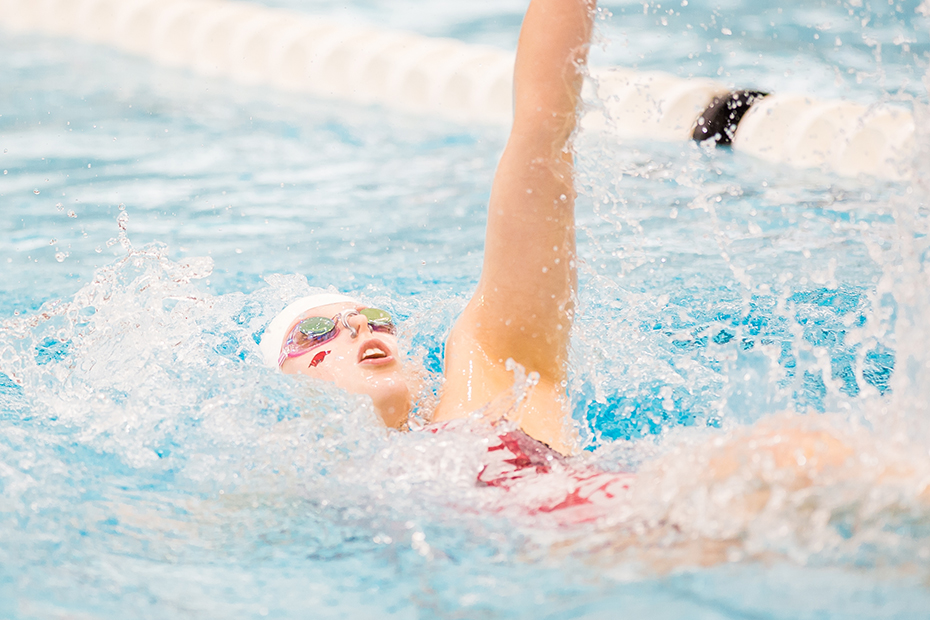 Razorbacks Finish 10th At 2018 SEC Championships
COLLEGE STATION, Texas – One A-finals appearance, three B-finals appearances, six C-finals appearances and two individual SEC titles later, the Arkansas swimming and diving team wraps up the SEC Championships in College Station Sunday night with a 10th-place finish with 461 points.
Freshman diver Brooke Schultz was named SEC Female Diver of the Meet, after winning two individual SEC Championships. Schultz won the one-meter springboard title with a Texas A&M pool record score of 363.45. On the three-meter, Schultz scored a school record 385.65 to pick up her second individual SEC title.
Championship Sunday began with the 200 backstroke prelims. Senior Madison Umberger got things started with a seventh-place finish in heat three with a time of 2:01.90, finishing 45th overall. Senior Chloe Hannam would touch fourth in heat five in a then-personal-best 1:54.89 to qualify for the B-final, swimming the 13th-fastest prelim time. In the finals, Hannam broke her personal best again, touching in 1:54.78 to finish fourth in the B-final, 12th overall.
In the 100 freestyle, Arkansas had four swimmers in heat three as junior Annah Carney led the way with a fourth-place showing in a personal-best time of 50.29 to finish 36th overall. Freshman Kenedy Thaman also recorded a personal best, finishing fifth in a time of 50.88 for a 46th-place showing. Senior Kiera Michailoff-Russell finished sixth in heat three in a time of 50.99 for a 47th-place finish, while junior Marlena Pigliacampi rounded out the heat with an eighth-place finish in a season-best 51.26 to finish 51st.
In heat four of the event, seniors Erin Kelly and Olivia Weekley finished third and fourth, respectively, as Kelly touched in a personal-best 50.56, while Weekley touched in 50.61. Overall, Kelly had the 40th fastest time, while Weekley had the 41st fastest.
In the 200 breaststroke, senior Sydney Angell qualified for the C-final, recording a personal-best 2:13.58 for a seventh-place finish in heat six of the prelims. In finals, Angell broke her personal best again, touching second in 2:12.32 to finish 18th overall. In heat one of prelims, Maddie Edwards touched fourth in a season-best 2:22.64 to finish 44th overall, while senior Madison Strathman finished 29th overall, finishing second in heat two with a season-best 2:14.53.
In the final dive event, senior Nicole Gillis led the way for Arkansas, scoring a ninth-place finish with a personal-best 250.65. Junior Marissa Green finished 18th with a score of 204.00, while sophomore Caroline Welch recorded a personal-best score of 191.90 to finish 22nd.
In the 1650 freestyle, freshman Peyton Palsha swam a personal-best 16:12.53 to finish sixth overall. Sophomore Ayumi Macias brought in the 11th-fastest time with a season-best 16:21.21 showing. Freshman Alyssa Lemon finished in 33rd in a personal-best 17:03.59.
In the final relay, Arkansas' relay of Weekley, Carney, Chelsea Tatlow and Kelly won the first heat of the 400 free relay in a season-best 3:19.19 to finish ninth overall.
Final Standings
1. Texas A&M – 1319
2. Georgia – 1030
3. Tennessee – 950.5
4. Kentucky – 877.5
5. Auburn – 770
6. Missouri – 739
7. Florida – 619
8. South Carolina – 591
9. Alabama – 539
10. Arkansas – 461
11. LSU – 374
12. Vanderbilt – 182
For more information on Arkansas Swimming and Diving, follow @RazorbackSD on Twitter.