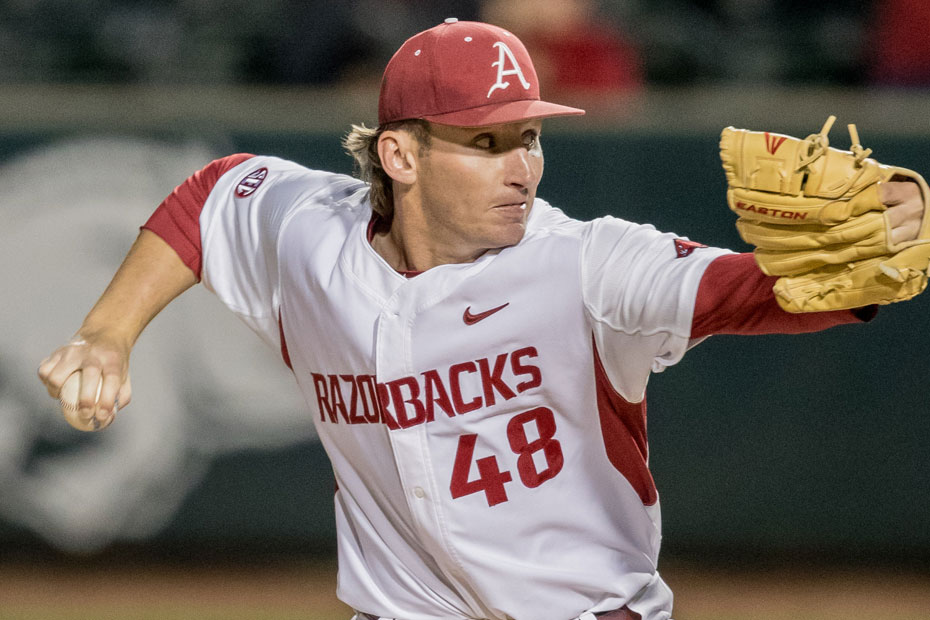 Razorbacks Gear Up For SEC Opener
FAYETTEVILLE, Ark. – The Razorbacks will open Southeastern Conference play at Baum Stadium this weekend when Mississippi State visits for a three-game series starting on Friday and running through Sunday. Game one is set for a 6:30 p.m. first pitch, followed by game two on Saturday at 7 p.m. Sunday's finale will start at 1 p.m.
Follow Live
All games will be available on the WatchESPN app in their entirety. Friday night's game will be part of the SEC Network's Bases Loaded special. As part of SEC opening weekend, the SEC Network will "whip-around" to all of the games going on in the conference with in-studio analysis.
Mike Morgan (PXP) and Ben McDonald (Analyst) will be calling games one and two between Mississippi State and Arkansas. Alex Perlman (PXP) and Troy Eklund will pick up game three on Sunday for SEC Network+.
Phil Elson (PXP) and Rick Schaeffer (Analyst) will call the whole series for the Razorback Sports Network on the radio.
Probable Starters
Fri. | 6:30 p.m. | (ARK) RHP Blaine Knight (1-1, 2.79 ERA) vs. (MSU) LHP Konnor Pilkington (2-1, 1.73 ERA)
Sat. | 7 p.m. | (ARK) RHP Trevor Stephan (3-0, 0.75 ERA) vs. (MSU) RHP Peyton Plumlee (2-0, 1.88 ERA)
Sun. | 1 p.m. | (ARK) TBA vs. (MSU) TBA
1-2 Pitching Punch
Sophomore Blaine Knight and junior Trevor Stephan have provided a premier 1-2 punch in starting pitching for the Razorbacks on the weekend. Combined through the first four weekends of the year, the two hurlers have a 1.67 ERA over 43.1 innings pitched and a 6.88 strikeout-to-walk ratio. Stephan holds the better record and ERA, but Knight has only walked one batter in 19.1 innings, which is tied for the lowest in the SEC.
Getting Better With Time
Junior pitcher Trevor Stephan had only been a pitcher for two seasons before arriving at Arkansas, but he looks like a seasoned veteran on the mound after his first four starts this season. Stephan has been the Saturday starter for all four weekends this year and he has yet to give up more than three hits or two runs each time. Stephan currently leads all Hog pitchers with a 0.75 ERA and a perfect 3-0 record. In his last two starts (Nebraska, Rhode Island), Stephan has struck out a combined 21 batters in 14.1 innings and has only given up one earned run. Last week against the Rams, Stephan had a perfect game into the seventh inning and pitching into the ninth inning. He currently has the fifth-lowest ERA in the conference and his 13 strikeouts last week were the most by a Razorback since Jess Todd had 17 in the 2007 SEC Tournament against South Carolina.
Chadwick Does It All In Walk-Off Win
Senior relief pitcher Cannon Chadwick was a renaissance man Tuesday afternoon against Alcorn State. After coming in to pitch in the top of the eighth inning, Arkansas was still tied with the Braves going into the ninth. Dave Van Horn, who had lost his DH after placing Grant Koch into the defense, chose to keep Chadwick in the game by having hit bat in the bottom of the ninth. Making his first plate appearance as a Razorback, Chadwick worked a 3-2 count and walked to get on base with one out. Two hits later, Chadwick scored the winning run from second and giving himself the victory. On the mound, Chadwick has turned into Arkansas' go-to guy in the late innings. With a 1.46 ERA in 12.1 innings and a 17-to-1 strikeout-to-walk ratio, Chadwick has had seven scoreless outings and no more than three hits on three occasions.
Chicks Dig The Long Ball
The Razorbacks have hit 25 home runs as a team so far this year, the most of any team in the SEC and the eighth-highest total in the nation. In 13 of 18 games, Arkansas has hit at least one home run and in six of those games, it has hit two or more. The number of long balls is two more than the Hogs had through 18 games last year and is the most through the first 18-game stretch since the 2010 team that reached the NCAA Super Regionals. On Wednesday, Arkansas hit four home runs against Alcorn State, three coming in the first inning. In its second road game of the year at Louisiana Tech, Arkansas hit five home runs to come back from a nine-run deficit, the largest of the Dave Van Horn era.
Arledge Goes Streaking
Leading the team with a .393 batting average, senior Jake Arledge takes a 14-game hitting streak into the 2017 SEC Opening Weekend. His streak is the longest since Michael Bernal hit safely in 14-straight games in 2015. The school record for the longest hitting streak was 30 games set by Randy Bobb in 1987. During his streak, Arledge has hit .415 with 15 runs scored and 13 RBIs. Only four of his 22 hits have been for extra-bases, but he has six multi-hit games during that span, which ties for the team lead.
Johnson Faces Mississippi State For First Time
2017 will mark the first season with the Razorbacks for new pitching coach Wes Johnson. A Sherwood, Arkansas native, Johnson takes over for long time pitching coach Dave Jorn, who stepped down last summer. Johnson spent one season at Mississippi State and four seasons at Dallas Baptist before arriving at Arkansas. Last season, with the Bulldogs, Johnson developed a pitching staff that improved its ERA by more than a full run and won 44 games, its most since 1997. Johnson helped developed All-American and MLB first round pick Dakota Hudson, who won nine games and had 115 strikeouts in 2016.
For more information on Razorback Baseball, follow @RazorbackBSB on Twitter.