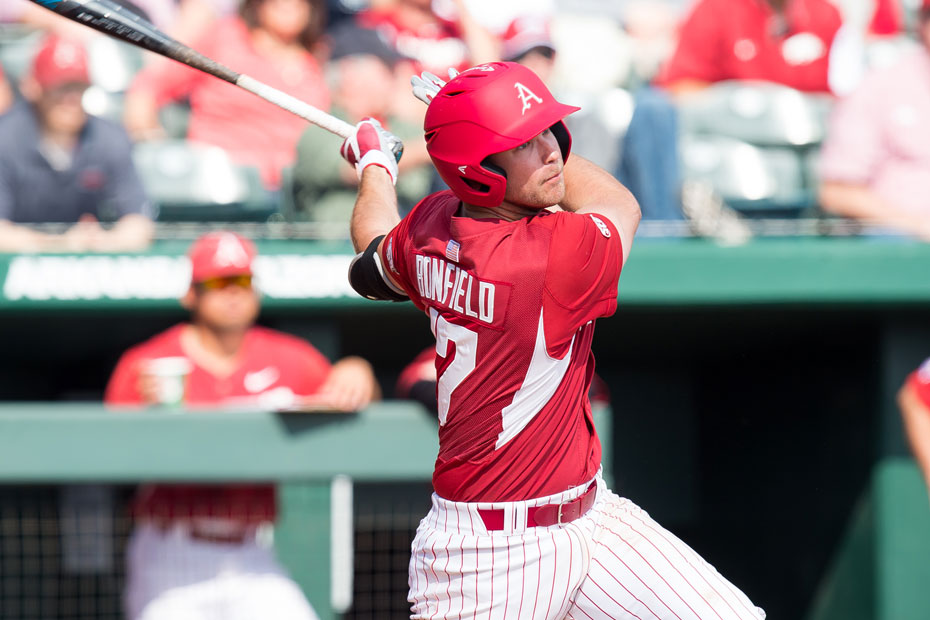 Razorbacks Hit Four Home Runs To Finish Sweep Of Braves
Box Score (PDF) | DVH Post-Alcorn State Game 2 | Bonfield and Knight Talk Upcoming SEC Opener
FAYETTEVILLE, Ark. – Arkansas had a big offensive day Wednesday, using four home runs to ease past Alcorn State, 11-3, and complete a midweek sweep of the Braves inside Baum Stadium.
Freshman Dominic Fletcher led the way with three hits going 3-for-4 on the day. Four other players recorded at least two hits, and four hit home runs for the Razorbacks. Junior Luke Bonfield and freshman Jordan McFarland had three RBIs each, while Bonfield recorded his seventh multi-hit game of the season.
For the second day in a row, Jake Arledge reached base four times, with two hits and two walks in each game. His fourth inning single brought his hitting streak to 14 straight games, the longest since Michael Bernal hit safely in 14 straight games in 2015.
Arkansas was dominant on the mound, striking out 13 Alcorn State batters. Sophomore starter Kacey Murphy threw three innings, giving up just one run on six hits while striking out six batters, while earning his second victory in as many starts. In his last two outings, Murphy has tallied 15 strikeouts and looks like a strong contender as a middle reliever on the weekend.
Freshman Matt Cronin also looked good in his two innings of work. He relieved Murphy in the fourth inning, striking out four of the eight batters he faced.
Moments That Mattered
The Razorbacks got the bats going early in the first inning. Jake Arledge walked to leadoff the inning then Chad Spanberger and Luke Bonfield hit back-to-back home runs in the next two at-bats. For Spanberger, the long ball is his second of the year, while Bonfield now has three home runs this year.
After another walk to Dominic Fletcher, Jordan McFarland homered, as well, to bring Arkansas' total to three home runs in the first inning.
Arkansas has been hitting home runs at a torrid pace heading into conference play. After Wednesday's four home run day, the Hogs continue to lead the SEC with 25 long balls. Mississippi State, who visits Baum Stadium for this weekend's SEC opener, trails the Hogs with 19 home runs as a team.
The Braves were able to tally a run in the third and in the fifth to make it 7-2, but Arkansas answered in each inning to run the lead even higher. Dominic Fletcher hit his fifth home run of the year in the bottom of the fifth to bring in two more runs and stretch Arkansas' lead up to seven. Then, Bonfield and Jaxon Williams singled home runs in the sixth and seventh innings for Arkansas' final tally.
Razorback Quotables
"We got off to a great start really. Kacey (Murphy) got us in the dugout quick and we were up, obviously. I think we hit three home runs that inning. It gives you a lot of confidence. We made one base-running mistake with no outs, that probably costs us a few more runs. We kind of had their pitcher on the ropes and we ran ourselves out of that. It was a different day. Yesterday was tough because of the temperatures and today was better. Just kind of got into a groove early and just took it to them." – Head coach Dave Van Horn on the outcome of the game
"We're older and more experienced, and we've got a freshman with five home runs. (Jake) Arledge can hit the ball out of the park. (Luke) Bonfield only has a few. (Chad) Spanberger only has two. I think we have some pop up and down the lineup. I mentioned that in the fall. I thought we were a team that can put together some big innings. Like today, we had a big inning and then we'd score one here, one there. We kept adding to the lead. It's nice to keep the momentum on your side." – Head coach Dave Van Horn on his team's home run hitting early this season
"I think we have more mature hitters this year from last year. The guys have good approaches and they know good times to pick pitches out. I think the guys are really good at reading sequences pitchers go to." – Luke Bonfield on his teammates' better approaches at the plate
Razorback Notables
– Chad Spanberger and Luke Bonfield's back-to-back home runs in the first inning were the first back-to-back home runs by Arkansas since April 3, 2015 when Joe Serrano and Andrew Benintendi did so against Auburn.
– Chad Spanberger, Luke Bonfield, and Jordan McFarland's home runs in the first inning marked the first three home run inning since March 4, 2011 when Kyle Robinson, Jared McKinney and Matt Vinson hit three off Wisconsin-Milwaukee.
– With his 2-for-3 day at the plate, Jake Arledge's hitting streak now sits at 14 straight games, which is the longest since Michael Bernal had a hit in 14 straight games in 2015.
Up Next
Arkansas opens conference play starting on Friday as they host the Mississippi State Bulldogs for a three-game series. First pitch on Friday is set for 6:30 p.m., followed by a 7 p.m. first pitch Saturday. Sunday's finale will be at 1 p.m.
Friday's SEC opener is available on the SEC Networks Bases Loaded coverage. Saturday's game will be televised by the SEC Network, and Sunday's game will be televised on SEC Network+. All games can be seen in their entirety on SEC Network+ via the WatchESPN app.
For more information on Razorback Baseball, follow @RazorbackBSB on Twitter.