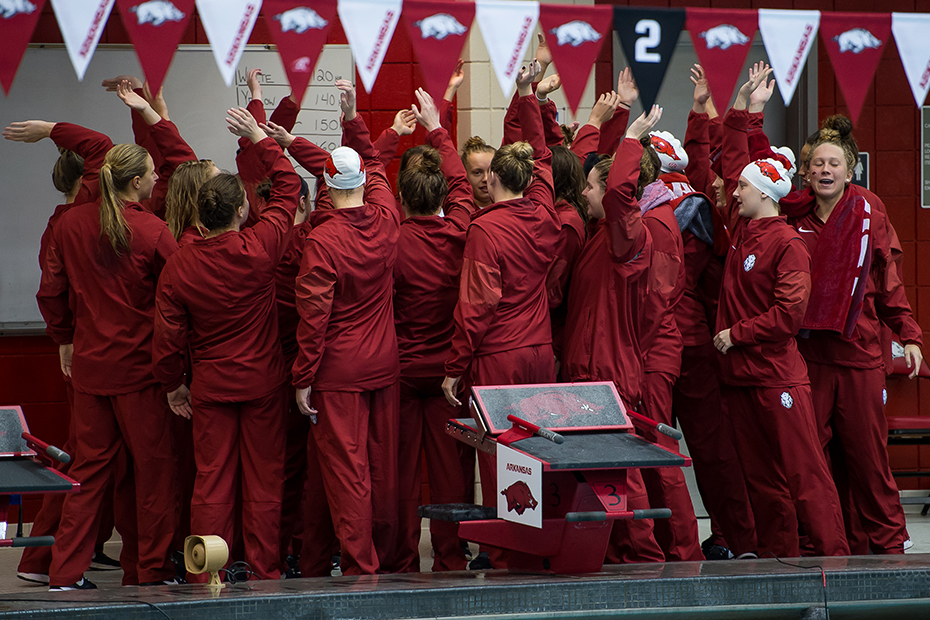 Razorbacks In Top 25 Academically, Second In SEC
NORFOLK, Va. – The Arkansas swimming and diving team has been named a College Swimming Coaches Association of America (CSCAA) Division I Scholar All-America Team, the CSCAA announced on Monday.
The awards are in recognition of teams that achieved a grade point average of 3.0 or higher during the 2017 fall semester. Arkansas had nine student-athletes who recorded a 4.0 GPA in the fall semester.
For the sixth consecutive semester, Arkansas has recorded a team GPA above 3.50, as the Razorbacks posted a 3.57 GPA in the fall, ranking tied for 24th among all Division I women's programs and second among Southeastern Conference programs. Those rankings are up five spots nationally from a year ago and up one spot in the SEC.
"We are extremely proud of our entire team for this accomplishment," said head coach Neil Harper. "Our team's commitment to academics is a key component to being well-rounded, high-achieving student-athletes. As we continue to work hard to be one of the most improved teams athletically this year, it is great to see our academic standards to remain so high. I also wanted to highlight the efforts of our 4.0 students and the collective efforts of our freshman class, who has recorded a 3.6 GPA themselves."
Founded in 1922, the College Swimming Coaches Association of America (CSCAA) – the oldest organization of college coaches in America – is a professional organization of college swimming and diving coaches dedicated to serving and providing leadership for the advancement of the sport of swimming & diving at the collegiate level.
For more information on Arkansas Swimming and Diving, follow @RazorbackSD on Twitter.