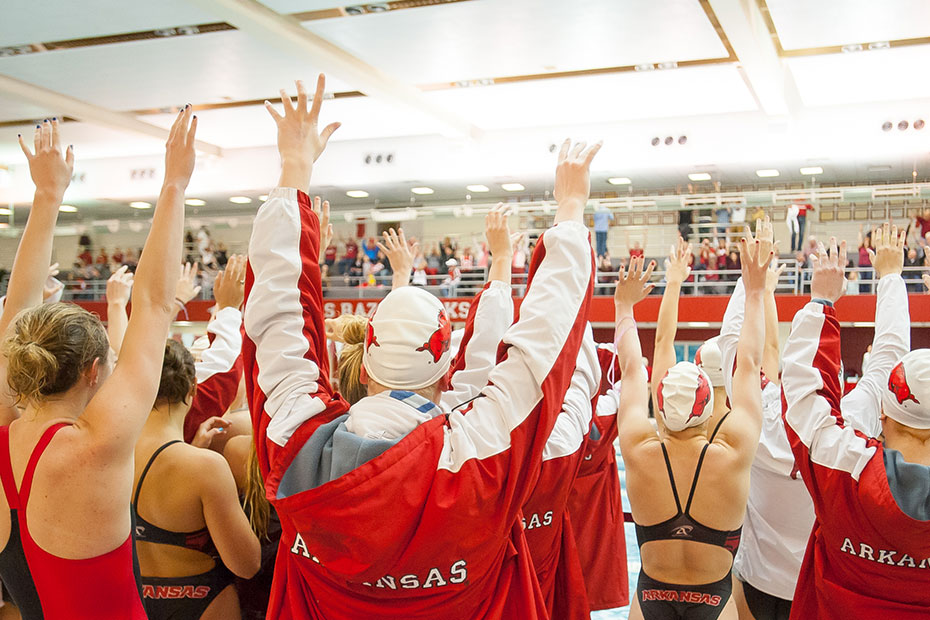 Razorbacks Land 12 CSCAA Scholars
NORFOLK, Va. – Twelve members of the Arkansas swimming and diving team were named to the College Swimming Coaches Association Scholar All-America Team, the CSCAA announced Wednesday.
The announcement comes one week after Arkansas earned CSCAA Scholar All-America Team honors with a 3.56 GPA for the Spring 2016 semester, which ranked third among all 12 Southeastern Conference women's programs and 22nd among Division I women's programs.
"Scholar All-America is one of the most prestigious awards in our sport," head coach Neil Harper said. "These 12 ladies are at the highest end of achievement in the classroom and in the pool. This is a big group and a true reflection of our entire team, our athletic department and the University of Arkansas. We are so proud of these very dedicated and focused Razorbacks."
Natalie Burnett, Nina Drolc, Nicole Gillis, Anna Mayfield, Maddie Monroe and Chelsea Tatlow earned first team honors, while Hannah Bortnick, Chloe Hannam, Aiden Lister, Mary Margaret Soderberg, Madison Umberger and Taylor Weiss garnered honorable mention recognition.
In addition, Mayfield was one of 218 selections who, through June 12, has qualified for the U.S. Olympic Team Trials.
To be selected to the CSCAA Scholar All-America Team, swimmers and divers must have achieved a GPA of 3.50 or higher and have participated in their respective NCAA/NAIA/NJCAA Swimming and Diving Championships.  Honorable mention selections have similarly achieved a GPA of 3.50 and achieved a "B" time standard or competed at their respective diving qualifying meets.
Founded in 1922, the CSCAA – the oldest organization of college coaches in America – is a professional organization of college swimming and diving coaches dedicated to serving and providing leadership for the advancement of the sport of swimming & diving at the collegiate level.
For more information on Arkansas Swimming and Diving, follow @RazorbackSD on Twitter.