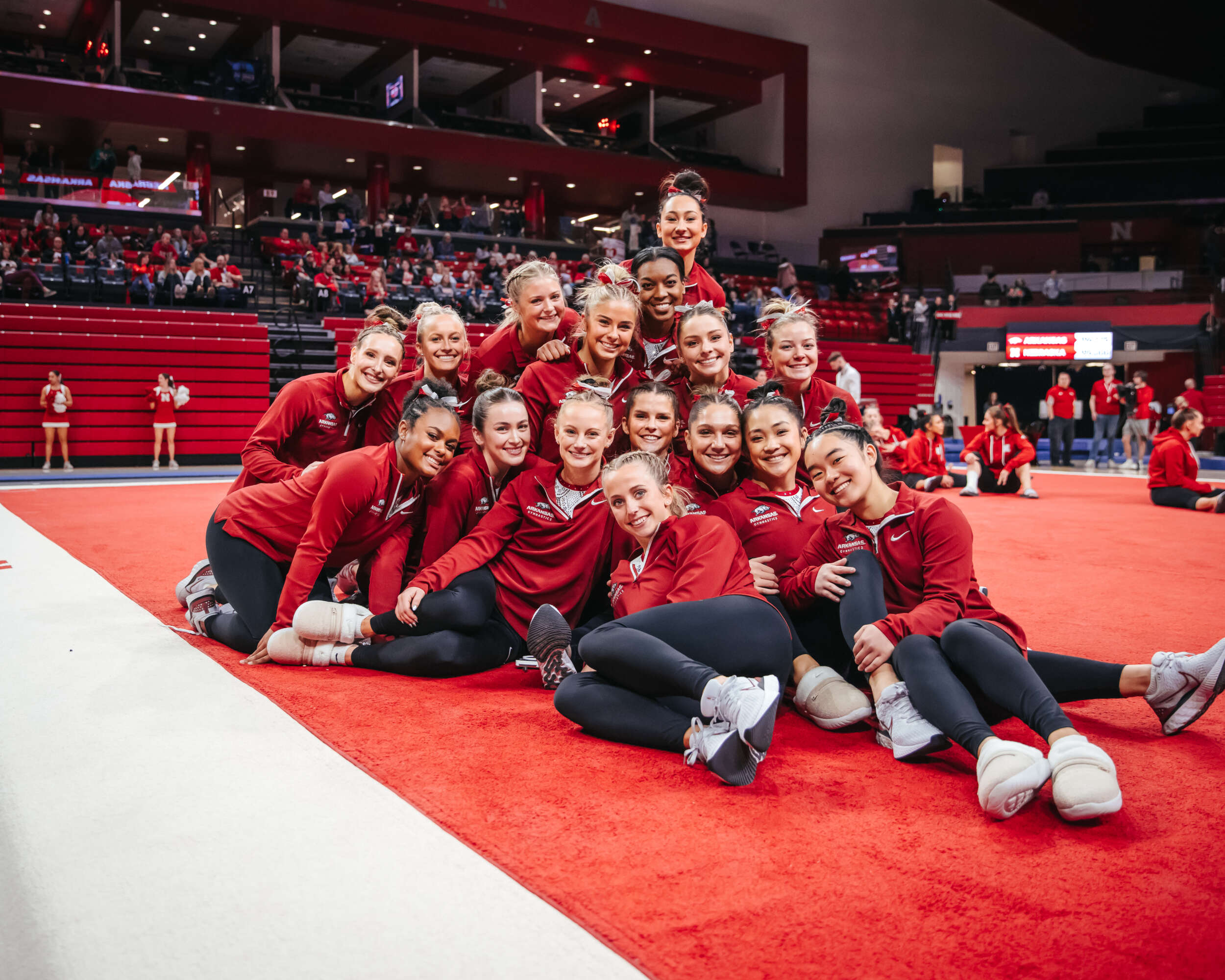 Razorbacks Open Season with Dual Victory Over Huskers
The Arkansas gymnastics team kicked its season off on a high note as the Hogs defeated the Huskers 196.225-195.000 in Lincoln on Saturday.
The Gymbacks outscored the Huskers on vault, bars, and floor, and are now 4-5 all-time against Nebraska. The meet also marked the second straight season-opening win for the Hogs.
The team's newcomers and underclassmen were especially impactful in the win. Graduate transfer Norah Flatley took home the bars title with a score of 9.900 and a share of vault, on which she scored a 9.850.
Flatley split the vault title with redshirt freshman Cami Weaver. It was Weaver's first appearance on vault since she sustained a season-ending injury in her collegiate debut on the event, making the victory extra special.
Redshirt freshman Frankie Price and freshman Lauren Williams both score 9.875 in their Arkasnas floor debuts, which earned them a piece of a three-way tie for first place.
Each of Arkansas' freshmen appeared on at least on event in the meet in addition to Williams, with Reese Drotar, Jaime Pratt and Cally Swaney all also in the bars lineup.
Bars
Swaney and Drotar set the tone early for the Hogs with strong debut routines that scored 9.775 and 9.800, respectively. Jensen Scalzo carried over her trademark consistency on the event into the first appearance of her junior season and scored a 9.850 in the third spot for the Hogs. Pratt then scored a 9.775 before an Arkansas fall, but Flatley anchored the lineup with grace in her first-ever routine as a Gymback, and stuck her double layout dismount for a 9.900. The Hogs finished bars with a 49.100 and took an early lead.
Vault
Emma Kelley led the vault squad off with a 9.725, and Weaver and Flatley followed with a pair of solid 9.850s on their Yuchenko fulls, with only slight movement on their landings. Sophomore Leah Smith matched Kelley's 9.75 in the fifth spot, and Williams rounded out vault with a Yurchenko 1.5 that scored 9.800 for a strong finish. Arkansas posted a 48.950 to maintain its advantage midway through.
Floor
Sophomores Kalyxta Gamiao and Maddie Jones brought some consistency early in the floor lineup with matching 9.775s. It only got better from there for the Razorbacks, as Williams shined in her first collegiate floor routine with three solid tumbling passes for a 9.875 score. Smith kept it going with a 9.850, which brought up Price as the anchor. Her crowd-pleaser routine featuring Beyoncé, Dr. Dre and Mary J. Blige didn't disappoint in skill or showmanship. She nailed all three of her passes and scored a 9.875 to match Williams. The Hogs earned a 49.150 on floor, their highest event mark of the night.
Beam
Fifth-year duo Bailey Lovett and Kennedy Hambrick held steady for the Hogs with veteran grace halfway through the beam lineup and earned scores of 9.800 and 9.825, respectively. Weaver took the beam in the fifth spot, nailed her triple acro series, and carried the fire all the way to the end for a 9.825 performance. In her first time as the beam anchor, Flatley finished the Hogs off strong with a 9.800 routine, which secured a 49.025 event score and the meet victory for the Gymbacks.
Up Next
Arkansas makes its home debut on Friday, Jan. 13 in the team's first SEC meet of the season against Alabama. Action will begin at 7:15 p.m. from Barnhill Arena, and the meet will also be broadcast live on SEC Network.
More Information
Visit ArkansasRazorbacks.com for the latest information on all things Arkansas Gymnastics. You can also find the Razorbacks on social media by liking us on Facebook (Arkansas Razorback Gymnastics) and following us on Twitter and Instagram (@RazorbackGym).