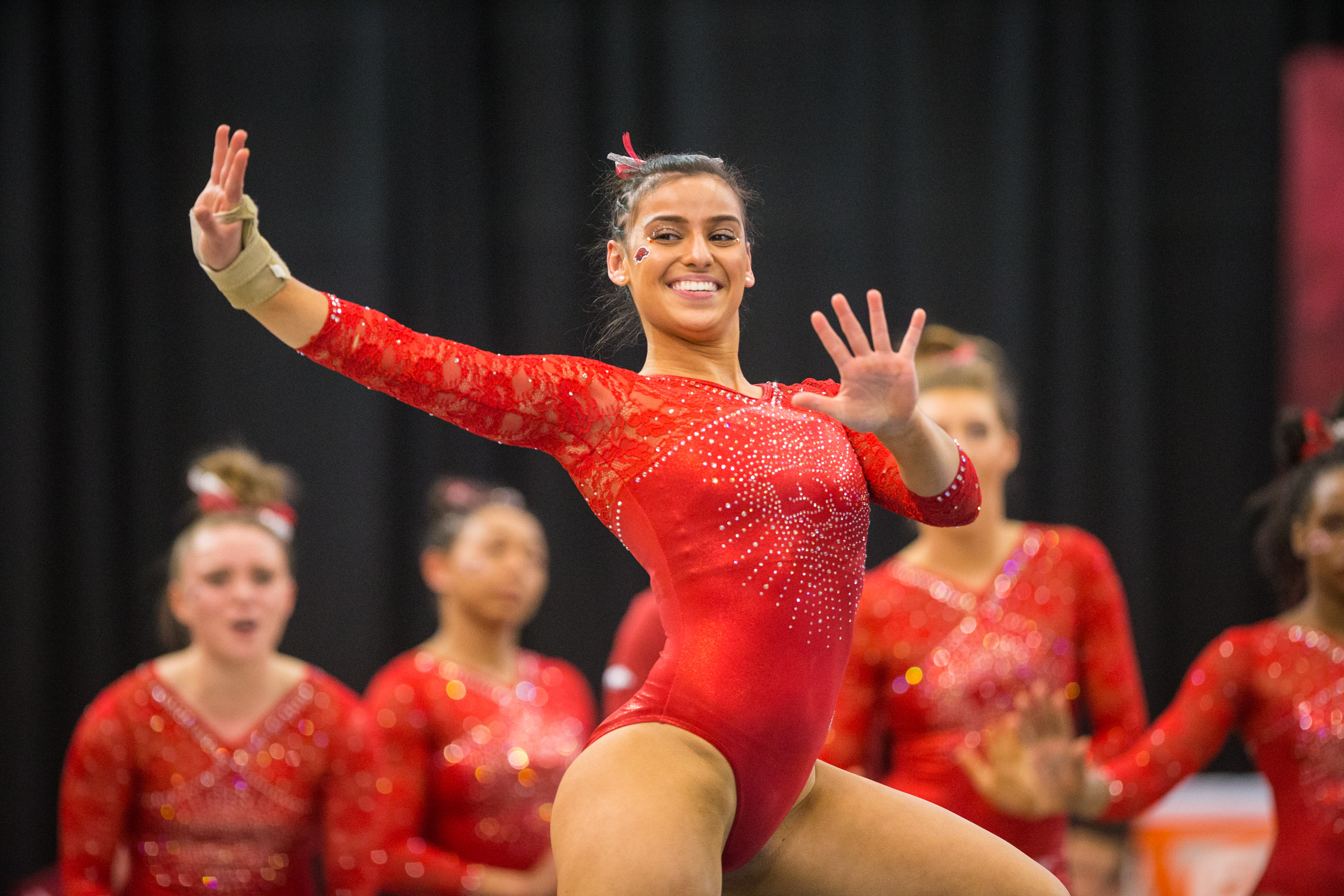 Razorbacks Place First, Set Another School Record
FAYETTEVILLE, Ark. – The 11th-ranked Arkansas gymnastics team took first at the Arkansas Tri meet, topping 15th-ranked Denver and 26th-ranked Iowa State, en route to another school record score of 197.300.
Team scores:
1. No. 10 Arkansas- 197.300
2. No. 15 Denver- 196.725
3. No. 26 Iowa State- 196.075
First Rotation: Denver Bars: 49.450, Arkansas Vault: 49.025, Iowa State Beam: 49.025
Senior Braie Speed anchored Arkansas' first rotation and tallied a 9.900 to lead the Razorbacks. It's her third 9.900 or higher in four meets on the event, as she has not scored under a 9.850 all season. Senior Amanda Wellick and freshman Sarah Shaffer recorded a 9.825 each as the Razorbacks posted a 49.025 on vault, putting Arkansas in second place through one.
"I have no words for tonight," said Speed. "Tonight was the best senior night this class could ever have. I'm so proud of this team and couldn't ask for a better group of girls to have this year with."
Second Rotation: Arkansas Bars: 49.550, Iowa State Floor: 49.325, Denver Beam: 49.025
In the anchor spot, sophomore Hailey Garner set a new school mark with a 9.975 on the event. Speed tied the previous record with a 9.950 as Wellick and freshman Sydney Laird recorded 9.900's each to give Arkansas a 49.550. The score is the second highest team score in team history on the event, as the Razorbacks have now scored a 49.450 or higher three times this season on bars. The Razorbacks took a lead it never relinquished in the second rotation, leading Denver by one-tenth through two.
Third Rotation: Arkansas Beam: 49.350, Denver Floor: 49.175, Iowa State Vault: 48.900
Arkansas' three anchors in freshman Sophia Carter, freshman Sarah Shaffer and sophomore Michaela Burton recorded scores of 9.900 each to lead Arkansas to a 49.350 on beam. The score for Shaffer was her first 9.900 on the event since Feb. 2 against Alabama and ties her career high. Sophomore Jessica Yamzon posted a 9.850 as Garner and Wellick each recorded 9.800's to round out Arkansas scoring on the event. The Razorbacks held a 0.175 lead over Denver through three rotations.
Fourth Rotation: Arkansas Floor: 49.375, Iowa State Bars: 49.075, Denver Vault: 48.975
Following a pair of low scores to begin the rotation the Razorbacks needed big scores from its final four competitors in the rotation. Arkansas got just that with four scores over 9.800 including three of 9.900 or higher. Shaffer set a new career high with a 9.950 while Carter anchored the rotation with a 9.900.
Shaffer set a new career high in the all-around with a 39.500 while Yamzon and Wellick posted a 39.275 and a 39.225 respectively.
For more information on Razorback gymnastics, including in-meet updates, follow @RazorbackGym on Twitter.